Stand up for the facts!
Our only agenda is to publish the truth so you can be an informed participant in democracy.
We need your help.
I would like to contribute
"Rand Paul's speech ... on 'Gattaca' was totally ripped off of Wikipedia."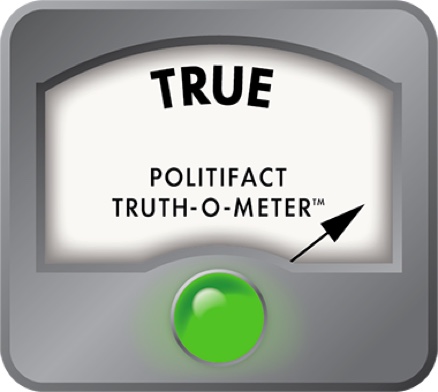 Rachel Maddow says Rand Paul's 'Gattaca' speech 'was totally ripped off of Wikipedia'
There's no love lost between Rachel Maddow and Sen. Rand Paul, R-Ky.
The MSNBC host for years has criticized the rising Republican star and libertarian during her evening talk show. So when Maddow went on a rant about a recent stump speech Paul gave on behalf of Virginia Republican gubernatorial candidate Ken Cuccinelli, at first it seemed like business as usual.
During remarks Oct. 28 at Liberty University, Paul ventured into a diatribe against eugenics -- a sensitive topic in Virginia, where until 1979 it was legal to sterilize the mentally disabled -- when he brought up the 1997 sci-fi thriller Gattaca, starring Ethan Hawke, Uma Thurman and Jude Law.
It's at that point Maddow said he got into trouble, claiming Paul's comments about the movie were "totally ripped off of Wikipedia."
"Rand Paul wants to be president," she added. "But right now he's just lifting whole sections of this Wikipedia entry hoping that nobody's going to notice and he can call it his speech."
It's not the first time a politician has been accused of (ahem) borrowing his words from someone else. But from Wikipedia? It seemed too sophomoric a slipup for someone like Paul, who filibustered for 13 hours straight on the Senate floor earlier this year without any accusations of lifting his remarks.
It's true the campaign trail isn't the classroom, where copying and pasting from secondary sources is a fatal sin. But Paul is a major political player in Washington, and is considering a run for president in 2016. So a bold accusation like Maddow's raised our eyebrow.
Paul shrugged it off as a phony controversy ignited by Maddow, who he said has been "spreading hate on me for about three years now."
"This is really about information and attacks coming from haters," Paul said.
We're more than familiar with the "haters gonna hate" defense, just as we fact-checkers know what it's like to be on the receiving end of Maddow's scorn. But it was a serious enough claim that we decided to check it out anyway.
What Wikipedia says
We wanted to review the Gattaca Wikipedia page for ourselves. Any of the site's users can edit entries as they see fit, meaning pages' content changes frequently.
But the pages' edit histories are public, too, making it clear who added or changed which information and when. At first, we thought it might be possible that a reader edited the movie's Wikipedia entry to match Paul's speech after-the-fact. However, the history shows no change to the page between Sept. 25 and Oct. 29, the day after he stumped for Cuccinelli.
Let's check several examples of Paul's words against the Sept. 25 version of the page:
"In the not-too-distant future, eugenics is common and DNA plays a primary role in determining your social class."
The Wikipedia entry reads, "In 'the not-too-distant future', liberal eugenics is common and DNA plays the primary role in determining social class." That looks nearly identical.
"Due to frequent screenings, Vincent faces genetic discrimination and prejudice. The only way to achieve his dream of becoming an astronaut, is he has to become what's called a 'borrowed ladder.' "
Wikipedia: "Due to frequent screening, Vincent faces genetic discrimination and prejudice. The only way he can achieve his dream of becoming an astronaut is to become a 'borrowed ladder', a person who impersonates a 'valid' with a superior genetic profile." That too is mostly identical, with a brief addition at the end.
"He assumes the identity of Jerome Morrow, a world-class swimming star with a genetic profile said to be 'secondary to none' but he's been paralyzed in a car accident."
Wikipedia:  "He assumes the identity of Jerome Eugene Morrow, a former swimming star with a genetic profile 'second to none', who had been injured in a car accident, leaving him paralyzed from the waist down." Some of the wording here is different, but the sentence structure is strikingly identical.
"Jerome buys his identity -- uses his DNA, his blood, his hair, his tissue, his urine -- to pass the screenings."
Wikipedia: "Vincent 'buys' Jerome's identity and uses his 'valid' DNA in blood, hair, tissue, and urine samples to pass screening." Almost identical, but Paul mixed up the character names.
Sensing a pattern? So are we.
Paul was adamant there was no wrongdoing. Speaking on Oct. 30 to Fusion, a news and pop culture network aimed at young Hispanics, Paul insisted "nothing we said was not given attribution to where it came from" and the matter was a "disagreement on how you footnote things."
"We borrowed the plot lines from Gattaca. It's a movie," Paul told Fusion. "I gave credit to the people who wrote the movie."
In a statement to PolitiFact on Nov. 1, his office added: "While Sen. Paul doesn't believe that this is the normal standard for speeches, going forward he will be more cautious in presenting and attributing sources."
Experts weigh in
Paul's excuse doesn't hold water, said Bob Lehrman, author of The Political Speechwriter's Companion and a former speechwriter for Vice President Al Gore.
"When I looked at the size of language and how closely he took it, I thought that was really inappropriate, and his defense of it shows he's either desperate to shield something or he doesn't understand plagiarism," he said.
Lehrman, who also teaches a speech writing class at American University, says he tells his students lifting "even one distinctive phrase or sentence is plagiarism and is grounds for turning you in. It is absolutely inappropropriate."
It's happened before. Then-Sen. Barack Obama was campaigning for president in 2008 when he was caught using a line uttered previously by Massachusetts Gov. Deval Patrick. It turned out to be a blip in the race.
"People do it," Lehrman said. "That doesn't mean it's the right thing, and it's not the right thing to take language and just use it in a speech without attributing it."
Paul's speech is a more serious offense than that of Obama's 2008 gaffe, said Jonathan Bailey, the creator of Plagiarism Today, an online resource for writers to combat plagiarism. Obama forgot an attribution, one he remembered several other times, and acknowledged the error.
"What gets me is not so much what happened," Bailey said. "What happened by itself is fairly mundane. All Paul had to do was apologize."
But Paul claiming he credited the movie exacerbated his problem, since the movie itself wasn't what he lifted from.
"A little transparency, a little openness about what happened and why it's not going to happen again would also go a long way," he said.
Our ruling
We'll leave it to the prognosticators to determine how much impact Paul's blunder will have on his political prospects, but the facts are pretty clear on this one. Maddow was dead on; Paul recited Gattaca's Wikipedia page nearly word-for-word. We rate her statement True.
BuzzFeed, "Rachel Maddow: Rand Paul Plagiarized 'Gattaca's' Wikipedia Page," Oct. 28, 2013
MSNBC, "Where'd You Get Your Speech, Rand?" Oct. 28, 2013
Phone interview with Jonathan Bailey, Plagiarism Today founder, Nov. 1, 2013
Slate, "Rachel Maddow Catches Rand Paul Plagiarizing Gattaca's Wikipedia Page," Oct. 29, 2013
Wikipedia, "Gattaca," accessed Nov. 1, 2013
Wikipedia, "Gattaca Sept. 25 revision," accessed Nov. 1, 2013
Wikipedia, "Gattaca: Revision History," accessed Nov. 1, 2013
Phone interview with Bob Lehrman, adjunct professor at American University, Nov. 1, 2013
The New York Times, "Clinton Camp Says Obama Plagiarized in Speech," Feb. 19, 2008
Fusion, "Rand Paul Fires Back Against Plagiarism Claims," Oct. 30, 2013
Email interview with Doug Stafford, Senior Advisor for Senator Rand Paul, Nov. 1
Browse the Truth-O-Meter
More by Steve Contorno
Support independent fact-checking.
Become a member!
In a world of wild talk and fake news, help us stand up for the facts.