Stand up for the facts!
Our only agenda is to publish the truth so you can be an informed participant in democracy.
We need your help.
I would like to contribute
Says Charlie "Crist made it easier for Duke to take your money."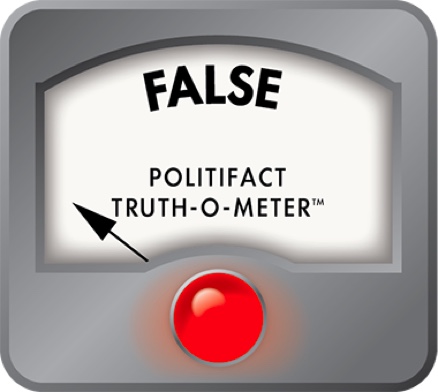 Florida GOP says Charlie Crist 'made it easier for Duke to take your money'
Failed nuclear projects by utility provider Duke Energy have suddenly electrified both sides of this year's gubernatorial campaign.
After environmentalist PAC NextGen Climate ran an ad accusing Gov. Rick Scott of not doing anything to stop the North Carolina company from fleecing consumers, the Republican Party of Florida responded with its own commercial pointing fingers at former Gov. Charlie Crist.
"Crist made it easier for Duke to take your money," the narrator of the Aug. 12, 2014, ad says. "Crist signed a law helping Duke get billions, while Rick Scott put a stop to the Crist giveaway."
PolitiFact Florida already reviewed whether Scott allowed Duke to take ratepayers' money; we found the claim Half True largely because Scott didn't say much of anything about the issue. But did Crist have anything to do with the company taking money for doomed nuclear power plant plans? We'll check this bill line by line.
Power play
The accusation is based on the twists and turns surrounding the Crystal River nuclear plant and a planned nuclear plant in Levy County that was never built. Duke Energy (which merged with Progress Energy in 2012) had botched required repairs to the existing Crystal River facility and never moved the Levy project out of the planning stage.
Thanks to SB 888, which the Legislature passed overwhelmingly in 2006, both companies had been able to charge the state's 1.7 million Duke customers an "advance fee" to pay for those plants. That bill was signed by Gov. Jeb Bush, though. (Crist was elected in 2006 but didn't take office until 2007.)
After it became apparent neither project was going anywhere even while costing Floridians millions, the state amended the law in 2012 with SB 1472, which put a 10-year time limit on the utility companies to start their projects. The state GOP said that's how Scott stopped "the Crist giveaway," but the measure actually doesn't affect past collections.
Duke decided in 2013 to shut down the Crystal River plant rather than fix it. The total cost of the Crystal River project grew to about $1.7 billion from repair work and other expenses. The company also canceled the Levy County project after spending $1.5 billion on it. And yet Duke continued to clamor for more advance fee cash.
The Florida Public Service Commission decided in October 2013 to settle with Duke Energy for the two doomed projects. Customers would shoulder $3.2 billion in expenses, insurance would pay $835 million and shareholders would pay the rest.
Customers will have to pay monthly charges of $3.45 per 1,000 kilowatt hours for Levy through the early part of 2016 and $2.17 for Crystal River through at least 2017 -- all for two projects that never produced any electricity in exchange for the money paid.
The RPOF claim
The state GOP told PolitiFact Florida the response ad's claim was based on then-Gov. Crist signing HB 7135, a 2008 amendment to the original law allowing the advance fee.
The portion of the law to which the Republican Party pointed, Section 366.93, was amended to allow the advance fee to be applied to transmission lines to move electricity from power plants to consumers.
But as mentioned, Bush signed the original bill, not Crist. Furthermore, Duke Energy didn't benefit from what Crist approved.
"The problem with that argument is that, to the best of our knowledge, Duke never recovered any money related to transmission lines," said Susan Glickman, Florida director of the Southern Alliance for Clean Energy, a nonprofit advocate for sustainable energy policy. "Even though Gov. Crist signed the omnibus energy bill, the provision Scott refers to never played a role in the costs now being borne by Duke Energy customers."
Glickman added that one utility company will probably benefit from the inclusion of transmission line planning in the 2008 amendment: Juno Beach-based Florida Power & Light Co., which has 4.4 million customers in the state.
Scott and his Cabinet in May approved FPL plans to erect 88 miles of transmission lines for two new reactors in Miami-Dade, despite vocal protests from residents and local officials. The planned lines would include poles that could reach up to 15 stories high and be about 5 feet wide, according to CBS Miami.
Our ruling
The Republican Party of Florida said, "Crist made it easier for Duke to take your money."
The accusation is about a 2008 amendment to a law that allowed electric providers to charge an advance fee to customers to build or upgrade facilities. The change Crist signed added the planning of transmission lines to the list of approved uses to the fee.
There are two big problems with the attack: Jeb Bush signed the original 2006 law, not Crist; and it doesn't appear Duke Energy ever collected advance fee money to plan transmission lines from its two nuclear projects. Crystal River was an existing plant that didn't need more, and the Levy County project never made it far enough to consider power lines. If anything, Scott is the one who has allowed a utility company to potentially profit off the change Crist allowed.
We rate the statement False.
YouTube, "Crist's Giveaway," Aug. 12, 2014
Associated Press, "Crist vetoes 'landmark' energy bill, says it's not enough," Jun 21, 2007
Orlando Sentinel, "Sweeping energy bill gains steam in Legislature," April 30, 2008
CBS Miami, "Gov. Scott, Cabinet Approve New FPL Nuke Plants, Power Lines In South Dade," May 13, 2014
CBS Miami, "Critics: Rick Scott Picks Huge Corporation Over People," May 14, 2014
Palm Beach Post, "FPL seeks $14.2 million for nuke reactors before they're approved," Aug. 3, 2014
PolitiFact Florida, "PAC accuses Rick Scott of letting Duke Energy fleece customers," Aug. 13, 2014
Florida Senate, SB 888, accessed Aug. 14, 2014
Florida Senate, SB 1472, accessed Aug. 14, 2014
Florida House of Representatives, HB 7135, accessed Aug. 14, 2014
Interview with J.R. Kelly, Office of Public Counsel attorney, Aug. 12, 2014
Interview with Susan Hepworth, Republican Party of Florida spokesperson, Aug. 13, 2014
Interview with Susan Glickman, Southern Clean Energy Alliance Florida director, Aug. 14, 2014
Browse the Truth-O-Meter
More by Joshua Gillin
Support independent fact-checking.
Become a member!
In a world of wild talk and fake news, help us stand up for the facts.