Stand up for facts and support PolitiFact.
Now is your chance to go on the record as supporting trusted, factual information by joining PolitiFact's Truth Squad. Contributions or gifts to PolitiFact, which is part of the 501(c)(3) nonprofit Poynter Institute, are tax deductible.
I would like to contribute
"We cut property taxes for seniors and our middle class."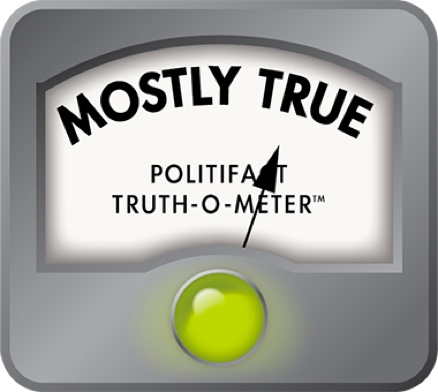 Charlie Crist says he cut 'property taxes for seniors and our middle class'
After months of campaign ads from Gov. Rick Scott, Charlie Crist began rolling out his own commercials in this year's gubernatorial race.
In the first, entitled "Sunshine," Crist hearkened back to his single term as governor, from 2007 to 2011. "We saved the jobs of 20,000 teachers," he said. "We cut property taxes for seniors and our middle class."
We've dealt with Crist's track record with teachers' jobs before, but what about his history on property taxes? PolitiFact Florida decided to send you a notice a few months before your bill is due in November.
Break for seniors
Crist's campaign pointed us to two events that happened during his term to prove its point. One was the 2007 legislation HB 333, a bill the Legislature passed that increased the homestead exemption for low-income seniors. It was the law that implemented Amendment 6, which voters had approved in 2006.
HB 333 increased the maximum homestead exemption from $25,000 to $50,000 for seniors whose income was less than $23,414, if local governments allowed it. Crist signed the bill during his first legislative session in April 2007. While running for governor, he had broadly campaigned on lowering the property tax burden on senior citizens, saying the state's booming economy would make up the difference.
The exemption applied to cities and counties, not to school districts or special districts. By the time Crist approved the law, 53 counties and 158 cities had already approved an increased exemption, but the law allowed them to increase it up to $50,000 for 2007.
Break for middle class
The second item was the 2008 passage of Amendment 1, a constitutional change aimed at giving longtime Florida residents a break on ever-escalating property taxes. We should note that Crist says the break was for "our middle class," but doesn't define the term. Most homeowners saw some benefit, no matter what their income level.
The amendment increased the homestead exemption, saving homeowners an average of $240 on property taxes annually. It also allowed homeowners to transfer their tax benefits to a new residence (including benefits from the 1992 Save Our Homes tax provisions). The amendment further created a new $25,000 exemption for some business properties and limited assessment increases for non-homesteaded properties to 10 percent annually.
Crist was a very vocal supporter of the measure, campaigning on the plan during the 2006 election. He frequently said taxes would "drop like a rock" under Amendment 1.
Opposition came from newer residents who wouldn't enjoy the benefits in the same way as long-term owners. Florida TaxWatch said it was potentially unconstitutional, and even state Chief Financial Officer Alex Sink worried about state fire-fighting agencies, among other departments, losing funding.
Despite this opposition, the amendment passed on Jan. 29, 2008, with 64 percent of the vote. The 2008 Legislature fully implemented it with SB 1588, which Crist signed on June 17.
We should note critics had reason to be wary of the change, especially because of the timing. The amendment made beneficiaries happy but wreaked havoc on state tax revenues, combined with the Great Recession's crashing real estate market, which wiped out billions in taxable home values. Drastic budget cuts resulted in reduced services statewide.
The bill was originally projected to save homeowners $1.3 billion the first year, but it's unlikely the tax benefits amounted to that much because of property values declining in 2008 and later years. Experts told us an analysis to find out how much less would have to go parcel by parcel, taking into account taxable values and changes in local millage rates.
The Republican Party of Florida has been saying that Crist actually raised taxes on the middle class $2.2 billion while in office. That actually came a year later, when he and the Republican-led Legislature raised taxes and fees, like $1 a pack tax on cigarettes, to close a budget hole in 2009. Other fees were increased on auto tags and fishing licenses.
Were the property tax cuts outweighed by the later tax increases of 2009? It's nearly impossible to quantify the impact on an average taxpayer, because it would depend on if an individual owned property, smoked cigarettes, owned a car or fished.
Our ruling
Crist said, "we cut property taxes for seniors and our middle class."
Crist supported increased homestead exemptions for seniors, although only those considered low income. He also supported tax cuts for property owning residents, but not just an undefined middle class. Voters decided on both issues with constitutional amendments, and the state Legislature did its part by passing bills that Crist signed.
Crist's claim doesn't specify the nuances, but property tax cuts for groups falling under those umbrellas did happen during his term. We rate the statement Mostly True.
YouTube video, "Sunshine," July 7, 2014
YouTube video, "Not Buying It," July 8, 2014
Orlando Sentinel, "Ad Watch: Governor's race," Sept. 27, 2006, accessed July 8, 2014 via Nexis
Palm Beach Post, "'I will fight like a dog' to make pledge reality, Crist tells seniors," Oct. 14, 2006, accessed July 8, 2014 via Nexis
Associated Press, "Crist, Davis court senior vote with tax breaks, cheap medicine," Oct. 18, 2006, accessed July 8, 2014 via Nexis
Associated Press, "Davis, Crist differ on how to reduce property taxes," Oct. 30, 2006, accessed July 8, 2014 via Nexis
Stuart News, "All's not well on homestead," Oct. 31, 2006, accessed July 8, 2014 via Nexis
Orlando Sentinel, "Crist OKs seniors' tax break," April 10, 2007, accessed July 8, 2014 via Nexis
Jacksonville Business Journal, "Crist signs homestead exemption for low-income seniors," April 10, 2007, accessed July 8, 2014 via Nexis
Associated Press, "House GOP to modify property tax reform plan," March 15, 2007, accessed July 8, 2014 via Nexis
South Florida Sun-Sentinel, "All six proposals pass," Nov. 6, 2008, accessed July 8, 2014 via Nexis
Tampa Bay Times, "Amendment 1 delivers record plunge in Pinellas taxable property values," April 16, 2008
Tampa Bay Times, "Despite Amendment 1, Floridians are still trapped in their homes," Feb. 7, 2009
Miami Herald, "Gov. Crist signs $66.5 billion budget, breaks tax pledge," May 27, 2009
PolitFact Florida, "Alex Sink supported 'higher property taxes,' Florida GOP says," Feb. 24, 2014
Florida House of Representatives, "CS/HB 333," accessed July 8, 2014
Florida House of Representatives, "CS/SB 1588," accessed July 8, 2014
Interview with Kevin Cate, Crist campaign spokesman, July 7, 2014
Interview with Amy Baker, Office of Economic & Demographic Research coordinator, July 8-10, 2014
Interview with Kurt Wenner, Florida TaxWatch vice president of tax research, July 10, 2014
Browse the Truth-O-Meter
More by Joshua Gillin
Support independent fact-checking.
Become a member!
In a world of wild talk and fake news, help us stand up for the facts.