Stand up for the facts!
Our only agenda is to publish the truth so you can be an informed participant in democracy.
We need your help.
I would like to contribute
Says Sen. Mitch McConnell is "the No. 1 recipient of contributions from lobbyists this cycle."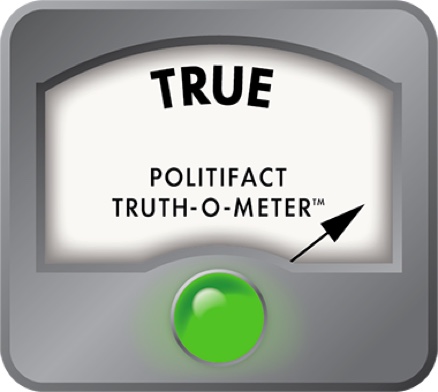 Does Mitch McConnell receive more money from lobbyists than any other member of Congress?
Republicans are hopeful they can win enough Senate seats in November to take control of the chamber, which puts Sen. Mitch McConnell in the driver's seat to become majority leader next year.
But first, the Kentucky Republican needs to get through a tough re-election campaign.
Both Republican primary challenger Matt Bevin and Kentucky Secretary of State Alison Lundergan Grimes, the presumptive Democratic nominee, have sought to paint McConnell as a Washington insider after three decades in the Senate.
Along those lines, in an email to her supporters on March 17, 2014, Lundergan Grimes claimed that McConnell is "the No. 1 recipient of contributions from lobbyists this cycle."
There's going to be a lot of mudslinging in this race and a lot of claims about who is raising money from whom and where. We thought we would start by checking whether McConnell is getting more contributions from lobbyists than anyone in Congress.
Campaigns and candidates use "lobbyists" like a dirty word, but you may be asking, "what exactly is a lobbyist?" Glad you asked.
Lobbyists are people who are hired to persuade members of Congress on a particular issue. They are brought in by many different industries, from private companies like Microsoft or ExxonMobil, to associations representing local governments, to nonprofits focused on hot-button legislation. Some organizations have in-house lobbyists, and others hire large firms that lobby Congress on a variety of topics.
We first checked in with the Lundergan Grimes campaign to see where they got their numbers. They linked us to a report by Open Secrets, a nonpartisan campaign finance watchdog website run by the Center for Responsive Politics.
The report, titled "Sincere or Strategic, Lobbyists Give Big," looked at trends in donations from federally registered lobbyists. If a company or organization spends a certain amount of money lobbying Congress, they're required to register with the federal government. Open Secrets checks this database against the campaign finance disclosure reports that candidates file.
Open Secrets found that the 25 lobbyists who have contributed the most money to campaigns this cycle have already donated $1.9 million. Contributions are not party exclusive; five of those 25 gave strictly to Republicans, 11 gave to Democrats and a handful gave to both.
Open Secrets also released a list of the members of Congress who have received the most donations from lobbyists during the campaign cycle (since the start of 2013).
With $281,301 in contributions from lobbyists, McConnell topped the list, followed closely by House Speaker John Boehner at $278,380. McConnell has also received another $50,000 from family members of lobbyists.
Here's the top 10:
| | |
| --- | --- |
| Sen. Mitch McConnell (R-Ky.) | $281,301 |
| Rep. John Boehner (R-Ohio) | $278,380 |
| Sen. Mark Pryor (D-Ark.) | $221,450 |
| Sen. Mark Udall (D-Colo.) | $204,400 |
| Sen. John Cornyn (R-Texas) | $194,300 |
| Sen. Mark Begich (D-Alaska) | $160,300 |
| Sen. Jeanne Shaheen (D-N.H.) | $129,433 |
| Sen. Kay Hagan (D-N.C.) | $123,733 |
| Sen. Mark Warner (D-Va.) | $121,750 |
| Sen. Susan Collins (R-Maine) | $121,486 |
As you can see, it's a hodgepodge of Democrats and Republicans rounding out the list, but the two most powerful Republicans in Congress lead the way, by quite a bit.
This list doesn't count the Massachusetts special election race in 2013 to replace Secretary of State John Kerry, won by Democrat Ed Markey. Markey raised about $306,000 from lobbyists between that special election and his 2014 re-election race, so he technically leads the cycle. A spokeswoman for Open Secrets said that when Lundergan Grimes made her statement, the organization had not yet updated their website with Markey's contributions. Markey's situation, though, is a quirky anomaly, because he was in the unusual position of running twice in one campaign cycle.
McConnell isn't just the top congressional recipient of donations from lobbyists. According to his Open Secrets profile, he has also received more money than any other lawmaker since 2013 from a number of industries.
He's No. 1 in campaign donations from people who work in the fields of — deep breath here — agriculture services, air transportation, auto dealers and manufacturers, building materials, business associations, coal mining, commercial banks, commercial TV and radio stations, electric utilities, food and beverage, food stores, general contractors, health services, home builders, insurance, medical devices and supplies, mining, mortgage bankers and brokers, pharmaceutical and health products, railroads, retirees, steel production and trucking.
When he last ran for re-election in 2008, McConnell, who was minority leader at the time, topped the list in two industries, coal mining and tobacco. He was fourth in contributions from lobbyists.
It's worth noting that in 2010 when Majority Leader Harry Reid was up for re-election, he benefited most from lobbyist contributions as well. With $947,000 in donations from lobbyists, Reid received nearly $300,000 more from lobbyists than the next closest lawmaker. So it's not uncommon for party leaders to receive significant financial backing during their re-election fights.
For her part, Lundergan Grimes has received $54,699 from lobbyists, 51st among candidates running in 2014.
Our ruling
Lundergan Grimes said McConnell is "the No. 1 recipient of contributions from lobbyists this cycle." Based on the analysis from Open Secrets, McConnell tops the chart for 2014. That's probably a perk of his party position more than anything. As noted, Speaker Boehner is right behind him and Reid was the No. 1 recipient during his 2010 campaign.
But that doesn't change the accuracy of the claim. We rate it True.
Campaign email sent by Alison Lundergan Grimes, Kentucky Secretary of State, March 17, 2014
WFPL, "Mitch McConnell, Alison Lundergan Grimes Have 'Sharp Differences' on Campaign Finance Rules," March 19, 2014
Email interview with Charly Norton, spokeswoman for Grimes Senate campaign, March 27, 2014
Email interview with Allison Moore, spokeswoman for Sen. Mitch McConnell, March 27, 2014
Email interview with Viveca Novak and Russ Choma, spokespeople for the Center for Responsive Politics OpenSecrets.org, March 26-27, 2014
OpenSecrets.org, "Sincere or Strategic, Lobbyists Give Big," March 12, 2014
OpenSecrets.org, "Top Recipients of Contributions from Lobbyists, 2014 Cycle," accessed March 27, 2014
OpenSecrets.org, "Top Recipients of Contributions from Lobbyists, 2010 Cycle," accessed March 27, 2014
OpenSecrets.org page for Sen. Mitch McConnell, accessed March 27, 2014
Browse the Truth-O-Meter
More by Steve Contorno
Support independent fact-checking.
Become a member!
In a world of wild talk and fake news, help us stand up for the facts.