Get PolitiFact in your inbox.
"I'll be the only economist in the (U.S.) House."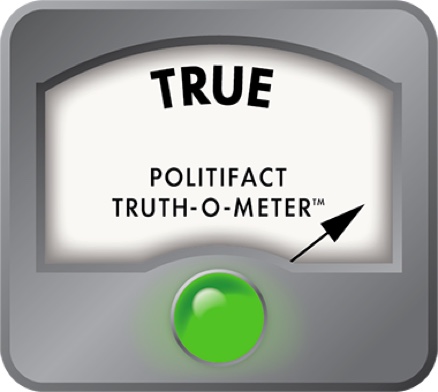 Brat will hold the only Ph. D. in economics in the House
In case you haven't heard, newly elected U.S. Rep. Dave Brat is an economist. And that background, the Republican said repeatedly in campaign speeches and ads, puts him in a unique position to lead in Washington.
"If you do send me up there, and I'd be honored if you do, I'll be the only economist in the House," Brat, R-7th, told voters at an Ashland rally on Oct. 15.
Well, 7th District voters are sending him up there. So we decided to check whether Brat truly will be one of a kind.
Let's start by examining what economists do. According to the Bureau of Labor Statistics, "economists study the production and distribution of resources, goods and services by collecting and analyzing data, researching trends and evaluating economic issues." They forecast market trends and advise businesses and governments on economic issues.
What qualifies one as an economist?
"There is no formal definition for 'economist,' although the usual distinction is that one has earned a Ph.D. in economics," John Siegfried, the secretary-treasurer emeritus of the American Economic Association, said in an email. "But anyone can call themselves 'an economist.'"
The BLS says generally most economist jobs require a master's degree or Ph.D., although some are available to people with bachelor's degrees in the field.
Brat holds a Ph.D. in economics from American University, has been a professor at Randolph-Macon College since 1996 and chairman of its Department of Economics and Business since 2005. He's served two Virginia governors on the Joint Advisory Board of Economists and advised a number of other organizations.
Brat is an avowed believer in free markets who says his hero is Milton Friedman, a Nobel laureate in economics who maintained that government should wield a feather hand on the marketplace. Brat, according to The New York Times, is not known for groundbreaking research of his own.
How did Brat conclude he'll be the only economist in the House?
Brian Gottstein, spokesman for Brat's campaign, said the information came from Congressional Quarterly,  which compiles profiles for each member of Congress.
"We did not count those House members that have undergraduate economics degrees but aren't career economists," Gottstein e-mailed.
We found a January 2014 report by the Congressional Research Service that breaks down House members' occupations into 20 categories which, unfortunately, did not include economists. Almost half of the members had careers either in law, business or banking.
Another CRS report from August, although not exhaustive, drilled down a little further on the occupations of members of Congress. It lists, among other things, five former Peace Corps volunteers, four radio talk show hosts, three psychologists, two almond orchard owners, one rodeo announcer and zero economists.
The House clerk's office lists 21 Ph.D. holders in the chamber. But none of their doctorates, we found, are in economics. Twenty-seven members have undergraduate degrees in economics, according to a CQ database of the various educational degrees and occupations each congressmen lists on his resume.
Only two members have "economist" listed as a former job:
Rep. Jeff Fortenberry, R-Neb., who also has done stints as a congressional aide and a public relations manager at a publishing firm.  

Rep. Scott Peters, D-Calif, says he was an economist for the Environmental Protection Agency during 1980-81. He subsequently became a lawyer.
Our ruling
Brat said he would be the only economist in the House.
We only found two members who list economist among the jobs they've held before entering Congress. Both went on to other professions. Brat has been an economics professor since 1996 and would be the only congressman with a Ph.D. in the field.
We'll leave it to you decide whether Brat's distinct background will better enable Congress to resolve economic issues. But as for his claim of uniqueness, we rate it True.
Dave Brat's comments at Ashland campaign rally, Oct. 15, 2014.
Email from Brian Gottstein, spokesman for Dave Brat's campaign, Oct. 20, 2014.
Congressional Quarterly Member Profiles, accessed Oct. 22-23, 2014.
Congressional Quarterly, "Guide to the new Congress," Nov. 8, 2012.
Congressional Research Service, "Membership of the 113th Congress: A profile," Aug. 26, 2014.
Congressional Research Service, "Representatives and Senators: Trends in member characteristics since 1945," Jan. 27, 2014.
Email from John Siegfried, the secretary-treasurer emeritus of the American Economic Association, Oct. 22, 2014.
BallotPedia, "List of candidates running in U.S. Congress elections," 2014.
The Bureau of Labor Statistics Occupational Handbook, "Economists," accessed Oct. 23, 2014.
The Economist, "What makes an economist?" Oct. 2, 2007.
U.S. House Clerk, "List of Ph.D. and Ed.D. holders," Oct. 1, 2014.
AP candidate profile of Jeff Fortenberry, June 9, 2014.
PolitiFact Virginia, "Eric Cantor says Dave Brat served as economic adviser to Tim Kaine," April 22, 2014.
The New York Times, "Dave Brat's 'hand-of-God' economics," July 8, 2014.
Mother Jones, "Fellow economists call David Brat's academic resume 'not impressive' and 'unusual,'" June 13, 2013.
Real Clear Politics, 2014 election results for the House, accessed, Nov. 6, 2014.
Dave Brat for Congress, "About Dave," accessed Nov. 5, 2014.
Browse the Truth-O-Meter
More by Sean Gorman
Support independent fact-checking.
Become a member!
In a world of wild talk and fake news, help us stand up for the facts.