Stand up for the facts!
Our only agenda is to publish the truth so you can be an informed participant in democracy.
We need your help.
I would like to contribute
"Americans will spend more on taxes in 2015 than on food, clothing and housing combined."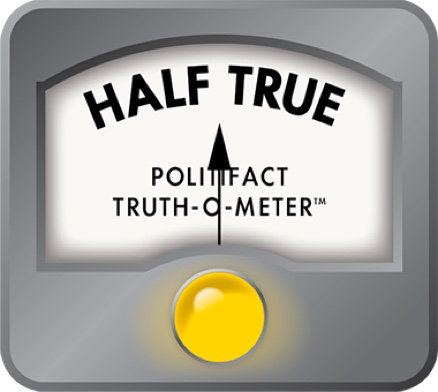 Scott Walker says Americans will spend more on taxes than on food, housing and clothing combined
On April 14, 2015, Scott Walker asked followers of his personal Twitter account if they've been taxed enough already.
"Did you know, Americans will spend more on taxes in 2015 than on food, clothing and housing combined?" Walker's campaign team tweeted. (We know Walker didn't personally pen it because it's signed "TW," for Team Walker).
The tweet highlighted a chart showing Americans collectively paid $4.8 trillion in taxes in 2014, more than the total of the three life essentials.
It's a claim PolitiFact National checked in 2014 and 2011 after identical statements by the Tax Foundation and Republican National Committee chairman Reince Priebus, respectively.
Both those were rated Half True. Let's see what the latest figures show.
Digging into the numbers
Walker's campaign told us he relied on the Tax Foundation's annual "tax freedom" day report. Among other things, that report examines taxing and spending figures based on U.S. Bureau of Economic Analysis data.
Both the Tax Foundation and Walker make clear they are using collective taxing and spending figures -- by using a chart, in Walker's case, and words and charts in the Tax Foundation's case.
One cautionary note: Full data is not yet available for 2015, since we are not even at the midpoint of the year. The Tax Foundation based its claim about 2015 on 2014 figures that it adjusts for economic growth predicted by the nonpartisan Congressional Budget Office, said Kyle Pomerleau, an economist with the group.
We checked the BEA's data for 2014, the latest available, and found a significant edge for total taxes paid over the aggregate amount spend on food, housing and clothing.
Total spending on groceries, restaurant meals, clothing, footwear, housing and utilities came to $4.2 trillion.
Meanwhile, taxes -- local, state and federal -- rang up to $4.9 trillion.
For perspective, total personal consumer expenditures, which includes additional things like vehicles, recreation and health care, were $11.9 trillion in 2014.
In recent years, the federal figures show, taxes have consistently topped food, shelter and clothing.
Another perspective
But PolitiFact National's earlier work points out there is another way to look at the comparison: by examining what individual Americans pay.
That's a complex task, but one way to do it is to examine what people at different income levels spend and pay in taxes as a share of their total income.
Through that lens, many poorer Americans likely pay a higher share of their income on food, shelter and clothing, in part because they pay little in taxes.
Conversely, richer Americans may well pay a higher fraction of their income in taxes and a smaller share for those essentials.
So by this other method, for many people, Walker's claim does not hold up. The 2014 item concluded that a majority of Americans probably pay more for the three essentials than for taxes.
Our rating
Walker claimed, based on what happened in 2014, that Americans in 2015 collectively will spend more on taxes than they do on food, housing and clothing combined.
The statement is partially accurate -- on target based on past experience by the method Walker uses, but inaccurate by another method that examines the claim in a fuller context.
That's a Half True on our meter.
Walker campaign tweet, April 14, 2015
Email with Kirsten Kukowski, spokeswoman, Our American Revival, April 21, 2015
Truth-O-Meter item, April 23, 2014
Truth-O-Meter item, April 18, 2011
Bureau of Economic Analysis, "National Income and Product Accounts Tables," accessed April 20, 2015
Emails with Kyle Pomerleau, economist, and Richard Borean, communications manager, Tax Foundation, April 21-22, 2015
Browse the Truth-O-Meter
More by Dave Umhoefer
Support independent fact-checking.
Become a member!
In a world of wild talk and fake news, help us stand up for the facts.