Stand up for the facts!
Our only agenda is to publish the truth so you can be an informed participant in democracy.
We need your help.
I would like to contribute
Says American polling shows Russian President Vladimir Putin has "an 80 percent approval rating."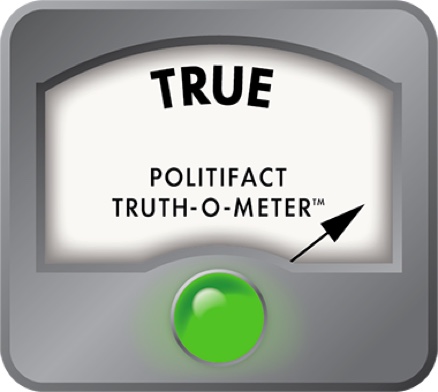 Donald Trump is right about Putin's popularity in Russia
Russian President Vladimir Putin recently called Donald Trump "brilliant" and "talented," and Trump wears those compliments as a badge of honor.
On NBC's Meet the Press on Dec. 20, host Chuck Todd asked the real estate mogul and Republican presidential front runner why he is so comfortable praising Putin, noting that Trump has called Putin a "strong leader."
"He is a strong leader. What am I going to say, he's a weak leader?" Trump responded. "He's making mincemeat out of our president."
Then Trump turned to his reliable measure of a person's success: the polls.
"He's got an 80 percent approval rating done by pollsters from, I understand, this country. Okay?" Trump said.  "So it's not even done by his pollsters. He's very popular within Russia; that may change."
An 80 percent approval rating is pretty darn high. For comparison, President Barack Obama's job approval rating is currently about 46 percent and peaked at 64 percent in February 2009, his second month in office, according to Pew Research Center.
So we wondered if Trump is correct that American polling shows Putin has such a high rating among the Russian people.
In a first for Trump on the Truth-O-Meter thus far, he is.
By the numbers
A November study written by four American researchers backs up Trump's point, finding about 80 percent of Russians really support Putin.
"What Trump said is consistent with what we found," said Scott Gehlbach, a co-author of the study and a political science professor at the University of Wisconsin-Madison.
Given that Putin achieved strikingly high public approval ratings, the study asked whether Putin's popularity is real or if respondents have been lying to pollsters. A primary concern for the researchers was the possibility of "social desirability bias," the idea that a person who does not support Putin might tell a pollster that they do support him out of fear of retaliation or going against social norms.
To correct for this, the researchers used a list experiment, a technique used to broach sensitive issues because it does not require respondents to say explicitly that they do or do not support Putin. Pollsters gave Russian respondents a list of several Russian leaders and asked how many they support, but not which ones. By comparing the difference between a control group, which was presented with a list that did not include Putin, with a group that received a list that did include Putin, the researchers were able to estimate overall support for the Russian president.
After conducting four list experiments in January and March of this year, Gehlbach and his co-authors concluded that the high level of support for Putin is real. If anything, their finding of 80 percent support might be an underestimate.
Gehlbach noted, though, that the study did not account for how many of the 80 percent are devout supporters versus those whose support is fleeting. Further, it's likely that the Kremlin manipulates public opinion of Putin through tight control of the media.
"It's reasonable that some people support Putin because of what they see on the evening news," Gehlbach said.
This study is evidence that Putin is genuinely popular in Russia, wrote Joshua Tucker, a political science professor at New York University, in a Nov. 24 post on the Washington Post's Monkey Cage blog.
In sum, "the findings suggest both that the West will likely be dealing with a popular leader when it interacts with Putin in the days to come," Tucker wrote.
One potential wrinkle in Trump's claim is that while the American researchers designed the study, a Russian polling company, the Levada Center, actually conducted the survey. But Gehlbach said that doesn't dilute Trump's claim because the Levada Center is well-regarded as independent from the Russian government.
Karlyn Bowman, a public opinion expert and senior fellow at the American Enterprise Institute, also said the Levada Center is held in high regard and its findings are consistent with related research by the U.S.-based Pew Research Center.
This past summer, Pew found 88 percent of Russians "have confidence in (Putin), to do the right thing regarding world affairs." Putin's standing is substantially lower among Americans, with just 21 percent saying they have confidence in him.
Gehlbach's article, which will be published in the journal Post-Soviet Affairs, also mentions how Putin's high approval ratings are often confirmed by Western researchers' polls. The study cites an Associated Press-NORC at the University of Chicago poll that found Putin's approval rating to be about 81 percent in 2014.
Our ruling
Trump said American polling shows Russian President Vladimir Putin has "an 80 percent approval rating."
Multiple American polls have found Putin's approval rating to hover around 80 percent among the Russian public, including a recent study that aimed to adjust for any possibility that respondents have been lying to pollsters out of fear or social expectations.
This statement rates True.
NBC, Meet the Press, Dec. 20, 2015
NBC, "Vladimir Putin's Approval Rating Hits All-Time High, Boosted by Syria Airstrikes," Oct. 22, 2015
Post-Soviet Affairs, "Is Putin's Popularity Real?" Forthcoming
Washington Post, "Russia loves Putin. The rest of the world? Not so much," Aug. 5, 2015
Washington Post, "Why we should be confident that Putin is genuinely popular in Russia," Nov. 24, 2015
AP-NORC, "Public Opinion in Russia: Russians' Attitudes on Economic and Domestic Issues," survey conducted November and December 2014
Pew Research Center, "Russia, Putin Held in Low Regard around the World," Aug. 5, 2015
Pew Research Center, "Russian Public Opinion: Putin Praised, West Panned," June 10, 2015
Phone interview, Scott Gehlbach, political science professor at the University of Wisconsin-Madison, Dec. 20, 2015
Email interview, AEI Senior Fellow Karlyn Bowman, Dec. 20, 2015
Browse the Truth-O-Meter
More by Lauren Carroll
Support independent fact-checking.
Become a member!
In a world of wild talk and fake news, help us stand up for the facts.