Stand up for the facts!
Our only agenda is to publish the truth so you can be an informed participant in democracy.
We need your help.
I would like to contribute
The Koch Brothers are "spending more money than either the Democratic or Republican parties" in the 2016 elections.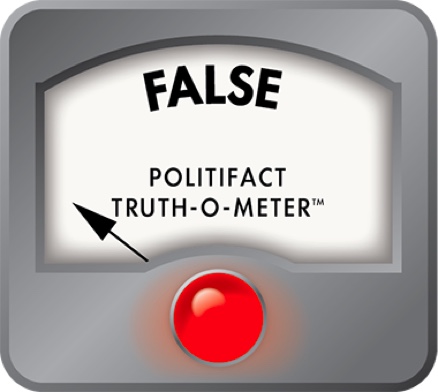 Sanders says Koch brothers are outspending either political party in 2016 elections
U.S. Sen. Bernie Sanders, I-Vt., recently urged students at George Mason University and across the nation to stand against the Koch brothers.
Multibillionaires Charles and David Koch run Koch Industries, headquartered in Wichita, Kan. They've generated headlines in recent years for their roles in creating conservative fundraising groups - including Americans for Prosperity - that are not required to disclose their donors or the amounts each gave.
Sanders lit into the Koch brothers at an Oct. 28 rally for his Democratic presidential campaign that was held at GMU and live-streamed across the nation.
"You all have one vote, and I hope you'll exercise that vote," he said. "The Koch brothers - second-wealthiest family and extreme right wing family - they also have one vote, but they are going to spend some $900 million in this campaign to try to elect candidates who will cut Social Security, Medicare, federal aid to education and environmental programs.
"When you have one family - this is America, this it not some small Third World country - when in the United States of America you have one family spending more money than either the Democratic or Republican parties, that is not democracy. That is oligarchy, and we have got to change that."
The GMU rally hardly was the first time Sanders has claimed the Koch brothers personally will outspend either party this election cycle. It's a standard line in his stump speech, and we wondered whether it's true.
We asked Warren Gunnels, Sanders' policy director, for evidence. He sent us a link to the two political parties' spending during the most recent presidential campaign and reports about projected spending for the Koch brothers' political network leading up to the 2016 election.
Political party spending
In 2012, the Democratic National Committee, the Democratic Congressional Campaign Committee and the Democratic Senatorial Campaign Committee collectively spent $647 million, according to tallies from the nonpartisan Center for Responsive Politics that Gunnels cited.
The center's figures show that the Republican National Committee, the National Republican Congressional Committee and the Republican Senatorial Committee together spent $674.5 million.
The figures Gunnels cited were for each national party's major fundraising organization for presidential and congressional races. But the total amount raised by the parties went higher, because both Democrats and Republicans have additional committees - such as state and local party organizations - that also spend money on campaigns.
All told, the Democratic Party spent nearly $1.1 billion and the Republican Party spent slightly more than $1 billion in 2012, according to the center's figures.
Viveca Novak, a spokeswoman for the center, said her group doesn't have an estimate for how much the parties will spend for the 2016 elections, although she expects total overall spending will increase from the 2012 cycle.
Richard Skinner, a policy analyst at the Sunlight Foundation, a nonprofit that tracks campaign spending, told us he expects each party's spending this cycle would be either the same or greater than it was in 2012.
Koch network projected spending
Gunnels referred us to a January 2015 story in The New York Times that said the Koch brothers told a gathering of mega-donors that their political network set a goal of spending $889 million in the next two years.
The article said that type of goal would require a significant commitment from the roughly 300 donors the Kochs had recruited in recent years. Because the Kochs' political network consists of nonprofit groups that don't have to identify their donors, The Times said it would be impossible to determine how much of the money ultimately is contributed by the brothers and how much comes from other donors.
As The Washington Post noted in an October fact check about a similar Sanders claim, the brothers released further details in Koch Industries' June newsletter, saying that only one-third of their fundraising goal would be spent on presidential, congressional, state and local races.
The remaining two-thirds, the newsletter said, would help "support research and educational programs, scholarships and other efforts designed to change policies and promote a culture of freedom in the United States," including donations to the United Negro College Fund and criminal justice reform.
In an October radio interview with American Public Media's "Marketplace," Charles Koch dialed back the spending projection, saying he expected his political network to spend $750 million, with about $250 million of it dedicated to campaigns.
"And as I said, a very small portion of that 250 (million) comes from the so-called Koch brothers, and even less from me than from my brother, because everybody can choose what they want to give to," Koch said in the radio interview. "So it isn't the Koch brothers doing it. It's other people doing it."
"Marketplace" host Kai Ryssdal said that sounded disingenuous.
"You have money in politics throughout the system, and for you to sit there and say, 'I'm sorry, this isn't really us,' doesn't ring true and will not ring true when people hear this interview," Ryssdal said.
Our ruling
Sanders said "one family" - the Koch brothers - will spend more than either major political party in the 2016 campaign.
Since it's too early to know what each party will spend on the next year's elections, Sanders bases his claim on what each party's congressional and presidential campaign committees spent in the 2012 cycle. That came to $647 million by Democrats and $675 million by Republicans.
These, however, are low-ball figures. When spending by the parties' state and local committees are considered, the total rises to about $1.1 billion for Democrats and $1 billion for Republicans.
On the other hand, Sanders high-balls the Kochs' plans, pointing their announced goal in January to raise $900 million and not their updated estimate last month of raising $750 million. In either case, the Kochs made it clear that most of the money would not come from their own pockets but from a political network of anonymous contributors.
Sanders also overlooks the Kochs' assurances that only one-third of the money will go to political campaigns, with the remainder dedicated to research and educational programs that "promote a culture of freedom."
So anyway you dice it, it does not appear that the Koch brothers will outspend either one of the major political parties in next year's elections. The burden is on Sanders to prove otherwise, and he falls short.
We rate his statement False.
Sen. Bernie Sanders' comments at the George Mason University, Oct. 28, 2015.
Email from Warren Gunnels, policy director for Bernie Sanders presidential campaign, Oct. 30, 2015.
The Center for Responsive Politics, database on political party spending, accessed Nov. 3-4, 2015.
The New York Times, "Koch brothers' budget of $889 million for 2016 is on par with both parties' spending," Jan. 26, 2015.
American Public Media, "Full Interview: Charles Koch," Oct. 21, 2015.
The Washington Post Fact Checker, "Bernie Sanders's inaccurate claim that the two Koch brothers will spend more than either major party on 2016 elections," Oct. 22, 2015.
The Washington Post, "Koch-backed network aims to spend nearly $1 billion in run-up to 2016," Jan. 26, 2015.
Politico, "The Kochs put a price on 2016: $889 million," Jan. 26, 2015.
USA Today, "Koch brothers set $889 million budget for 2016," Jan. 27, 2015.
Interview with Viveca Novak, spokeswoman for the Center for Responsive Politics, Nov. 3, 2015.
Interview with Richard Skinner, policy analyst at the Sunlight Foundation, Nov. 5, 2015.
Koch Industries newsletter, June 2015.
The Washington Post, "What is a 501(c)(4) anyway?" May 13, 2013.
Congressional Research Service, "501(c)(4)s and campaign activity: Analysis under tax and campaign finances laws," May 17, 2013.
Forbes, "Koch Industries," accessed Nov. 5, 2015.
Center for Responsive Politics, "Americans for Prosperity donors, 2012 cycle," accessed Nov. 4, 2015.
Center for Responsive Politics, "Political nonprofits (Dark Money)," accessed Nov. 5, 2015.
Browse the Truth-O-Meter
More by Sean Gorman
Support independent fact-checking.
Become a member!
In a world of wild talk and fake news, help us stand up for the facts.