Stand up for the facts!
Our only agenda is to publish the truth so you can be an informed participant in democracy.
We need your help.
I would like to contribute
Says her campaign platform includes the "biggest investment in new, good-paying jobs since World War II."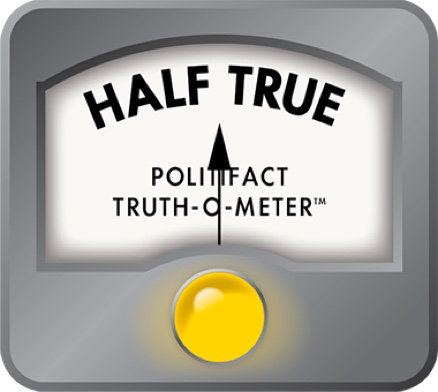 Hillary Clinton's claim that she would make the biggest jobs investment since World War II
In nearly every campaign speech, Democratic presidential nominee Hillary Clinton says her jobs platform is historic in magnitude.
"My top priority is create an economy that works for everyone, not just those at the top, which is why I've set five ambitious goals to get us there," she said in Scranton, Pa., Aug. 15.  "First, we are going to make the biggest investment in new, good-paying jobs since World War II."
We've heard this phrase many times, so we decided it's time we fact-checked it.
A sizeable investment
Remember, Clinton is comparing her proposed spending to actual spending since World War II. No one can say at this point how much Congress might approve if she is elected president. With that in mind, let's dig into the nitty-gritty.
Clinton has proposed total federal spending in several areas: $275 billion on infrastructure, $500 billion on higher education, $100 billion in energy and research, and $25 billion on housing, plus less expensive investments in a few other areas.
So that's a total of at least $900 billion in new spending over a 10-year period (or two terms plus two years after she leaves office).
How does that compare to the past? According to the Clinton campaign, the largest total federal investment in three job-making categories — infrastructure, education and research and development — since World War II was about $766 billion over a 10-year period starting in 1998, when her husband Bill Clinton was president.
How Clinton's policy team came up with this figure gets a little wonky.
In a nutshell, her campaign collected historical data going back to 1947 to estimate how much the federal government spent on public investments each year — including spending on non-defense infrastructure, education, and research and development. Then, for each year, they calculated how much investment increased or decreased over the following 10 years compared to that first year. (All figures were adjusted for inflation.)
Here's a taste of what that means: The Clinton campaign estimated that the total "public investment" in 1998 was $174 billion. Over the next 10 years, the total increase in public investment was $766 billion. This is much smaller than Clinton's proposed $900 billion (or more) in increased investments over the next 10 years.
It's a rough estimation, one that doesn't necessarily capture all aspects of public investments, let alone how the spending leads to new jobs. But experts told us this is a plausible representation of the size of Clinton's proposals compared to historic spending increases in these areas.
They added, however, that we should look at the size of the investment as a share of gross domestic product, which helps scale the spending as a share of the economy's size at the time.
We ran the calculations (thanks, Excel!) and found Clinton's statement isn't quite as airtight once you factor in GDP.
Clinton's investment would be larger than most years, at about a 5 percent share of current GDP. But the share was higher every year from 1954-64 (ranging from 6 to 12 percent) and in 1998 at 6 percent.
Still, Clinton's proposals amount to a lot of spending, much of which she plans to finance through changes to the tax code.
Her spending proposal "does seem historically large," said Jesse Rothstein, director of the Institute for Research on Labor and Employment at University of California, Berkeley.
Rothstein noted for comparison that total federal spending on job training is under $5 billion per year, and the entire budget of the Education Department is less than $100 billion.
For a more historical comparison, consider the biggest investment in infrastructure since World War II — the interstate highway system, launched in the 1950s under President Dwight Eisenhower. The project cost about $500 billion in today's dollars over its decades of construction, according to industry analysts.
Clinton + historic spending = jobs?
Clinton's argument evokes a classic economic debate: Does government spending create jobs, or are jobs lost as a result of increased spending and borrowing?
Federal investment doesn't necessarily equal "new, good-paying jobs," though it can, said Steve Ellis, vice president of Taxpayers for Common Sense, a group concerned by rising deficits.
But if the spending isn't appropriately allocated, it can go to waste or get in the way of the private sector.
Parts of Clinton's platform are clearly geared toward creating new jobs, such as the $275 billion investment in infrastructure, which would involve construction jobs, and parts of a $10 billion package for the manufacturing sector that the campaign says would "reward" manufacturers for creating new, well-paid, local jobs.
Other proposals are more nuanced or require making some assumptions, such as the notion that an investment in energy research and development would lead to higher productivity, as well as more private investment and eventually more jobs.
The Clinton campaign argues her college and workforce training plans would result in higher-skilled workers being available for higher-skill jobs. However, much of that money will go toward reducing debt for many students. That might help some kids get through college who wouldn't have, but for many, their job prospects would be the same — they would just have less debt.
"Obviously, not every dollar of that will go directly toward paying the salary of a new job," Rothstein said. "But I think it is reasonable to count, say, relief of student debt as an investment in good-paying jobs, since a grad who gets an otherwise good job but needs to pay much of her salary in loan payments doesn't actually have a good-paying job."
Our ruling
Clinton says her campaign platform includes the "biggest investment in new, good-paying jobs since World War II."
Using rough estimates of public investment in several sectors, the size of Clinton's proposals — at least $900 billion over 10 years — appears larger than any other 10-year investment since World War II.
It's worth keeping in mind, though, that when we look at the size of the historical public investments as a share of GDP, there have been 12 years since World War II with larger public investments.
In terms of whether these investments will result in "new, good-paying jobs," that's all a matter of prediction. In many cases, the new spending Clinton proposes for education, research and development, and infrastructure isn't going to literally create new employment positions. Rather, much of the money will go to programs that the Clinton campaign argues will spur job creation.
Her claim is partially accurate but requires additional information. We rate Clinton's claim Half True.
https://www.sharethefacts.co/share/33b01e65-a13b-4a49-ab8a-80c2d1801b6a
Clinton campaign, historical time series of federal public investment using OMB data, accessed Aug. 15, 2016
Clinton campaign, "Stronger Together: Hillary Clinton's Plan for An Economy That Works for Everyone, Not Just Those at the Top," June 22, 2016
Committee for a Responsible Federal Budget, "Adding Up Secretary Clinton's Campaign Proposals So Far," May 2, 2016
Email interview, Clinton spokesman Josh Schwerin, Aug. 15, 2016
Email interview, Cato Institute senior fellow Dan Mitchell, Aug. 15, 2016
Email interview, U.C. Berkeley public policy and economics professor Jesse Rothstein, Aug. 16, 2016
Email interview, Taxpayers for Common Sense vice president Steve Ellis, Aug. 16, 2016
Browse the Truth-O-Meter
More by Lauren Carroll
Support independent fact-checking.
Become a member!
In a world of wild talk and fake news, help us stand up for the facts.