Stand up for the facts!
Our only agenda is to publish the truth so you can be an informed participant in democracy.
We need your help.
I would like to contribute
"Bioweapon! Zika virus is being spread by GMO mosquitos (sic)"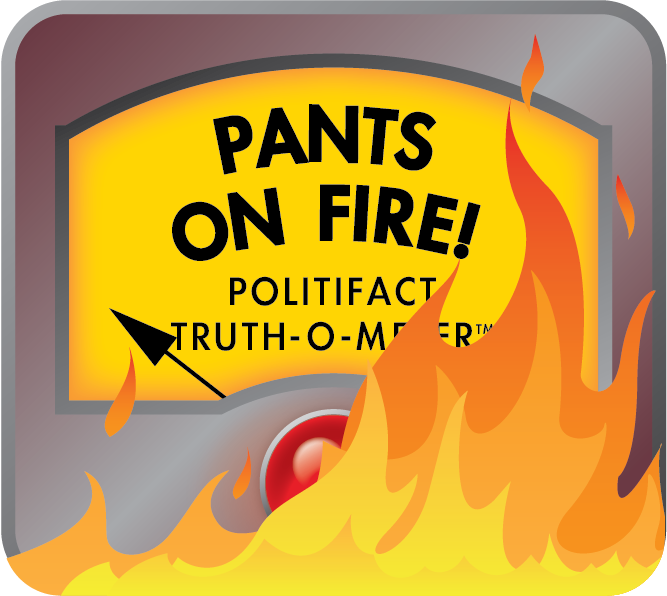 No evidence to support rumors tying Zika to genetically modified mosquitoes
Global health emergencies understandably stoke fear, panic and wild claims. Exaggerations about Ebola were PolitiFact's 2014 Lie of the Year. And now rumors about Zika, a virus linked to birth defects, are taking the Internet by storm.
One of the claims goes something like this: Zika is caused by genetically modified mosquitoes, a testament to what happens when man tampers with nature or a purposefully manufactured weapon for population control.
As Snopes and Discover have noted, this idea appears to have originated from a post published Jan. 25 to the subreddit r/conspiracy — our first red flag. But since then, the claim has been circulated by media outlets ranging from Infowars and Natural News to the Daily Mail, the Mirror, Russia Today and Fox News.
One version can be found in a popular YouTube video entitled: "Bioweapon! Zika virus is being spread by GMO mosquitos (sic) funded by Gates."
The video explains that British biotechnology company Oxitec engineered genetically modified mosquitoes to fight the spread of dengue fever and other diseases with funding from the Bill & Melinda Gates Foundation. Oxitec recently released these mosquitoes in Brazil, "where we have this explosion of Zika," the video says. "Writing's on the wall, folks."
We wondered if there is any truth to the notion that Zika is being spread by transgenic mosquitoes.
In a word, no. Epidemiologists told us the rumor is baseless. The mosquitoes in question wouldn't have been capable of starting the outbreak in 2015, and the geographic correlation offered doesn't hold up.
A spokesperson for the World Health Organization said the organization has seen no evidence suggesting that Zika is linked to genetically modified mosquitoes.
"I don't know of any scientific evidence for this rumor, or any obvious way to do this that would be more efficient than natural transmission," said Stephen Morse, a professor of epidemiology at Columbia University.  
"I cannot state more emphatically that I believe this theory to be absolutely untrue," said Anna Durbin, a professor of international health at Johns Hopkins University.
Let's dissect this claim bit by bit.
Not a new disease
The claim's first problem is history. Zika didn't suddenly appear after genetically modified mosquitoes were released. The virus was first documented nearly seven decades ago in Uganda and has cropped up many times over the years.
On April 18, 1947, researchers studying jungle yellow fever isolated the virus from mosquitoes and named it after the Zika Forest where it was found. Though Zika had never been seen before, "it had probably lurked chronically in African monkeys, or some other native reservoir, for millennia," reports National Geographic.
In the next half century, evidence of Zika was found in human fluids in a number of African and Asian countries, but only 14 cases of the human disease were documented.
Zika was detected outside of the two continents for the first time in 2007. The small island nation of Yap saw 108 confirmed or probable cases of the disease.
The second outbreak of Zika hit French Polynesia, another small island in the Pacific, in 2013. About 11 percent of the population (28,000 cases) were infected.
In May 2015, Brazil reported the first cases of Zika infection along with a surge in infants born with microcephaly, a birth defect in which baby's head is abnormally small. There are now an estimated 440,000 to 1.3 million cases in the country and the disease has spread across Latin America.
Incapable mosquitoes
The claim's second problem is that genetically modified bugs couldn't have been responsible for the 2015 Zika outbreak.
Many mosquito species in the Aedes genus (africanus, apicoargenteus, luteocephalus, vitattus, furcifer, albopictus, hensilli and polynesiensis) can transmit the Zika virus, but the main vector is Aedes aegypti. This particular mosquito, common in tropical areas around the world, also spreads yellow fever, dengue fever and chikungunya.
To combat dengue fever, Oxitec engineered Aedes aegypti mosquitoes to produce a lethal protein and self-destruct. Females, which bite, are destroyed in the lab while males, which don't bite and thus can't transmit diseases, are released into the wild. They mate with local, non-GM females and the self-destruct gene is passed onto offspring.
Oxitec spokesman Matthew Warren told PolitiFact that the mosquitoes typically self-destruct within one to four days, and the gene disappears from the population about 12 weeks after the initial release.
"This means that offspring of the mosquito do not survive," said Durbin of Johns Hopkins. "Therefore, the progeny of these mosquitoes, even if infected with Zika, would not survive to transmit Zika."
Wrong location
The claim's third problem is the geographic correlation, which besides not being the same thing as causation doesn't actually match up.
The first Brazilian cases of Zika reported in May 2015 were in Camaçari, a district in the northeastern state of Bahia that's hundreds of kilometers away from the Oxitec trial sites. The biotech firm released the genetically modified mosquitoes in Juazeiro, which is roughly 490 kilometers from Camaçari, and in Jacobina, about 340 kilometers away.
It's also very unlikely, if not impossible, that Zika-carrying Oxitec mosquitoes made their way to Camaçari. For one, the typical Aedes aegypti mosquito can fly a maximum of 200 meters to 440 meters.
For another, the trials took place months and years before the Camaçari outbreak (between May 2011 and September 2012 in Juazeiro and in Jacobina between June 2013 and December 2014). So "even if an Oxitec mosquito 'hitched a lift,' " it would have died long before, Warren said.
Beginning in April 2015, Oxitec did release mosquitoes in Piracicaba, in the southeastern state of São Paulo  —  about 2,000 kilometers from Camaçari and 1,900 kilometers from the epicenter of the disease in Recife.
According to the state's department of health, São Paulo has reported only 20 cases of microcephaly as of Jan. 20, 2016 (though there is some suspicion over the official tally) while Piracicaba itself has two confirmed and 12 suspected cases of Zika.
Oxitec's true role in Zika's rapid spread
Rather than spreading Zika, Oxitec mosquitoes could actually help fight the disease, as NPR, CNN, and the New York Times have noted. The self-destructing bugs have reduced virus-carrying mosquito populations in Brazil, Panama and the Cayman Islands by 80 to 90 percent, according to studies commissioned by the company. (Critics say these results are exaggerated.)
Experts said the current explosion of Zika in Brazil is more likely due to the lack of barriers, higher population density, increased mobility and novelty of the disease rather than mutant mosquitos.
Whereas the disease was confined by the ocean and small populations in Yap and French Polynesia, Durbin pointed out, Zika could spread through a huge amount of territory and infect way more humans in Brazil.
Immunity and resistance to the disease has been documented in Nigeria and Indonesia. But in the Americas, Zika is basically a "virgin soil epidemic," said Morse of Columbia. (So were smallpox to Native American populations in the United States and yellow fever to European colonialists in West Africa.)
"I think it's extremely likely these introductions are inadvertent and not intentional because historically we've seen this kind of thing happen many times," Morse said.
One final note. The viral image focuses part of its criticism on the Bill & Melinda Gates Foundation. The foundation helped fund the genetically modified mosquito program. The foundation also is helping support PolitiFact's efforts to fact-check claims about global health and development. Gates has no input over what we fact-check or the rulings we issue.
Our ruling
An Internet rumor propagated in a YouTube video claims that the "Zika virus is being spread by GMO mosquitos (sic)."
There's no evidence that this is true. The argument offered — where the Zika outbreak occurred matches up with where the transformed mosquitoes were released — doesn't hold up. What's more, the mosquitoes in question were specifically engineered to self-destruct before they can spread viruses.
This claim is both inaccurate and ridiculous. We rate it Pants on Fire.
YouTube, "Bioweapon! Zika virus is being spread by GMO mosquitos (sic) funded by Gates," Jan. 27, 2016
Snopes, "Mosquito Blight," Jan. 31, 2016
Discover, "No, GM Mosquitoes Didn't Start The Zika Outbreak," Jan. 31, 2016
Business Insider, "A wacky conspiracy is circulating about Zika and GMOs — and it needs to stop," Jan. 30, 2016
Email interview with Christian Lindmeier, spokesperson with the World Health Organization, Feb,. 2, 2015
Email interviews with Anna Durbin, professor of international health at Johns Hopkins University, Feb. 2, 2015
Email interviews with Stephen Morse, professor of epidemiology at Columbia University. Feb. 2-3, 2015
Email interview with Matthew Warren, spokesperson at Oxitec, Feb. 2, 2016
Emerging Infectious Diseases, "Zika Virus Outside Africa," Sept. 2009
National Geographic, "Why Zika Is This Year's Scary Virus," Jan. 29, 2016
New England Journal of Medicine, "Zika Virus Outbreak on Yap Island, Federated States of Micronesia," June 11, 2009
Clinical Microbiology and Infection, "Rapid spread of emerging Zika virus in the Pacific area," Aug. 4, 2014
Oxitec, "Dengue fever and the Aedes aegypti mosquito – an Oxitec film," accessed Feb. 2, 2016
Oxitec press releases
Google maps
AFP, "Camaçari: where Brazil's first Zika cases were identified," Jan. 30, 2016
Portal de Saúde, "Laboratórios ampliam em 20 vezes a capacidade para testes de Zika," Jan. 20, 2016
Globo, "Piracicaba tem primeiro caso de zika vírus em gestante, afirma Saúde," Jan. 29, 2016
Browse the Truth-O-Meter
More by Linda Qiu
Support independent fact-checking.
Become a member!
In a world of wild talk and fake news, help us stand up for the facts.