Stand up for the facts!
Our only agenda is to publish the truth so you can be an informed participant in democracy.
We need your help.
I would like to contribute
"We got the highest vote count in the history of the Republican Party."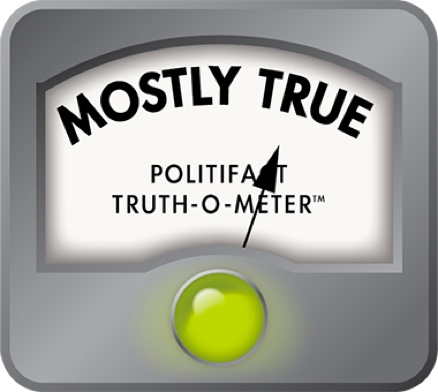 Donald Trump set the record for the most GOP primary votes ever. But that's not his only record
They say the third time's the charm.
For Donald Trump, his third claim about a historic showing in the GOP primary finally hit the mark. First, he jumped the gun. Next, he exaggerated his margin of victory. But in a speech in Raleigh on July 5, Trump accurately described his historic accomplishment.
"We got the highest vote count in the history of the Republican Party," he said, speaking just of the primary elections – since, of course, the general election hasn't happened yet.
How did Trump avoid some of the pitfalls he has made in the past with this unexpectedly tricky claim?
In April, he claimed he had received the most votes of any Republican nominee ever.
PolitiFact rated that False, because he had not received the most votes ever. However, as the article noted, Trump did have the chance to reach that milestone with strong showings in some upcoming primaries.
Then on June 1, Trump said he had broken the record by millions of votes. PolitiFact rated that statement False as well. Trump had finally broken the record, but only by a small amount.
"Had Trump made a correct claim in one breath only to mangle the truth in the next?" we asked.
Yes, he had.
But he finally got it right by avoiding any embellishment, and just sticking to the claim of a record-breaking victory.
According to Real Clear Politics, Trump received about 13.3 million votes during the primary. That's about 1.8 million votes more than the previous record, held by George W. Bush.
Basking in the record
On Tuesday, Trump spoke about winning in face of a crowded primary field and a "rigged system," then name-dropped some GOP elders whose vote totals he eclipsed.
"Not only did the Republican party go way up from what it was four years ago – way, way up – but Donald Trump, in the history of the primary system, Republican Party, with 17 people running – a lot of people don't understand, when you say 17 people – I got almost 14 million votes," Trump said. "More than anybody in the history of the Republican Party. More than Ronald Reagan. More than the Bushes. More than Richard Nixon. More than Dwight D. Eisenhower, who did win the second World War; it certainly helped a heck of a lot."
"We got the highest vote count in the history of the Republican Party," he continued. "It was such a big thing for me. We won 37 states. We got stronger and stronger and stronger."
A less dubious record
But does his record mean that Trump is the most popular Republican candidate ever?
No.
What Trump didn't mention was that during this primary, most Republican voters cast a ballot for someone other than him. More than 16 million people cast votes for another candidate, according to a Washington Post analysis.
To be fair, Trump was facing a crowded primary field, which he mentioned in his speech.
But 13 of his 16 challengers didn't make much of a splash. The top three challengers, however – Ted Cruz, John Kasich and Marco Rubio, in that order – combined to receive more than 15 million votes.
So Trump now holds two GOP primary records: most votes for, and most votes against. Previously, John McCain was the holder of the most-votes-against record.
As the national convention approaches, it's also worth noting that Trump isn't the only GOP frontrunner to have received less than half of his party's votes in the primary, but he is one of just a few. The nomination results in past cases have been a mixed bag.
McCain won the nomination in 2008 despite receiving less than half the votes, as did Barry Goldwater in 1964. But the frontrunners in 1968 (Ronald Reagan) and 1952 (Robert Taft) went into the convention with less than 50 percent of the primary votes and ended up losing the nomination.
Finally, it's worth noting that some historical comparisons of vote totals and percentages are hardly apples-to-apples. The current primary system is a relatively new process.
As one political scientist previously told PolitiFact, "Before the 1970s, candidates often did not run in many primaries and caucuses to win delegates" because party leaders had more influence than they do now, and national conventions were typically contested no matter what.
Our ruling
Trump said he got the most votes in the history of the Republican Party primary system.
That's accurate. He received 13.3 million votes, beating George W. Bush's record of 11.5 million votes.
Yet what Trump failed to mention is that he also holds the record for the most votes cast against a primary candidate, and that he's one of only a few Republican frontrunners in modern history to have been supported by less than half of the party's primary voters.
Because Trump's claim was accurate but missing that context, we rate this claim Mostly True.
https://www.sharethefacts.co/share/be10f613-3754-43fd-9d02-e89f00619253
Browse the Truth-O-Meter
More by Will Doran
Support independent fact-checking.
Become a member!
In a world of wild talk and fake news, help us stand up for the facts.