Stand up for the facts!
Our only agenda is to publish the truth so you can be an informed participant in democracy.
We need your help.
I would like to contribute
"In North Carolina, paid family leave is more popular than college basketball."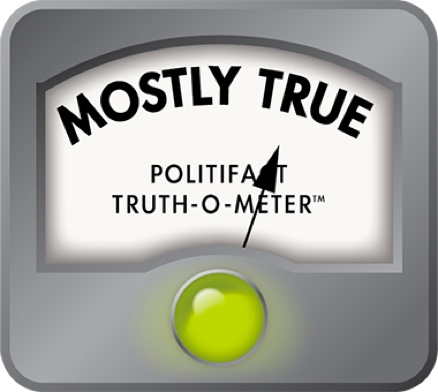 Is paid family leave more popular than college basketball in North Carolina?
Like many in North Carolina, we're excited for the start of college basketball season four months from now.
But in the meantime, we decided to take a break from more serious fact checks about the economy and HB2 to take a look at a political claim talking about – you guessed it – college basketball.
The liberal advocacy group MomsRising was talking a big game on Twitter recently, pushing for paid family leave policies.
They said the idea that businesses should pay workers when they have to miss work for major family events – the birth of a child, taking care of an ill relative, etc. – is more popular than the unofficial religion of the Tar Heel state.
"In North Carolina, paid family leave is more popular than college basketball," the group declared, alongside a photo from a UNC-Duke game.
That's a high bar to clear in a state that has sent a team to five of the last 12 men's college basketball national championship games.
So we wondered if it's true, or the political equivalent of claiming Christian Laettner is a beloved figure in Kentucky.
"There's nothing more North Carolina than basketball," said Beth Messersmith, the N.C. campaign director for MomsRising who came up with the basketball analogy. "If you can be more popular than basketball in North Carolina, then you know you're onto something."
Support for college basketball
First things first. Just how popular is college basketball in North Carolina?
Some alumni of UNC, Duke, Wake Forest and N.C. State may be surprised to learn that not all North Carolinians are crazy for college hoops.
According to a poll taken just before last season by Public Policy Polling, 52 percent of North Carolinians consider themselves college basketball fans.
In another PPP poll commissioned in early July by MomsRising and other groups that mostly focused on paid leave – the same poll their Twitter claim referenced – college basketball received 53 percent support.
Yet even just two years prior, in 2013, 59 percent of North Carolina respondents told PPP they were college basketball fans.
Other polls have documented the sport's declining popularity nationwide. Gallup, for instance, found that while the number of fans didn't drop between 2001 and 2012, the number of people saying they were definitely not fans (as opposed to on the fence) has grown.
And according to the Harris Poll, college basketball was perhaps at its height in 1989, when 10 percent of Americans said it was their favorite sport. In 2015, that number was 4 percent.
Time Magazine analyzed the sport's declining popularity last year and attributed it to a number of factors, including low scoring, conference realignment that ended some popular rivalries, and a schedule that forces it to compete for attention with both college and professional football.
Support for paid leave
Let's now take a break to watch some of our favorite college basketball moments, then get back to the subject at hand: paid leave policies.
According to one United Nations study of 170 countries, only the U.S. and the tiny Pacific island nation of Papua New Guinea don't require paid family leave.
PolitiFact has previously checked several people claiming the U.S. is lagging behind the rest of the world in its paid leave policies; it was particularly popular with Bernie Sanders during his run for the Democratic presidential nomination.
It could be expensive. PolitiFact's "Obameter," which tracks promises made by the president, noted that he has failed in his promise to spend $1.5 billion to start paid family and medical leave in the United States.
In North Carolina, the poll from Public Policy Polling that MomsRising commissioned found 49 percent of people strongly favor paid family leave and another 19 percent somewhat favor it, for a total of 68 percent support. To jog your memory, college basketball has recently been polling about 15 percentage points lower than that.
We don't know the partisan breakdown of this poll, but in national polls, paid leave typically has bipartisan support – although moreso among liberals – and among politicians, it's far more popular among Democrats than Republicans.
Because of that, it's worth noting that the poll in question was paid for by a liberal group pushing for more paid leave policies, and that Public Policy Polling is itself a liberal-leaning organization.
So take these numbers with a grain of salt.
But unfortunately, there has been little to no other statewide polling on the topic.
Public Policy Polling – which does polls for private clients as well as for public distribution – has never before asked about paid family leave in a public poll. Similarly, we weren't able to find any other statewide polling on the subject (although if you know of any, please let us know).
But nationally, the polling does mirror what PPP found in North Carolina.
In 2015, an AP-GfK poll found two-thirds of Americans supported paid family leave – about the same as the recent North Carolina poll, but lacking the political biases, and an AP-NORC poll two months ago found 75 percent support among people age 40 and older. A New York Times-CBS poll, in 2015, found 80 percent support for paid family leave nationally.
Our ruling
MomsRising said that "paid family leave is more popular than college basketball" in North Carolina.
There is little polling on this topic at the state level, but what there is does line up with national polling.
Since data is sparse but does support the claim, we rate it Mostly True.
https://www.sharethefacts.co/share/0963b149-97d8-405c-b3e4-2bc010444fab
PolitiFact, Oct. 14, 2015, "Bernie Sanders says 'every other major country' has family paid leave except United States"
PolitiFact, The Obameter: "Provide a $1.5 billion fund to help states launch programs for paid family and medical leave"
Twitter, MomsRising post, July 13, 2016
Public Policy Polling, August 2013, "A New North Carolina: Tobacco and moonshine relics of the past"
Public Policy Polling, July 2016, polling for MomsRising on paid leave, basketball and other topics
Public Policy Polling, September 2015, "2015 N.C. Cultural Poll"
Time, March 14, 2015, "College Basketball Has Lost Its Soul"
Associated Press, May 2016, "Poll shows strong support for paid family leave programs"
The Harris Poll, January 2016, "Pro Football is Still America's Favorite Sport" http://www.theharrispoll.com/sports/Americas_Fav_Sport_2016.html
Gallup, polling on American sports opinions 2000-2015
Associated Press, February 2015, "AP-GfK Poll: Most Americans favor a higher minimum wage"
The New York Times, June 3, 2015, "Americans' Views on Income Inequality and Workers' Rights"
United Nations, International Labour Organization, 2014, "Maternity and paternity at work: Law and practice across the world"
Browse the Truth-O-Meter
More by Will Doran
Support independent fact-checking.
Become a member!
In a world of wild talk and fake news, help us stand up for the facts.