Stand up for the facts!
Our only agenda is to publish the truth so you can be an informed participant in democracy.
We need your help.
I would like to contribute
There are "500 failing schools in North Carolina"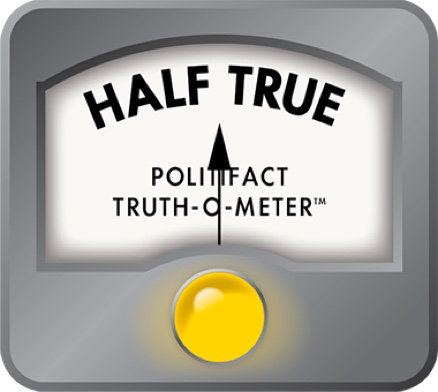 Americans For Prosperity exaggerates the number of failing schools in North Carolina
In vouching for a law that would allow some struggling public schools to be taken over by charter schools, the state chapter of the conservative group Americans For Prosperity said one in every five North Carolina public schools is failing.
"This Achievement School District legislation is a small first step testing one approach to the long-overdue process of improving 500 failing schools in North Carolina," wrote AFP's North Carolina director, Donald Bryson, on the group's website.
North Carolina has 2,583 public schools, including 148 charter schools. So if Bryson is right about 500 failing schools, that means nearly 20 percent of schools fall into that category.
His proposed solution, a relatively new and controversial program called an achievement school district, or ASD, is moving forward in North Carolina.
The ASD program was approved by the N.C. House on June 2 (the day after Bryson published his argument) and is now up for a vote in the Senate. The idea is to take a handful of the lowest-performing schools away from their districts and turn them over to charter school operators.
Bryson said it's noteworthy that there are 500 failing schools because such schools "remain broken education communities, systematically failing to teach tens of thousands of students without any path towards meaningful, long-term reform or improved achievement."
We wondered if the picture was really so bleak.
How many schools are failing?
The state has give out school grades since the 2013-14 school year. Last year, 146 schools received Fs.
That's a far cry from 500, so we asked Bryson where his number came from. He said he was actually underestimating it – that there are 547 low-performing schools, according to a state law that defines the term.
However, "low-performing" is not the same as "failing" – the law that Bryson cited includes F schools as well as D schools. And as any slacker can tell you, D's get degrees.
For Bryson to count D schools as failing seems to be self-evidently wrong. But that's not the whole story.
The state gave its schools a grading scale that we all would've loved to have had ourselves. While a typical grading scale gives any score below 60 an F and then goes up by 10-point intervals, North Carolina uses the following scale to grade its schools:
F: 0-39
D: 40-54
C: 55-69
B: 70-84
A: 85-100
The scores are mostly based on how students do on standardized tests, with a small amount of consideration given to whether the schools met their expected student growth goals. Grades for high schools also include factors like graduation rates.
If the state used a traditional scale, every D school (and even some C schools) would have instead received an F. That's a pretty good argument in Bryson's favor.
We decided we needed to talk to an expert on education policy to determine whether the state had a good reason to give itself this scale, or if it was simply protecting its image.
Eric Houck is a former public school teacher who now teaches education policy at UNC-Chapel Hill. He said many academics, including himself, don't really pay attention to school grades – including the question of whether the scale is too generous.
The rubric doesn't give much weight to how much students improved in a given year, Houck said, and instead focuses mostly on raw scores. He said that punishes schools for having students who came to them below grade level and largely ignores how well teachers did getting those students caught up.
"The entire grading system is a little suspect in terms of being able to accurately identify what schools are actually failing," he said.
Using growth to measure schools
The "low-performing" metric that Bryson cited includes all D and F schools that didn't meet their growth goals, as well as those that met their growth goals. Those that exceeded their growth goals are not considered low-performing.
That's a bit more in line with Houck's philosophy on how to best judge schools, but it's still misleading to say all those students are being left behind.
By equating "low-performing" with "failing," Bryson's claim considers a school to be failing if its average student is a D student whose scores are improving as much as the state expects.
A reasonable person wouldn't say that student is failing. He's below average, but above the threshold for failure and on track for improvement.
And nearly half of the schools Bryson is talking about, 225 of them, are in that category.
Paying a bit more attention to growth, like Houck suggested, we found that a better estimate of the number of failing schools could range from 80 to 415, depending on how much you trust the state to have given itself a fair grading scale.
80: The number of F schools in 2014-15 that did not meet their expected growth.

146: The number of F schools in 2014-15.

299: The number of low-performing schools that did not meet their expected growth (out of 547 total low-performing schools).

415: The number of schools that scored 59 or below in 2014-15 and thus would've received an F on a traditional grading scale, and which also didn't meet growth goals.
Our ruling
It's hard to say exactly how many failing schools are in North Carolina, but we do know there are not 500 like AFP state director Donald Bryson said.
He was referring to low-performing schools, but the majority of low-performing schools are D schools – which most people don't consider failing.
We counted failing schools in a number of ways, with the results ranging from 80 to 415 depending on the grading scale used to define what an F is.
Any way you slice it there are clearly dozens, and maybe hundreds, of failing schools statewide. Bryson's statement was overly broad, but it's not totally wrong. We rate this claim Half True.
The News & Observer, June 2, 2016, "Proposed state takeover of 5 low-performing schools passes NC House"
The News & Observer statewide database of 2014-15 school grades
Americans For Prosperity, North Carolina chapter, June 1, 2016, "AFP Backs Achievement School Districts in North Carolina"
Email interview with Donald Bryson, Americans For Prosperity NC director
Phone interview with Eric Houck, UNC-Chapel Hill associate professor of educational leadership and policy
N.C. Department of Public Instruction, statewide data on public schools in 2014-15
North Carolina Board of Education, Jan. 15, 2014, criteria for school grades
Browse the Truth-O-Meter
More by Will Doran
Support independent fact-checking.
Become a member!
In a world of wild talk and fake news, help us stand up for the facts.