Get PolitiFact in your inbox.
Says Barack Obama was happily photographed holding a T-shirt with revolutionary Ernesto "Che" Guevara's face on it.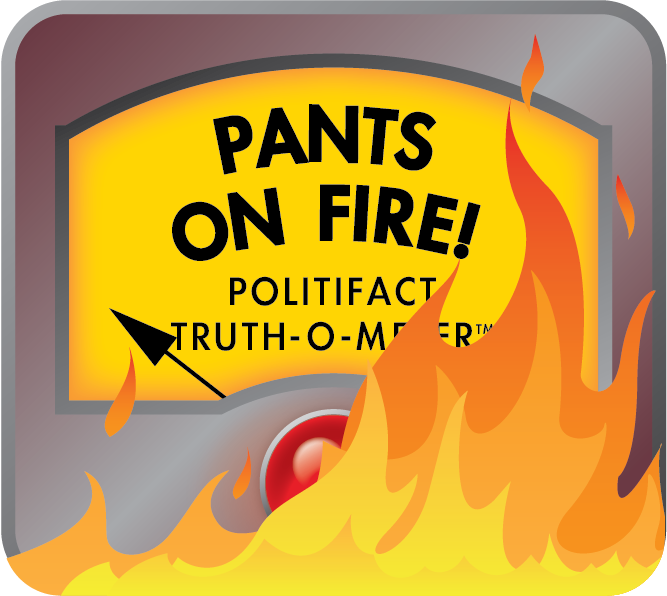 Sid Miller posts fake photo of Obama holding Che Guevara T-shirt
During President Barack Obama's historic trip to Cuba, he took in a baseball game, met with leader Raul Castro and attended a wreath ceremony for a Cuban journalist and poet.
In the background of the ceremony was a mural of Marxist revolutionary Ernesto "Che" Guevara several stories high on the side of a building. Guevara, who met exiled brothers Fidel and Raul Castro in Mexico in 1955, and was a key figure in the Cuban Revolution that overthrew the dictator Fulgencio Batista. Obama's photo in front of the mural drew criticism, but according to one Republican politician, it wasn't the only such picture.
Back in Texas, Sid Miller, the state's agriculture commissioner, posted a photo to his Facebook fan page that provided a rare, if unseen, glimpse into Obama's Havana trip from 1,000 miles away.
In a March 22, 2016 post on his Facebook fan page, Miller shared a photo of the president holding a blue T-shirt adorned with the face of Guevara, with the caption:
"President Obama refuses to return to the United States in order to meet with European leaders to discuss a response to today's terror attacks in Brussels -- attacks that severely injured a number of Americans. Instead, he remains in Cuba holding a shirt depicting the image of Che Guevara--one of the most reviled terrorists of the modern age -- a murdering thug who was responsible for thousands of innocent deaths. President Obama is laughing at us. He understands the symbolism of this picture and yet he doesn't care. I believe his actions are disgraceful. Do you agree?"
First, a little background. As Texas' agriculture commissioner, Miller is charged with running the national school breakfast and lunch programs, protecting crops from pests and disease and regulating all fuel pumps in the state, among other duties.
He also has a flair for newsworthy behavior. In his first act as commissioner, he granted amnesty to cupcakes as an approved dessert and got national attention for lifting a ban to allow deep fat fryers back in public schools. His Facebook presence shares headline-grabbing material. In one example, a photo on his Facebook page showed a detonated atom bomb with a caption that read, "Japan has been at peace with the US since August 9, 1945. It's time we made peace with the Muslim world." The photo was taken down less than 24 hours later.  Miller's team said a staffer posted the photo, not him.
Recently, he's drawn attention for taking a taxpayer-funded trip to Oklahoma to get a supposed cure-all injection known as the "Jesus Shot."
Back to the images. It's clear a photo captured Obama in front of a Guevara mural. But Miller claimed he went further and picked up a shirt on his oft-criticized Cuba trip. Standing in front of an image that's permanently there and voluntarily holding up that same image are different things. We had to know if the leader of the free world knowingly posed with an image of the revolutionary, as Miller claimed.
We called Miller's office and emailed the White House; neither immediately replied.
But we quickly came across several news articles declaring the photo a fake -- including a Houston Chronicle story that found an image believed to be the original from a 2009 presidential visit to a lab at the Massachusetts Institute of Technology. In the original photo, Obama is holding a T-shirt emblazoned with lengthy equations, which an online thread describes as the "Navier-Stokes equation coupled with the conservation-of-mass equation."
Next, we did a reverse Google image search to determine if similar images exist. The Chronicle article read through comments on Miller's Facebook post alleging the photo was fake, and found a Reddit thread from 2009 that explained the science on the original T-shirt in question. Our results brought up "visually similar images" of Obama holding up a blue T-shirt with a series of equations on them, as well as links to pages that included matching images. Most links were from Getty Images, showing Obama in 2009 also wearing the same pink dotted tie. Another link went to a San Antonio Current article debunking the photo. The photo caption: "US President Barack Obama holds a T-shirt given to him as he toured a research laboratory at the Massachusetts Institute of Technology (MIT), an institution that has been developing cutting-edge clean energy technology, in Cambridge, Massachusetts, on October 23, 2009."
Even in the background of the Miller Facebook photo, behind Obama's head, there is a poster labeled "Center for Excitonics." In the Getty image picture, the poster is in the same position. An online search for the center landed us on the center's MIT web page. So, we wondered, did Obama drop in at some time and did he smile while holding a blue T shirt?
We called and emailed the lab to ask if the supposed original Getty image was taken there, and if Obama visited in 2009. Kimberly Allen, MIT's media relations director, replied to our email and confirmed the Getty image link we included in the email was in fact taken in their lab, and the president visited in October 2009. Allen said MIT did not own the original photo of Obama holding up the T-shirt, but she provided a web link to a photo of the president dressed in the same suit exploring a lab with a poster in the background reading "Center for Excitonics."
Also, in the reverse Google image search, some of the "visually similar images" showed Obama holding the T-shirt in the lab with a man with a beard in a colorful printed shirt. In the link Allen sent over, the header image showed Obama watching the same man, Professor Alex Slocum, do a demonstration.
As of March 25, the post and photo remained on Miller's Facebook page despite several comments below it linking to news articles such as the Chronicle's claiming the picture is fake.
Our ruling
Texas Agriculture Commissioner Sid Miller posted a picture on Facebook showing President Obama holding a T-shirt with Marxist revolutionary figure Che Guevara's face on it. The photo accompanies a mini-rant from Miller complaining that the president was rubbing elbows with Cuba's communist leaders instead of flying back to Washington in the wake of the terrorist attacks in Brussels.
The pic is a doctored version of a photo from Obama's 2009 visit to the Massachusetts Institute of Technology's Center for Excitonics Lab. The T-shirt in the original photo read "And Moses said " followed by equations that govern the flow of fluids, concluding "and the waters parted." Get it? (A lot of nerds weren't impressed either, questioning why Moses saying the equations out loud would cause the Red Sea to part, a scene more reminiscent of witchcraft than the invisible hand of God.)
Any suggestion the president picked up an inappropriate souvenir on his Cuban trip was based on Photoshop, not fact.
We rate this claim Pants on Fire.
PANTS ON FIRE – The statement is not accurate and makes a ridiculous claim.
Click here for more on the six PolitiFact ratings and how we select facts to check.
Article, President Obama on his decision to attend a baseball game after the Brussels attacks, Washington Post, March 22, 2016
Article, Obama tells Raul Castro: Cuban embargo is going to end, CNN, March 21, 2016
Article, Obama Sparks Fury Over Photo in Front of Che Guevara Mural in Cuba, TIME, March 21, 2016
Sid Miller Facebook post, accessed March 24, 2016
Article, Texas agriculture commissioner Sid Miller posts fake shot of Obama with Che tee, Chron.com, March 23, 2016
Reverse Google Image Search results, accessed March 24, 2016
Image of Barack Obama, Getty Images, accessed March 24, 2016
Website, Center for Excitonics, accessed March 24, 2016
Website, In Profile: Alex Slocum, MIT.edu, accessed March 24, 2016
Email interview, Kimberly Allen, director of Media Relations at MIT
Article, Miller Spokesman: No Apologies for Atomic Facebook Post, Texas Tribune, Aug. 17, 2015
Article, 'Jesus Shot' at center of Miller's controversial, taxpayer-funded trip, Houston Chronicle, March 17, 2016
Website, Britannica.com Che Guevara entry, accessed March 24, 2016
Browse the Truth-O-Meter
More by Fauzeya Rahman
Support independent fact-checking.
Become a member!
In a world of wild talk and fake news, help us stand up for the facts.