Stand up for the facts!
Our only agenda is to publish the truth so you can be an informed participant in democracy.
We need your help.
I would like to contribute
Texas spends "more per day to house an inmate than we do on a student."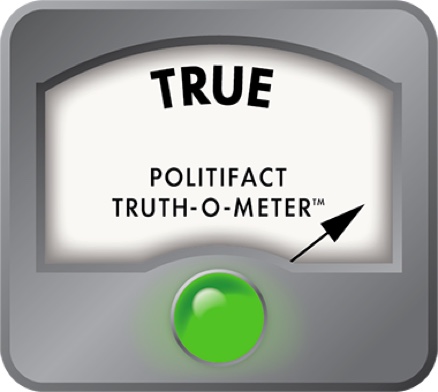 Democrat Jennie Lou Leeder says Texas spends more per inmate than public school student
Former teacher Virginia "Jennie Lou" Leeder said during her Texas Senate campaign that she'd like to see the state do more for students. As it is, the District 24 Democratic nominee declared: "We spend more per day to house an inmate than we do on a student."
Really?
Previous analyses
First, we recognize that prisons are 24/7 operations that provide housing, meals, rehabilitation programs and other services for a housed population. Meantime, students in public schools attend classes for roughly eight hours a day, five days a week, for about 180 days each year.
Regardless, it's not uncommon for people to compare prison and school spending as an example of what they consider unbalanced budget priorities.
In 2013, for instance, PolitiFact Oregon found True a claim that Oregon was spending about $10,000 a year per student compared with $30,000 per inmate, a move the governor said showed the state prioritized prisons over schools. In 2015, PolitiFact Virginia rated Half True a statement by Sen. Bernie Sanders that it costs more to go to prison than to the University of Virginia. Sanders based his claim on what it costs to house a federal prisoner, but at the state level the cost comes out to be less than a year's fees to attend the university, particularly if considering out-of-state tuition.
Fox News found in 2011 that most states, "despite spending more money overall on education, are spending three to four times more per capita incarcerating prisoners than they are educating students."
In July 2016, the U.S. Department of Education released a report that compared the rise in spending on prisons with the rate of spending on public education. The report found that nationwide, public pre-K through grade 12 expenditures went up 107 percent while state and local corrections expenditures increased by 324 percent over a 33-year period.
Leeder cites CNN
We asked Leeder before she lost to Republican Dawn Buckingham of Lakeway about the basis of her statement as quoted in an October 2016 Austin American-Statesman news article. On Leeder's behalf, Steven Rivas replied by emailing us web links from a briefing book that Rivas said the candidate took on the road to meet with teacher groups.
While Leeder's comment to the American-Statesman didn't specify if she meant Texas or the nation in saying "we," the provided web links focused on Texas.
Among Leeder's offerings: A May 2013 CNN Money infographic, "Education vs prison costs," indicating that nationally in 2012, every state spent more to hold inmates than it did on educating students with New York having the biggest dollar difference, spending about $40,000 more per inmate per year, and Kentucky appearing to have the smallest difference, annually spending $6,000 more per inmate.
In Texas, according to the graphic, the year's cost per student hovered below $10,000 while the cost per inmate landed near $20,000.
We learned from a CNN footnote that the per-student spending figures came from the Census Bureau and the costs per inmate traced from the Vera Institute, a New York-based nonprofit research group that says it's focused on ending mass incarceration.
Scarlet Neath, an institute spokeswoman, responded to our email inquiry with links to a 2012 report, "The Price of Prisons." In the report, researchers calculated the cost of incarceration to taxpayers, accounting for expenses such as employee benefits, pension contributions and capital costs through a survey of 40 states. According to its Texas assessment, the state spent $3.3 billion on prisons in fiscal 2010, which ran through August 2010, or $21,390 per inmate--or, in keeping with Leeder's "per day" statement, $58.60 a day.
Then again, that was six-plus years ago.
Updated Texas spending
To get an up-to-date grasp on Leeder's comparison, we started by eliciting figures from the Texas Department of Criminal Justice, the agency tasked with running state prisons and jails. In 2012, the agency had an operating budget of $3,087,899,321, and there were 152,303 offenders incarcerated, agency spokesman Jason Clark told us by email. Based on these numbers, the fiscal 2012 per inmate cost boiled out to $20,275, or $55.55 per day.
Clark told us the Legislative Budget Board, which advises lawmakers on fiscal matters, reaches its own estimates of such per-day costs. Clark pointed us to the board's 2013 Criminal Justice Uniform Cost Report, which says that the state spent $50.04 per day per prisoner in fiscal 2012. The report says that figure reflects the costs of programs offered at specific prison units, such as sex offender or substance abuse treatment.
Next, we searched the Census Bureau website to find its breakdown of per student state, federal and local education spending. In the latest analysis, a 2016 report called "Public Education Finances," Texas was shown to spend $8,593 per student in fiscal 2014. To reach a per-day cost, we divided that figure by 180, the minimum number of days in a Texas school year--getting an estimated daily cost of $47.73 per student.
A web search led us to a similar 2016 report, from the National Education Association, a teacher labor union, that cited bureau figures for state, federal and local spending to estimate the annual per student cost in 2015 for Texas at $8,935, which breaks out to $49.64 per day, we found.
Next, we pursued spending figures from the Texas Education Agency. According to the agency's online database, the 2011-2012 school year's budget for all school districts totaled $49,623,331,143. Districts spent $9,969 per student that year, according to the agency's calculation, that divided the state's total revenue for school districts by the total number of students, except for those taught for less than two hours per day that year. That total comes out to a per day cost of $55.38, we calculated.
Upshot: Breaking down annual spending to expenditures per day tightens the usual prison-education comparison. That is, the $55.38 that Texas spent on average to schoolchildren in 2011-12 is very close to our estimate that the state ponied up $55.55 a day in 2012 for state prisons.
For perspective on the comparison, we reached Lori Taylor, a Texas A&M University school finance expert, who told us there's research that suggests higher educational attainment can reduce the likelihood of crime, yet in her view that's not an argument for unconstrained education spending. "To argue that spending on schools should increase requires, in my mind, a description of what you expect schools to accomplish with the extra cash," she said.
Our ruling
Leeder said Texas spends "more per day to house an inmate than we do on a student."
This contention holds up if you divide total costs for prisons versus schools by the 365 days in a year. It's also narrowly so--by 17 cents a day in 2012, we found--if you limit the school part of Leeder's comparison to the 180 days in a Texas school year.
We rate this claim True.
---
TRUE – The statement is accurate and there's nothing significant missing. Click here for more on the six PolitiFact ratings and how we select facts to check.
https://www.sharethefacts.co/share/870006ee-24a2-4c30-be2d-ca62b01eea69
News Article, "Buckingham, Leeder vie for open Hill Country state Senate seat," Austin American-Statesman, Oct. 17, 2016
Fact check, "Does Oregon spend $10,000 a year per student, $30,000 per inmate?," PolitiFact Oregon, Jan. 18, 2013
Fact check, "Sanders says it costs more to go prison than to the University of Virginia," PolitiFact Virginia, Nov. 23, 2015
News Article, "U.S. spending on prisons grew at three times rate of school spending: report," Reuters, July 7, 2016
Report, Department of Education, "Report: Increases in Spending on Corrections Far Outpace Education," July 7, 2016
Email interview, Steven Rivas, communications consultant for Virginia "Jennie Lou" Leeder, Oct. 24, 2016
Email interview, Scarlet Neath, senior communications associate, Vera Institute, Oct. 31, 2016
Graphic, "Education vs prison costs," CNN Money, May 2013
Report, "The Price of Prisons," Vera Institute, February 2012
Report, "School Finances Report," Census Bureau, May 2014
Fact Sheet, "The Price of Prisons," The Vera Institute, February 2012
Data, Texas Education Agency 2011-2012 Actual Financial Data (accessed Nov. 3, 2016)
Browse the Truth-O-Meter
More by Fauzeya Rahman
Support independent fact-checking.
Become a member!
In a world of wild talk and fake news, help us stand up for the facts.