Get PolitiFact in your inbox.
"Welcome to #Houston, the most #diverse city in #America."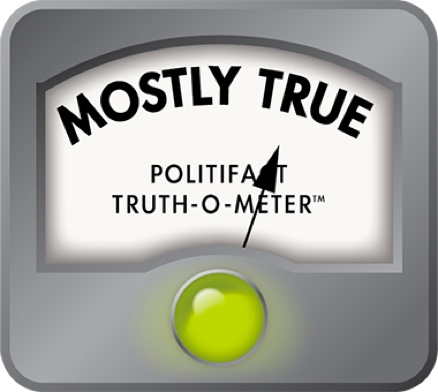 Sylvester Turner calls Houston nation's most diverse city
Houston Mayor Sylvester Turner unveiled 60 welcome signs destined for the city's airports, libraries and convention center via a tweet saluting the city's diversity.
"Welcome to #Houston, the most #diverse city in #America. New posters up at City Hall and the airports," Turner said in July 2016.
The Bayou City is known for a few things. Its size as the nation's fourth-most populous city, for one. The constant one-two punch of heat and humidity for much of the year could be another.
And the city's diversity comes to mind.
Still, with other U.S. cities having similar reputations, we wondered how Turner determined Houston ranks No. 1.
Turner cites Kinder Institute study
By email, Janice Evans in the mayor's office told us Turner relied on a 2012 report from the Kinder Institute for Urban Research, a Rice University think tank, stating that based on the 2010 U.S. Census, the Houston metropolitan area--taking in Harris and adjoining Fort Bend, Montgomery, Brazoria, and Galveston counties--was the most racially and ethnically diverse of the country's top 10 most populous metropolitan areas.
The report, we found, relied on a statistical calculation known as an Entropy Index which a 2004 U.S. Census Bureau paper calls a measure of "evenness," in this instance how ethnic groups are distributed across Houston-area neighborhoods. The index, devised by Dutch econometrician Henri Theil and others in the early 1970s, compares the population of individual groups to the general population.
Kinder's analysis counted the population of four major ethnic groups (white, black, Latino and Asian) and calculated how close the total population was to having balanced percentages across the groups. In the end, Houston had an entropy score of 0.874, narrowly edging New York, which had a 0.872 score.
"All but two of the 10 largest metropolitan areas, Boston and Philadelphia, have a higher entropy score than the national average of 0.709," the report said, "meaning that in general the large metropolitan areas are more diverse than the nation as a whole."
 
| | |
| --- | --- |
| Metro Areas | Entropy Index Scores |
| Houston-Sugar Land-Baytown, TX | 0.874 |
| New York-Northern New Jersey-Long Island NY-NJ-PA | 0.873 |
| Washington-Arlington-Alexandria, DC-VA-MD-WV | 0.859 |
| Los Angeles-Long Beach-Santa Ana, CA | 0.855 |
| Dallas-Fort Worth-Arlington, TX | 0.822 |
| Miami-Fort Lauderdale-Pompano Beach, FL | 0.820 |
| Chicago-Joliet-Naperville, IL-IN-WI | 0.806 |
| Atlanta-Sandy Springs-Marietta, GA | 0.786 |
| Philadelphia-Camden-Wilmington, PA-NJ-DE-MD | 0.686 |
| Boston-Cambridge-Quincy, MA-NH | 0.570 |
The Houston metro area stood out, the report said, because "unlike the other large metropolitan areas, all four major racial/ethnic groups have substantial representation in Houston with Latinos and Anglos occupying roughly equal shares of the population."
City versus region?
But when talking about diverse cities, it's worth mentioning that neither diversity nor "city" has a consistent definition.
John Logan, a Brown University sociologist whose research we spotted online, explained by email that researchers often prefer to look at metro area populations rather than limiting their focus to residents within city limits, since in many urban areas people live beyond the city limits.
Jack Fong, a sociologist at the California State Polytechnic University, Pomona, told us that historically, the definition of any city or metropolitan area has proved fluid, even ambiguous, with no exact consensus among experts. We reached out to Fong after he was cited as an expert in a May 2016 diversity study on the online financial planning website WalletHub. That study pegged Houston as the 23rd most diverse city in the nation--though 10th among cities with a population exceeding 300,000.
Fong said that often in diversity studies, researchers decide on the physical boundaries first and then derive data on the population within those boundaries, instead of surveying people to see how they self-identify. He said people connect to a city very much based on emotion, and "don't care what the map says."   
In an urban sociology textbook, Fong noted the many ways a city has been defined, across regions and throughout history, "given that almost 200 countries on the planet have different approaches toward identifying the boundaries of their urban areas."
Both the WalletHub analysis and a May 2015 article posted by FiveThirtyEight focused on cities rather than metropolitan areas. The FiveThirtyEight study went this route because cities matter "especially for questions of urban planning and city-administered services like schooling and policing," the story read.
Houston comparatively looks less diverse, we determined, if you look at cities by themselves, not sweeping in adjoining areas. The Kinder Institute report also found two suburbs of Houston, Pearland and Missouri City, were more diverse than Houston itself.
"There's no perfection, no precision, no exactness in how diversity can be measured," Fong said. The lack of one singular definition of what a city or metro area is, along with analyzing the population based on different categories, will lead to varying outcomes. When local leaders tout their city's diversity, however, Fong would recommend following up to find out how they reached those conclusions.
Other research
Web searches and interviews helped us identify other studies, not all of them placing Houston first in diversity.
For instance, a clickable analysis by the Institute for Child, Youth and Family Policy at Brandeis University makes it possible to gauge the diversity of metro area populations based on a variety of factors for the years 2000, 2010 and 2012. Among options: The data can be analyzed to look at only the population under 18 years of age, or over 65 years old, or to compare native-born and foreign-born residents. Houston ranked 11th for its 18 and under population and 97th for its 65 and older population among the 100 largest metro areas, and sixth nationally for its foreign-born and 39th for its native-born populations.
Another resource, the US2010 Project from Brown University and Penn State University, allowed us to gauge the "diversity index" of the nation's major metro areas for 1980, 1990, 2000 and 2010. By this analysis, the greater Houston area in 2010 landed eighth nationally, trailing areas including San Francisco, Washington, D.C., New York and Las Vegas.
It looked to us like Houston didn't rank first because the project took into account five racial ethnic categories, the additional one being other, which mainly accounts for the Native American population; Kinder considered four.  Bingo, Logan told us by email, further noting that when people identified as more than one race, they were not counted in both categories but instead assigned to one in the US2010 rankings.
"These choices naturally have some impact on the diversity measure," Logan said.
We shared our diverse findings with Turner's office. In reply, spokeswoman Janice Evans pointed out by phone that however Houston ranks, it's "very diverse. Anyone who lives here knows that."  
Our ruling
Turner tweeted that Houston is the most diverse city in the country.
While the Kinder Institute report lists Houston as the most diverse out of the country's biggest metropolitan areas, other metro area rankings, such as the US2010 Project, place it high but not at the very top. Rankings that compare only cities rank Houston lower nationally. Experts acknowledge diversity can be calculated in a multitude of ways, which makes it difficult to come to one singular conclusion.
We rate this claim Mostly True.
---
MOSTLY TRUE – The statement is accurate but needs clarification or additional information. Click here for more on the six PolitiFact ratings and how we select facts to check.
https://www.sharethefacts.co/share/7fd8047b-dea7-410c-9c78-8e61e9db2304
Tweet, Sylvester Turner, July 26, 2016
Report, Houston Region Grows More Racially/Ethnically Diverse, With Small Declines in Segregation, Kinder Institute for Urban Research, 2012
Report, The Persistence of Segregation in the Metropolis: New Findings from the 2010 Census, Brown University, 2013
Data, Racial and Ethnic Diversity, 1980-2010, US2010 Project, Brown University, 2013
Data, Data for Diverse and Equitable Metropolitan Areas, Brandeis University, 2016
Report, 2016's Most Diverse Cities in America, WalletHub, May 2016
Textbook, Urban Sociology, John Fong, 2016
Phone interview, Bill Fulton, director, Kinder Institute for Urban Research, Aug. 4, 2016
Email interview, John Logan, professor of sociology, Brown University, Aug. 16, 2016
Phone interview, Jack Fong, associate professor of sociology, California State Polytechnic University, Sept. 16, 2016
Phone interview, Steve Murdock, Allyn R. and Gladys M. Cline Professor of Sociology, Rice University, Aug. 12, 2016
Phone interview, Janice Evans, communications director for Houston Mayor Sylvester Turner, Sept. 21, 2016
Article, The Most Diverse Cities Are Often The Most Segregated, FiveThirtyEight, May 1, 2015
Browse the Truth-O-Meter
More by Fauzeya Rahman
Support independent fact-checking.
Become a member!
In a world of wild talk and fake news, help us stand up for the facts.