Stand up for the facts!
Our only agenda is to publish the truth so you can be an informed participant in democracy.
We need your help.
I would like to contribute
Says HB2 "hasn't moved the needle one iota" on North Carolina's economy.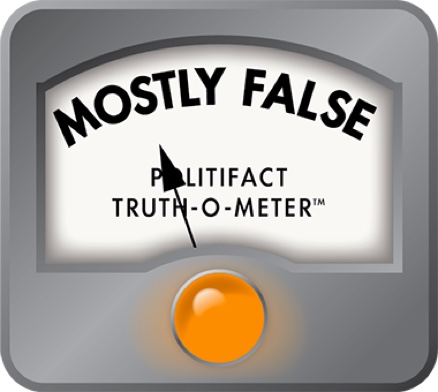 Top North Carolina economic official says HB2 has not harmed the state economy
The top economic official in Gov. Pat McCrory's administration said North Carolina's controversial "bathroom bill" has done nothing to the state economy.
Commerce Secretary John Skvarla said in a speech Monday that as far as North Carolina's economic health is concerned, House Bill 2 "hasn't moved the needle one iota."
He went on to say that publicity over the law does not match its actual impact.
The word "iota" that Skvarla used is defined as "a very small amount" or "an infinitesimal amount." So clearly Skvarla is confident the law has had basically zero effect on the state economy.
We previously rated a claim that HB2 had cost North Carolina $500 million as False. The downfall of that claim was it cited a study that said North Carolina might lose more than $500 million, not that it already had. At the time we found a more accurate estimate of losses was between $77 million and $201 million.
Since then hits have continued to come, including more job losses and the NBA, NCAA and ACC pulling postseason games out of North Carolina.
Yet at the same time, North Carolina has a large population and economy. Could it be true that the losses haven't really left a mark?
Arguments on his side
North Carolina's GDP is around $510 billion. So even a $500 million loss would only represent 0.1 percent of that.
And even after HB2 passed and the backlash became apparent, CNBC rated North Carolina the fifth-best state for business. And the trade publication Site Selection Magazine ranked North Carolina and Texas as tied for the title of "most competitive state."
The magazine interviewed Skvarla, including a question about HB2.
Skvarla responded he believes concerned business leaders are simply misinformed (if so, they can read our fact-checks on HB2 here), and that his office tries to remind them of the many successful companies in North Carolina. He also mentions the state's educated populace.
"The key factor often comes down to North Carolina's talented and skilled workers," Skvarla said.
But is that the whole story?
HB2 and jobs
No major companies have said they came to North Carolina because of HB2, so it certainly hasn't helped on that front.
And several have announced they stopped planned growth out of protest. The two most prominent were PayPal and Deutsche Bank, which canceled 400 new jobs in Charlotte and 250 new jobs in Cary, respectively.
Given the average salaries they had promised, those jobs would've paid workers in those two cities nearly $42 million every year. That's nothing to scoff at, even if the jobs themselves would not have had much of an impact on the two cities' unemployment rates.
Kim Genardo, a spokeswoman for Skvarla, said the losses have been more than offset by other companies announcing jobs since then.
"In one fell swoop the CSX announcement this summer in Edgecombe County is more than triple that (PayPal) jobs number," she said.
That's a possibility. The train company itself will only employ 150 people when it opens a new shipping hub in 2020, but the company said it thinks it will lead to the creation of about 1,500 jobs elsewhere in the state. The state plans to pay CSX $122.1 million in incentives.
Yet on the same day Skvarla made his claim about HB2, real estate analytics firm CoStar Group announced it would bring 730 jobs to Richmond, Virginia – with an estimated economic impact of $250 million. David Dorsch, a Charlotte real estate broker who had worked with the company, told the Charlotte Business Journal that CoStar had been leaning toward Charlotte.
"The primary reason they chose Richmond over Charlotte was HB2," he was quoted as saying.
The PayPal, Deutsche Bank and CoStar losses add up to nearly 1,400 jobs. And the chambers of commerce in Raleigh and Asheville blame HB2 for losing an additional 1,500 jobs from unnamed companies.
Losses below the radar
Other companies skip North Carolina without an announcement, said consultant Dennis Donovan. He's a partner with Wadley Donovan Gutshaw Consulting in New Jersey, which helps businesses pick new locations.
Donovan called Skvarla's claim "patently false."
A finance company and a manufacturing company he works with have decided not to consider North Carolina because of HB2, Donovan said – "and we're a small sample size, so you've got to imagine there are many companies out there feeling the same."
Donovan said personal beliefs don't matter: If a company thinks being in North Carolina will hurt its brand, or its ability to hire and keep the best employees, it's an easy business decision to go elsewhere.
Sports losses
Beyond the job losses are the state's lost tourism dollars. We can't account for individuals moving their vacations due to HB2, but we do know about major events that were cancelled.
Four of the state's seven largest cities' chambers of commerce – Charlotte, Raleigh, Durham and Cary – have come out against the the law. Lost conferences and concerts harmed all of them, as did sporting events.
Charlotte estimates it lost $100 million when the NBA moved its All Star Game, and $30 million from the loss of the ACC football championship. Greensboro estimated it lost $15 million from various NCAA games, and Cary has said it already lost $2 million and will likely lose millions more since the NCAA is currently deciding where to put games through the 2021-22 season.
Our ruling
North Carolina has undeniably lost money and jobs due to HB2, so Skvarla's claim that the law "hasn't moved the needle one iota" on the economy seems incorrect at first glance.
On a macro scale, however, Skvarla has a point. Even hundreds of millions of dollars in losses won't dent the state's GDP very much. And the now-canceled jobs would not have had much of an impact on the overall unemployment rate.
Yet many local economies – particularly in Wake and Mecklenburg counties, the state's two largest – have felt the sting of hundreds of jobs lost, that would have provided tens of millions of dollars in annual wages. That would have helped the economy. So would the tens of thousands of sports fans who will now spend their money in other states.
We rate this claim Mostly False.
https://www.sharethefacts.co/share/acbcb55c-e49d-46b0-9ce7-5627c28b56c6
Browse the Truth-O-Meter
More by Will Doran
Support independent fact-checking.
Become a member!
In a world of wild talk and fake news, help us stand up for the facts.