Stand up for the facts!
Our only agenda is to publish the truth so you can be an informed participant in democracy.
We need your help.
I would like to contribute
Says "Gary Johnson and the Libertarian Party want to get rid of the public school system."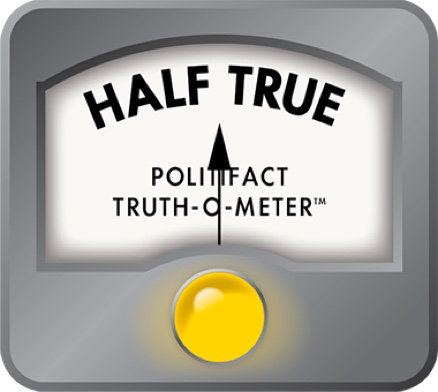 Partial credit: Chelsea Clinton says Gary Johnson wants to eliminate public schools
Cosmopolitan magazine interviewed Chelsea Clinton the morning after the first presidential debate and asked the former First Daughter about the move of millennials from Democrat Bernie Sanders to Libertarian Gary Johnson and the Green Party's Jill Stein.
"I would just urge young voters to actually look at what the different candidates are offering," Clinton said. "Gary Johnson and the Libertarian Party want to get rid of the public school system in our country. If that's what you believe, then you should actually support him. I think the public school system in our country has been one of the greatest, if not the greatest, investment of our values of the belief that everyone and anyone should have the chance to, as my mom says, 'live up to their God-given potential.' "
"We have a lot of work to do to ensure that that is true in every school district and every school in our country," she added. "But I don't think the work that we have to do entails getting rid of the public school system."
A reader asked if Clinton was correct and if abolition of public education is really part of the platform of Johnson and his party.
Because a party platform doesn't necessarily reflect the views of a presidential candidate, we'll consider them separately.
The party
The Libertarian Party believes that government should play a minimal role in human affairs and that this minimalist approach fosters liberty, enterprise and personal responsibility. The party's website says, "Government's only role is to help individuals defend themselves from force and fraud."
That would leave out education.
Its latest platform, adopted at its May 2016 convention in Orlando, Fla., doesn't directly call for getting rid of the public school system.
But it does say, "Education is best provided by the free market, achieving greater quality, accountability and efficiency with more diversity of choice. Recognizing that the education of children is a parental responsibility, we would restore authority to parents to determine the education of their children, without interference from government. Parents should have control of and responsibility for all funds expended for their children's education."
In short, public education is not one of the roles government should play.
Johnson's stance
As for Johnson's philosophy, both the Clinton campaign and the Johnson campaign referred us to a Sept. 14, 2016, entry in Politico's education blog.
It states that Johnson wants to eliminate the U.S. Education Department, a proposal that has been popular with Republican candidates in recent years.
When Politico asked Johnson what the federal role should be in public education, he responded, "I don't see one."
It's important to note here that the federal government doesn't run America's public school systems. That's done by state and local governments.
The Politico piece notes that Johnson has been an advocate for universal vouchers as a way to improve educational performance through competition.
The candidate told the website, "I do think ultimately it would be the end of traditional public schools, and that would be for the better. Public schools are not going to go away, but they are going to embrace the innovation that would occur if students had a choice."
To say that "public schools are not going to go away" at the same time you say this "would be the end of traditional public schools" seems to amount to doublespeak, so we asked the Johnson campaign for some clarification how this would be handled on a state and local level, where the real education work is done.
We didn't hear back.
On his website, Johnson says that "state and local governments should have more control over education policy" and calls for the elimination of "attempts to impose national standards and requirements on local schools (that) are costly, overly bureaucratic, and actually compromise our ability to provide our children with a good education."
Meanwhile, we found a May 30, 2016, Forbes article reporting how Johnson initially raised education spending when he was governor of New Mexico but then decided to push a voucher system. The plan was to let each student have a voucher valued at about $4,000 at a time when the public school system cost was roughly $6,000 per pupil. If a student spent that voucher on a private school, that would mean more money left behind to educate a public school child, Johnson argued. Parents would pull their children out of the bad schools — public or private — and they would have to close.
Our ruling
Clinton said, "Gary Johnson and the Libertarian Party want to get rid of the public school system."
The Libertarian platform calls for a free market educational system that puts the responsibility on the parents.
Johnson clearly wants to get the federal government out of the education business, but public schools are run by the states and local communities, and there Johnson is giving mixed signals about the degree to which he wants to fully privatize public education.
Because Clinton's statement is partially accurate but leaves out important details or takes things out of context, we rate it Half True.
https://www.sharethefacts.co/share/290b228f-0400-4d2e-be9d-9bb130fe5510
Email, John Vaught LaBeaume, spokesman, Gary Johnson for President, Sept. 28, 2016
Email, Josh Schwerin, spokesman, Hillary Clinton for President, Sept. 29, 2016
Cosmopolitan, "Chelsea Clinton Discusses the First Debate, Her Mom's Pneumonia, and More," Sept. 28, 2016
Libertarian Party website, "What is The Libertarian Party?" accessed Sept. 28, 2016
Politico, "Gary Johnson's education ideas," Morning Education blog, Sept. 14, 2016
JohnsonWeld.com, "Education," accessed sept. 29, 2016
Forbes, "Gary Johnson On Education: 5 Things The Presidential Candidate Wants You To Know," May 30, 2016
Browse the Truth-O-Meter
More by C. Eugene Emery Jr.
Support independent fact-checking.
Become a member!
In a world of wild talk and fake news, help us stand up for the facts.