Stand up for the facts!
Our only agenda is to publish the truth so you can be an informed participant in democracy.
We need your help.
I would like to contribute
"Man pardoned by Obama three months ago arrested for murder."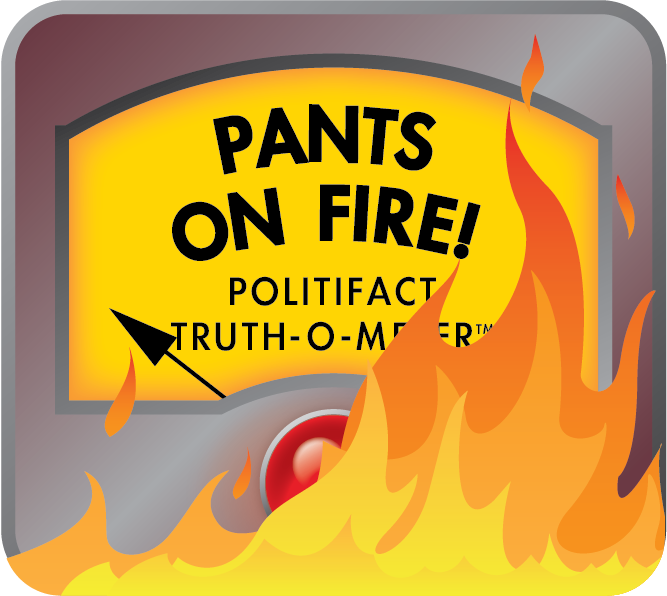 Report of man pardoned by Obama being arrested for murder is fake
The author of a contrived news story about a man being arrested for killing his girlfriend after being pardoned by President Barack Obama says he made it up to show how easily people believe fake news.
"Man pardoned by Obama 3 months ago arrested for murder," read the headline on a Feb. 28, 2017, story on UndergroundNewsReport.com. Facebook flagged the story as being potentially false as part of its efforts to fight fake news in users' feeds. The story has been shared on Facebook more than 23,000 times since being posted less than a week ago. The tale has wound up on other websites since then.
The post claims a Gainesville, Fla., man named James G. Winters was arrested for killing girlfriend Joanna Walker and leaving her body in a car trunk in Orlando. Winters, it says, was pardoned by Obama just 94 days ago, freeing him from a life sentence for drug trafficking and weapons charges.
These details are fake, although as in many fake news stories, there are some real roots to the premise.
Obama granted 1,715 commutations and 212 pardons, the most of any president since Harry Truman. Many of these criminals were nonviolent drug offenders serving exceptionally long sentences under strict federal guidelines from decades ago.
Obama had made easing these punishments a campaign promise, and had sought to aid hundreds of people who slipped through the cracks under sentencing revisions created through the Fair Sentencing Act of 2010. Part of Obama's actions included granting pardons and sentence commutations. (We wrote an entire story about it, which you can read here.)
One story circulated by Obama detractors was of Wendell Callahan, a convicted crack dealer who in 2016 was charged with killing a woman and her two children in Columbus, Ohio. Callahan had been freed under changes in the 2010 law, which Obama supported and signed. Callahan's case is pending.
But Winters hadn't been freed by Obama, either by pardon or commutation. There is no James Winters on the list of 1,927 prisoners affected by executive action. The photo on the story is of Avery Draughty, a California man convicted of killing his neighbor in 2016.
A closer look at the story UndergroundNewsReport.com shows that the site purposely writes outlandish stories to trick readers. The site contains a disclaimer that says all articles "are fiction, and presumably fake news."
There also is a link at the end of the story that redirects readers to an explanation that the website's owner had created it to see if he could fool readers, specifically supporters of President Donald Trump. The article said the writer circulated his fake stories on "Trump fan groups" to see if they would take the bait.
"To my surprise, the Trump masses embraced my stories as fact, almost universally," the author wrote. "It seemed that there wasn't anything I could write that was too wild or outrageous to be believed by this particular audience."
When we contacted him via email, the writer identified himself as James McDaniel, a 28-year-old U.S. citizen living in Costa Rica. (The site is privately registered in Scottsdale, Ariz.)
"I admit I kind of stumbled into this on accident just playing around and didn't really expect to get any attention at first," McDaniel wrote. "People proved to be far more gullible than I previously thought."
This claim rates Pants On Fire!
UndergroundNewsReport.com, "Man pardoned by Obama 3 months ago arrested for murder," Feb. 28, 2017
U.S. Justice Department, "Pardons granted by President Barack Obama (2009-2017)," accessed March 6, 2017
Pew Research Center, "Obama used clemency power more often than any president since Truman," Jan. 20, 2017
PolitiFact, "The Obameter: From drug sentencing to commutations, Obama altered prison landscape," Jan. 6, 2017
JudicialWatch.org, "Crack Dealer Freed Early Under Obama Plan Murders Woman, 2 Kids," March 2, 2016
Columbus Dispatch, "Man charged with killing woman, 2 daughters had early prison release," Jan. 12, 2016
Interview with James McDaniel, UndergroundNewsReport.com administrator, March 6, 2016
Browse the Truth-O-Meter
More by Joshua Gillin
Support independent fact-checking.
Become a member!
In a world of wild talk and fake news, help us stand up for the facts.