Stand up for the facts!
Our only agenda is to publish the truth so you can be an informed participant in democracy.
We need your help.
I would like to contribute
"Clinton Foundation ordered to cease operations – Chelsea (Clinton) charged with fraud!"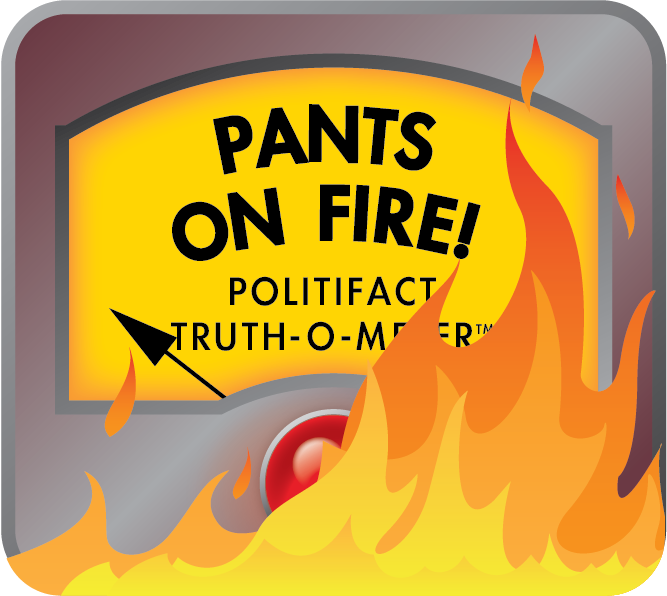 Was Chelsea Clinton charged with fraud as Clinton Foundation shut down? No, it's fake news
A fake news story that reads like a page out of conspiracy theory Mad Libs said that Chelsea Clinton was charged with essentially stealing from the Clinton Foundation, which had been ordered to shut down.
"Clinton Foundation ordered to cease operations – Chelsea charged with fraud!" read the headline on a May 3, 2017, post on Liberty-Courier.com.
The post was flagged as being potentially fake by Facebook users, as part of the social media site's efforts to winnow fake news from user feeds.
Among the numerous allegations made in the post, it said Chelsea Clinton was CEO of the Foundation (that would currently be Kevin Thurm; Chelsea is vice chair). The foundation had been told to stop operating, although the post didn't say who or what made such a demand.
For the record, Clinton Foundation spokesman Brian Cookstra said the post is definitely incorrect.
The story is full of falsehoods and paranoid nonsense, the details of which are almost certainly deliberately inane. For example, one passage reads:
"During (Hillary) Clinton's time as Secretary of State, it's been rumored that the 9/11 attack mastermind along with the creator of ISIS and Osama Bin Laden were all invited to the White House residence for ice cream sundaes and an evening of Scattergories.
"Bin Laden, who trained the 9/11 terrorists, was then sent to Cheyenne Mountain to be sent off-world and kept safe from prosecution while Obama and Clinton staged his death. Documents linking the Clinton Foundation directly to General George Hammond of SG Command were the final piece of the puzzle."
For the record, Gen. George Hammond was the one-time leader of the fictional Stargate Command. We also highly doubt Osama bin Laden and Hillary Clinton went toe-to-toe over Scattergories at 1600 Pennsylvania Avenue.
The fake post then focuses on how Chelsea Clinton supposedly "used her family foundation's cash to pay for her wedding, living expenses and taxes on gifts of cash from her parents."
We found several examples of this story online, most of which appeared to point back to the same May 3 post at USAPoliticsToday.com.
The only source cited in that story was a Nov. 6, 2016, article from the New York Post. That article said there was evidence from WikiLeaks' hack of former Hillary Clinton campaign chairman John Podesta's emails that Chelsea Clinton had taken money from the foundation to pay in part for her 2010 wedding to Marc Mezvinsky.
The Washington Post's Fact Checker had examined that same claim in January 2017, noting that the New York Post was the only U.S. newspaper to run the story, which was picked up by British tabloids and right-leaning news outlets like Fox News.
"Despite the breathless reporting, it's hard to tell exactly what is going on in the email exchange, which is dated Jan. 4, 2012," the Post's Glenn Kessler wrote. "There is no mention of actual Foundation monies being used for the wedding."
Chelsea Clinton herself has decried how the Clinton Foundation has been a target of fake news outlets and conspiracy theorists.
"The lies were absolutely frustrating because the facts didn't seem sufficient to put them to rest," she told Variety magazine in April. "I think that was so odd about the whole experience — either the truth was insufficient or people just didn't care."
In any event, Chelsea Clinton remains free, and the Clinton Foundation is still open for business.
We rate this headline Pants On Fire!
Liberty-Courier.com, "BREAKING: Clinton Foundation Ordered To Cease Operations – Chelsea Charged With Fraud!," May 3, 2017
USAPoliticsToday.com, "Clinton Foundation Ordered To Cease Operations – Chelsea Charged With Fraud!," May 3, 2017
CNN, "What is the Clinton Foundation and why is it controversial?," Aug. 24, 2016
Politico, "Chelsea flagged 'serious concerns' about Clinton Foundation conflicts," Oct. 11, 2016
New York Post, "Chelsea Clinton used foundation to help pay for wedding: email," Nov. 6, 2016
Washington Post Fact Checker, "Did the Clinton Foundation pay for Chelsea's wedding?," Jan. 4, 2017
Variety, "Chelsea Clinton on Sexism, Social Media and What's at Risk Under Trump," April 18, 2017
Interview with Brian Cookstra, Clinton Foundation spokesman, May 8, 2017
Browse the Truth-O-Meter
More by Joshua Gillin
Support independent fact-checking.
Become a member!
In a world of wild talk and fake news, help us stand up for the facts.