Stand up for the facts!
Our only agenda is to publish the truth so you can be an informed participant in democracy.
We need your help.
I would like to contribute
"Donald Trump praises Colonel Sanders for his service in the Civil War."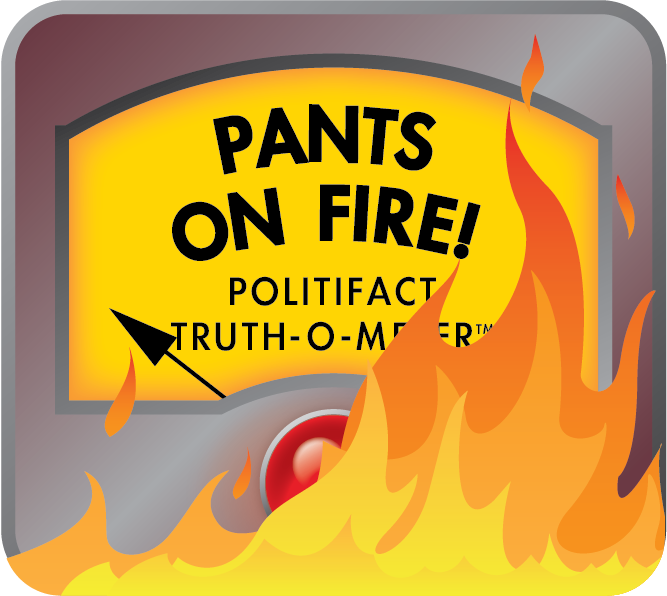 Trump calling KFC's Col. Sanders a Civil War hero was a parody site's story
A story that said President Donald Trump praised Kentucky Fried Chicken's founder for saving Civil War troops from starvation at Valley Forge flunks the truth test.
Let's do our own history lesson here: A May 2, 2017, post at TheRedShtick.com carried the headline, "Donald Trump praises Colonel Sanders for his service in the Civil War." The story was flagged by Facebook as being potentially fake, as part of the social media site's efforts to combat fake news.
The story played off a controversial comment Trump made on May 1 about former President Andrew Jackson, whom Trump readily admires.  
During an interview on Sirius XM's P.O.T.U.S. channel, Trump told the Washington Examiner's Salena Zito, "I mean, had Andrew Jackson been a little bit later you wouldn't have had the Civil War. He was a very tough person, but he had a big heart. He was really angry that he saw what was happening with regard to the Civil War, he said, 'There's no reason for this.' "
Trump drew criticism for the incident because his words neglect the fact that Jackson was a slave owner.
TheRedShtick.com used an excerpt from a May 1 New York Times story about the flap, then went off on its own invented tangent.
The post said Trump told their intern, Dave Robicheaux, that Col. Harland Sanders, the founder of the Kentucky Fried Chicken restaurant chain, was a "tremendous Civil War hero."  
"Trump, a noted fan of Kentucky Fried Chicken, explained how Col. Sanders took five loaves of Evangeline Maid bread and two chickens, added his secret blend of 11 herbs and spices, and turned these humble ingredients into delicious meals that lasted an entire winter," the post read.
"Robicheaux attempted to explain to Trump that Col. Sanders was born 25 years after the end of the war, that The Donald seemed to be confusing the food incident with a Biblical story about Jesus feeding the multitudes, and that Valley Forge was neither an encampment nor a battle site during the Civil War."
It should be pretty obvious that this story is more than a bit contrived, starting with the name of the post's author, Manny Schewitz. (For the record, Trump does like the occasional KFC bucket.)
People coming to the story would certainly realize the post is fake if they visited the web pages' About Us section. It says TheRedShtick.com is "a bold and engaging source of satire and irreverent humor." It said the site is a digital descendant of the defunct Red Shtick Magazine, formerly "the only print satirical publication in Louisiana's capital city" of Baton Rouge (French for Red Stick). The print magazine ended in 2012, the site said.
There is a RedShtickMagazine.com, that carries similar graphics to TheRedShtick.com, but the two sites post different content. The magazine site appears to carry unrelated, intermittent blog posts about Thailand-centric issues and events, as far as we can tell.
Neither site makes its registration information public, but TheRedShtick.com publisher Jeremy White told us the publication once used the magazine's domain name, but gave it up after going digital.
As for the Sanders story, White said that it should be obvious that it's fabricated, but these days satire can be difficult to distinguish from reality.
"We earnestly endeavor to distinguish ourselves from peddlers of fake news — devoid of any real humor or any attempt to speak truth to power — who publish their fiction under the guise of satire," White said. "They only muddy our national discourse in the pursuit of easy clicks."
Either way, Facebook readers should flag TheRedShtick.com as a satirical website and avoid it as a news source.
We rate it Pants on Fire.
TheRedShtick.com, "Donald Trump Praises Colonel Sanders for His Service in the Civil War," May 2, 2017
CNN, "Feathers fly over Donald Trump eating fried chicken with a fork," Aug. 2, 2016
New York Times, "Trump on the Civil War: 'Why Could That One Not Have Been Worked Out?'," May 1, 2017
PolitiFact, "What's up with Donald Trump and Andrew Jackson?," May 2, 2017
Interview with Jeremy White, TheRedShtick.com publisher, May 23, 2017
Browse the Truth-O-Meter
More by Joshua Gillin
Support independent fact-checking.
Become a member!
In a world of wild talk and fake news, help us stand up for the facts.