Get PolitiFact in your inbox.
Potential Foxconn changes are due to "the wave of economic uncertainty" from Evers administration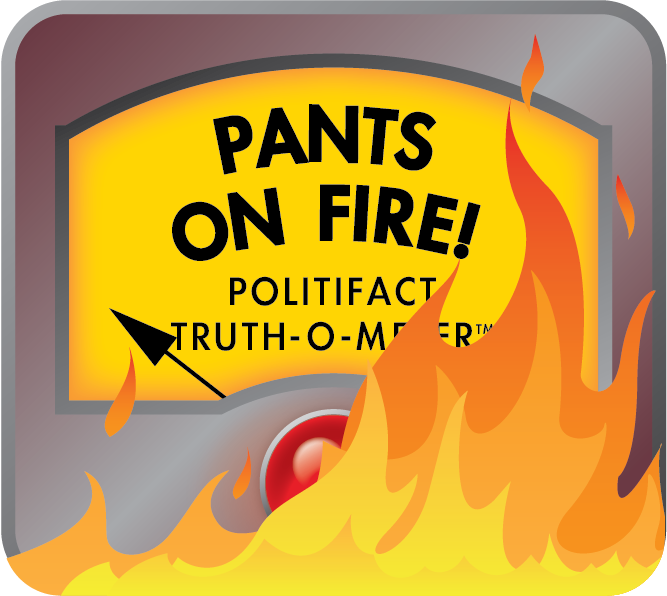 Pants on Fire: Robin Vos, Scott Fitzgerald blame Tony Evers for Foxconn changes
The size and scope of Foxconn Technology Group's planned complex in Racine County is suddenly up for debate, months after the Taiwanese firm signed contracts with state and local officials for billions in public funding.
Reuters reported Jan. 30, 2019, that Foxconn was reconsidering plans to make advanced liquid crystal display panels here and intending to hire mostly engineers and researchers, instead of the promised manufacturing workers.
The next day, the Nikkei Asian Review reported Foxconn planned to suspend and scale back its plans for a $10 billion plant in Wisconsin — a report the company disputed.
All that left Foxconn — a longtime political football — subject to a fresh round of kicks.
On the day the Reuters story appeared, Assembly Speaker Robin Vos, R-Rochester, and Senate Majority Leader Scott Fitzgerald, R-Juneau, released a joint statement that took aim at a seemingly unlikely target:
Gov. Tony Evers, a Democrat sworn in a mere three weeks earlier.
"We don't blame Foxconn for altering plans in an ever-changing technology business. It's also not surprising Foxconn would rethink building a manufacturing plant in Wisconsin under the Evers Administration," the statement read in part. "The company is reacting to the wave of economic uncertainty that the new governor has brought with his administration. Governor Evers has an anti-jobs agenda and pledged to do away with a successful business incentive for manufacturing and agriculture."
Is Foxconn really making changes in reaction to "economic uncertainty" created by the state's newly-minted governor?
Let's review what we know.
Officials offer no evidence
This was a fast-moving story, with different accounts of Foxconn's reported leanings coming from different sources across several days.
But in the middle of that, Vos and Fitzgerald made a very specific and concrete claim: that Foxconn was reacting to uncertainty Evers caused.
When we asked Vos and Fitzgerald to back up their claim, Vos spokeswoman Kit Beyer noted a series of changes in Evers' economic policy positions over time. But she said Republicans had no direct evidence connecting Foxconn's changes to Evers or any action by the new governor.
"The leaders believe that is the case," she said.
Meanwhile, Foxconn hasn't explicitly laid out its current plans or the reasoning behind them — but several reports have pointed to market factors rather than political ones.
Louis Woo, special assistant to Foxconn Chief Executive Terry Gou, voiced concern over the cost of making advanced TV screens in the U.S. due to labor expenses that exceed those in other countries, Reuters reported.
The Nikkei story, citing unnamed sources, said plans are on hold due to the trade war between China and the U.S. and uncertainty over demand. Apple is of particular concern, as the top Foxconn customer announced a revenue downgrade this month due to lagging sales.
Nikkei claimed the Wisconsin delay was "as a result of negotiations with new Gov. Tony Evers," citing a company document. But its article did not quote from the document or provide additional details.
In any case, Foxconn disputed the Nikkei report and spoke positively of Evers.
"The company remains committed to its long-term investment and creating 13,000 jobs in Wisconsin," the company said in a statement issued Jan. 31, 2019. "All interactions to date with Governor Evers and his team have been constructive, and we look forward to further discussions as we continue to invest in American talent and broaden the base of our investment within the State of Wisconsin."
In addition, Mark Hogan, head of the Wisconsin Economic Development Corp., WEDC, told the Milwaukee Journal Sentinel that Evers has not sought to renegotiate the Foxconn agreement or to pursue any side deals with the company — as claimed in the Nikkei report.
Hogan was appointed by Republican Gov. Scott Walker, who helped negotiate the deal.
"I have been involved with the Foxconn project from day one, and there never have been any side deals and the contract stands on its own," Hogan said Jan. 31, 2019. "In addition, there have been no attempts by either the company or the Evers' or Walker administrations to renegotiate WEDC's contract."
Experts say Evers' impact is likely minimal
Aside from what has been reported, there are many other things that undermine the argument that Foxconn is responding to Evers.
Experts say it simply wouldn't make sense for Foxconn — a major global player —  to take action in response to a governor who was just sworn in Jan. 7, 2019.
"It's pretty clearly a partisan statement that doesn't connect to how corporations work," said Paul Nolette, an associate professor of political science at Marquette University. "When Foxconn made this deal, they knew an election was coming up in 2018, they knew Gov. Walker could lose. These are all calculations corporations make."
Nolette said slowing iPhone sales and the trade war are more likely factors in what exactly Foxconn builds and operates in Wisconsin.
The statement by Vos and Fitzgerald expanded on the "economic uncertainty" claim by pointing to Evers' pledge to eliminate a business incentive.
But studies show tax rates play a much lesser role in business investment decisions than market demand, supply networks, worker availability and transportation networks, said Andrew Reschovsky, professor emeritus of public affairs and applied economics at the University of Wisconsin.
What's more, there are contradictory aspects in Vos and Fitzgerald's own statement.
Vos and Fitzgerald say they understand Foxconn changing its plans "in an ever-changing technology business," but then blame Evers for causing changes.
They say Foxconn is changing due to Evers, but then note Foxconn hasn't pulled back on its pledge to create 13,000 new jobs.
"You can see kind of a disconnect there," Nolette said. "They're saying it's Evers' fault that the bad things are happening, but really things aren't that bad because the contract is still in place."
Which brings us to an important point — the state has a signed contract in place with Foxconn. It establishes up to $4 billion in cash payments and tax breaks over 15 years in exchange for building the manufacturing facility and creating 13,000 jobs.
Beyond that, if Evers did seek changes or side deals, Foxconn would not have to agree to them. And any re-negotiations on the contract would have to go through the WEDC board, which thanks to lame-duck legislation pushed by Vos and Fitzgerald, is controlled by Republicans until September.
Our rating
Republican leaders Vos and Fitzgerald said in a joint statement that potential changes in Foxconn's Wisconsin plans are a result of "economic uncertainty" created by Evers — who has been governor for less than a month.
A spokeswoman for Vos offered no evidence of that claim, saying merely that the leaders "believe" that is the case.
Meanwhile, the evidence against the claim is steep:
Published reports attribute the potential changes to an array of market and economic factors, including labor costs in the U.S., declining consumer demand and the trade war with China. Experts say those are historically the kinds of factors that drive business decisions, not politics.
Foxconn's lone public statement on the matter says talks with Evers have been "constructive."
And the CEO of WEDC says Evers has not interfered in the Foxconn contract in any way.
All of which makes Vos and Fitzgerald's claim not only wrong, but ridiculous. That's our definition of Pants on Fire.
Robin Vos and Scott Fitzgerald, Joint Statement: Foxconn's Plans in Wisconsin, Jan. 30, 2019
Email exchange with Andrew Reschovsky, professor emeritus of public affairs and applied economics, University of Wisconsin, Jan. 31, 2019
Email exchange and interview with Kit Beyer, communications director for Speaker Robin Vos, Jan. 30-31, 2019
Interview with Paul Nolette, associate professor of political science, Marquette University, Jan. 31, 2019
Milwaukee Journal Sentinel, Report says Foxconn suspending work on Wisconsin plant, Foxconn says plans are 'unchanged,' Jan. 31, 2019
Reuters, Exclusive: Foxconn reconsidering plans to make LCD panels at Wisconsin plant, Jan. 30, 2019
Nikkei, Foxconn's $20bn projects in US and China hit by growth fears, Jan. 31, 2019
Browse the Truth-O-Meter
More by Eric Litke
Support independent fact-checking.
Become a member!
In a world of wild talk and fake news, help us stand up for the facts.