Stand up for the facts!
Misinformation isn't going away just because it's a new year. Support trusted, factual information with a tax deductible contribution to PolitiFact.
I would like to contribute
Says Joe Biden "murdered U.S. Navy Seals."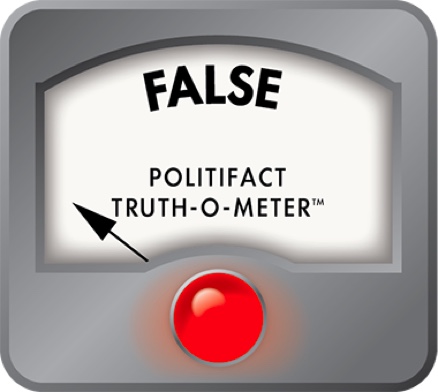 This claim that Biden revealed the names of Seal Team 6 members is still wrong
New year, old, debunked claims. A Jan. 6 Facebook post wrongly alleges presidential candidate Joe Biden "murdered U.S. Navy Seals."  
"He revealed the names and the unit that killed bin Laden," the post continues, "on May 3, 2011, at a national event in Washington. His reckless action put at risk the lives of every member of Seal Team 6. The Taliban and other jihadists eager to avenge bin Laden now knew which unit to target. Stunned and shocked, Seal Team Six members immediately realized they were going to be hunted by al Qaeda sympathizers. Soon after Biden's reckless idiotic speech, an American CH47 Chinook was shot down by a rocket propelled grenade in the Tangi Valley, Maidan Wardak Provience, Afghanistan, all 38 aboard were killed including most if not all of Seal Team 6."
This post was flagged as part of Facebook's efforts to combat false news and misinformation on its News Feed. (Read more about our partnership with Facebook.) 
As we previously reported, Biden praised the Navy SEALs in an address two days after the death of Osama bin Laden, al-Qaida's leader. But he didn't say the specific SEAL unit or name any of its members. And his speech came after it was already publicly known that the SEALS were part of the operation. 
Here's the timeline: On May 2, 2011, Bin Laden was killed during a military raid carried out by an elite, highly classified unit of the U.S. Navy SEALs called SEAL Team 6. President Barack Obama announced the 9/11 organizer was dead during a televised address, saying "a small team of Americans carried out the operation with extraordinary courage and capability." He didn't mention the Navy SEALs or SEAL Team 6.
After Obama's address, media outlets, including the New York Times, reported that the SEALs were involved in the operation. The paper didn't name the individuals who were a part of that team, only reporting that Obama "gave the final order for members of the Navy SEALs and C.I.A. operatives to strike."
The Washington Post, meanwhile, ran a story with this headline: "Navy SEALs who killed Osama bin Laden are from the elite 'Team 6,' May 2, 2011
On May 3, after news organizations publicly disclosed the SEALs' role, Biden, then vice president, gave a speech at the Atlantic Council Awards Dinner, where U.S. Navy Admiral James Stavridis received a military leadership award.  
"Admiral Jim Stavridis is the real deal," Biden said. "He could tell you more about and understands the incredible, the phenomenal, the just unbelievable capacity of his NAVY SEALs and what they did last Sunday." 
He mentioned the SEALs again later in his speech, adding that he was "in absolute awe — awe — of the capacity and dedication of the entire team, both the intelligence community, the CIA, the SEALs."
He didn't mention SEAL Team 6 or any of its members by name, as the Facebook post claims. Still, his remarks and the Obama administration drew criticism for publicly crediting the SEALs with bin Laden's killing after a helicopter carrying 30 American military members — including 15 from SEAL Team 6 — was shot down by Taliban insurgents in Afghanistan. 
But an investigation concluded there was no evidence the helicopter was targeted as part of a pre-calculated attack. In 2014, Garry Reid, then a deputy assistant secretary for special operations and low-intensity conflict in the Department of Defense, told Congress that officials didn't think the mission was compromised. 
"There was no external coordination so there's no possibility of information going up the chain and somehow going out to the Taliban," Reid said.
Snopes, which fact-checked a similar claim last year, reported that it asked Stavridis by email if he felt Biden's words put SEAL team members' lives at risk. 
"The Navy Special Warfare community is generally (and appropriately) tight lipped about their operations," Snopes quotes Stavridis as saying by email. "That said — I did not believe that night in May 2011 — or today — that Vice President's Biden's comments were in any way inappropriate or that they put at risk the lives of those who conducted that historic operation. I think he kept it at a level of generalization that made is completely acceptable in my view."
We rate this Facebook post False.
Facebook post, Jan. 6, 2020
PolitiFact, No, Biden did not 'leak' the names of SEAL Team 6 members to al-Qaida, Aug. 12, 2019
The New York Times, SEAL Team 6: A secret history of quiet killings and blurred lines, June 6, 2015
The New York Times, Bin Laden is dead, Obama says, May 1, 2011
The White House, Osama bin Laden dead, May 2, 2011
Joe Biden's Atlantic Council Awards Dinner speech, May 3, 2011
2011 Atlantic Council Annual Awards Dinner: BIden, Stavridis, Kent, Domingo, May 3, 2011
The Washington Post, Navy SEALs who killed Osama bin Laden are from the elite 'Team 6,' May 2, 2011
Snopes, Did Joe Biden publicly reveal the identity of the special-ops unit that killed bin Laden?, May 8, 2019
The Associated Press, Biden did not leak identities of SEAL Team 6 while vice president, Oct. 30, 2019
Browse the Truth-O-Meter
More by Ciara O'Rourke
Support independent fact-checking.
Become a member!
In a world of wild talk and fake news, help us stand up for the facts.