Stand up for the facts!
Our only agenda is to publish the truth so you can be an informed participant in democracy.
We need your help.
I would like to contribute
Four North Carolina Republicans made "campaign promises" to protect reproductive rights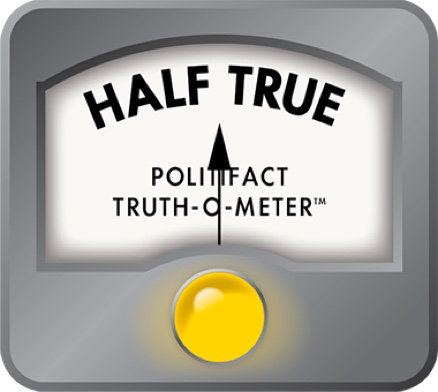 Cooper says four NC Republicans vowed to protect abortion rights. He's right about three.
If Your Time is short
North Carolina Republicans hope to ban most abortions after 12 weeks of pregnancy, instead of the current 20 weeks, and will need to override Democratic Gov. Roy Cooper's veto for their plan to become law.
Three of the Republicans that Cooper singled out did say they planned to support the status quo or, in one case, expand abortion access.
But state Sen. Michael Lee said in a September op-ed that he would support banning abortion after the first trimester.
North Carolina Republicans say their proposed 12-week abortion ban will promote childbirth while also protecting reproductive rights.
Democratic Gov. Roy Cooper, says the proposal wouldn't just threaten women's health by limiting their options for treatment. He also says that the bill, if enacted, would violate some Republican legislators' campaign promises. 
Republican lawmakers passed a bill May 4 that would ban most abortions after 12 weeks of pregnancy, instead of the current 20 weeks. It proposes additional rules that could render inoperable many abortion clinics statewide.
After the measure passed the Legislature, Cooper said in a video posted to Twitter: "Republican legislators like Ted Davis and Michael Lee from Wilmington, John Bradford and Tricia Cotham from Mecklenburg County, made campaign promises to protect women's reproductive health."
Cooper made similar comments in interviews with CNN, WRAL-TV, WSOC-TV and CBS' "Face the Nation," but he didn't name those four lawmakers in each interview.
And in news releases in subsequent days, Cooper's office quoted past statements from and listed actions by the Republican legislators that suggest they either supported the state's existing abortion laws or were against elements in the bill passed last week. "They still have time to keep those promises if they vote to sustain Governor Cooper's veto," he said in a news release.  
It's all part of Cooper's pressure campaign to torpedo the measure. He says he'll veto the bill. But Republicans, who have veto-proof majorities in both chambers of the General Assembly, will then seek to override Cooper's veto. 
Cooper needs every Democrat, and at least one Republican in the House or Senate, to vote against the override to block the bill from becoming law. So this week, Cooper held events near those four Republicans' districts, pressing them to uphold their "campaign promises." He included their past positions in multiple press releases this week.
What did those lawmakers actually say on the campaign trail? Here's a look at their comments.
Rep. John Bradford, R-Mecklenburg. Before 2022's midterm elections, Bradford's Democratic opponent warned voters that their swing district could play a deciding role in whether North Carolina legislators could pass new, restrictive abortion laws. Bradford pushed back on that idea in an interview that Axios Charlotte published Oct. 24. Bradford said: "I have no intentions myself of going back to Raleigh and trying to make the 20 weeks more restrictive." Cooper cited that quote and article in news releases this week. 
Bradford also expressed support for the current law at a candidate forum that same month, according to Cornelius Today, and in an interview with WSOC-TV last year — footage of which Cooper's Twitter account posted on May 6.
Bradford, who voted for the bill and is running for state treasurer, didn't respond to PolitiFact NC's request for comment. In a statement to WSOC-TV, he suggested Cooper isn't actually familiar with his positions — but Bradford didn't specifically address his own previous statements about abortion.
Bradford, now serving his fourth term in the House, has voted for bills that tighten abortion restrictions. In 2021, he sponsored a bill that would've barred people from having abortions because they're unhappy with the child's sex, race, or Down syndrome diagnosis. In 2015, he voted for a bill that extended the mandated waiting period for an abortion from 24 hours to 72 hours after a patient inquires about the procedure. 
But Bradford hasn't placed abortion at the forefront of his campaign. His campaign website and social media accounts offer little-to-no mention of his stance on the issue, according to a PolitiFact NC review. 
Rep. Tricia Cotham, R-Mecklenburg. Cotham's political pivot — including a vote for the abortion bill — has undoubtedly been the most dramatic. Cooper illuminated her actions and statements on the issue in interviews and multiple press releases this week. 
Once an outspoken proponent of reproductive rights, Cotham in April unexpectedly left the Democratic Party and joined the GOP. Her announcement came less than three months after she supported a bill that would have expanded abortion access in North Carolina by enacting the abortion rights afforded by the U.S. Supreme Court's 1973 Roe v. Wade ruling. 
Her switch also came about six months after she rode the Democratic Party's platform to victory in her left-leaning district. She voted for the GOP's 12-week abortion ban a year to the day after tweeting, "Now, more than ever we need leaders who will be unwavering and unapologetic in their support of abortion rights. I'll fight to codify Roe in the #ncga (North Carolina General Assembly) and continue my strong record of defending the right to choose."
Before taking office this year, Cotham served in the Legislature from 2008 to 2016. She garnered national attention in 2015 for delivering an impassioned speech about seeking an abortion during her first pregnancy, which was not viable. 
Cotham, who didn't respond to requests for comment for this article, in 2015 accused Republican lawmakers of "wanting to play doctor," and saying "my womb and my uterus is not up for your political grab."
Rep. Ted Davis, R-New Hanover. Like Bradford, Davis last year repeatedly expressed support for the existing 20-week ban. He did so during an interview uploaded last October by the New Hanover County GOP, in which he said he supports "what the law is in North Carolina right now." He referred to the law and his preferred exemptions — rape, incest, unviable fetus and danger to the mother's health — as "reasonable." Cooper cited this interview in press releases this week.
Also like Bradford, Davis appears to publicly prioritize other issues ahead of abortion. His campaign website highlights his role as a sponsor of a 2019 bill that aimed to add new penalties for physicians who don't care for infants who survive an attempted abortion procedure, a scenario that medical experts say is extremely rare. Otherwise, his campaign website and social media accounts rarely mention the issue.
Unlike Bradford, though, Davis seems to have ruled out the possibility that he might bend on his position.
During a candidate forum in October, Davis said he wouldn't allow House Speaker Tim Moore to influence his vote on any abortion legislation. He said "I support what the law is right now," adding: "The speaker doesn't tell me what to do. … I'm going to vote to keep it just the way it is."
Davis has stood his ground and didn't vote for the Republicans' proposed 12-week ban. He had an excused absence. By email, he declined to comment on Cooper's comments or on whether he'd vote to override the governor's veto.
If Davis takes another walk when the abortion bill comes up for a veto override, the bill would fail to become law — so long as every Democrat votes to uphold Cooper's veto.
Sen. Michael Lee, R-New Hanover. Cooper's weakest case is against Lee, who voted for the 12-week ban. 
Cooper's office has pointed out that, in a Sept. 4 opinion piece published in the (Wilmington) StarNews newspaper, Lee said he opposes bans in the first trimester.
"I am against bans in the first trimester but believe second- and third-trimester abortions — when the baby can feel pain, has a beating heart, ten fingers, and ten toes — are abhorrent and should be restricted. It also means I support exceptions for rape, incest, health of mother, and viability of the fetus — as do the majority of Americans," Lee wrote.
Lee later ran a video campaign ad in which his wife said he would "oppose an extreme ban on abortion."
Republicans and Democrats disagree over whether the proposed restrictions are extreme. The medical community has also expressed small differences on when the first trimester ends. The Cleveland Clinic and American College of Obstetricians and Gynecologists say it lasts through the first 13 weeks, while the U.S. Department of Health and Human Services' Office on Women's Health and other groups recognize the first trimester as ending at the 12th week of a woman's pregnancy.
Cooper has also pointed out that the bill requires physicians to verify that the "probable gestational age" of the unborn child is no more than 70 days, or 10 weeks, when signing-off on a medication abortion. Senate Republicans said that's because Mifepristone, part of the most common abortion regimen in the United States, has only been approved by the Food and Drug Administration for use in the first 70 days after a woman's last menstrual period.
Senate Republicans argue that although the bill requires physicians to check the gestational age, it doesn't prevent or punish physicians from prescribing medication abortion for someone whose fetus is more than 10 weeks old. Medication abortions are legal up to 12 weeks, according to Senate Leader Phil Berger's office.
In a statement to WRAL, Lee said Cooper is misrepresenting his position, and that Senate Bill 20 follows what he wrote in his September opinion piece. 
"(The bill) provides that a woman has the right to choose an abortion in the first three months. In the event of rape or incest, the woman has the right to an abortion in the first five months. If there is a life limiting anomaly with the fetus, the woman has six months to decide whether to have an abortion. At all times, a woman has the right to an abortion if continuing the pregnancy will impact the health of the mother (referenced in Senate Bill 20 as impairing a major bodily function of the mother).
"As for Roy Cooper," Lee added, "he lied about my position on this issue during the campaign and he is doing it again."
Asked to respond, Cooper's office stood by the governor's claim. Spokesman Jordan Monaghan said there's more to the bill than just the ban on most surgical abortions after the 12 week of pregnancy. "This bill will impose additional delays and burdens on care during the first 12 weeks and beyond."
Our ruling
Cooper said Bradford, Cotham, Davis and Lee "made campaign promises to protect women's reproductive health."
In three of the cases, Cooper was right. Bradford and Davis said they planned to support the status quo on abortion and  Cotham said she would seek to expand access.
But Cooper's claim about Lee misses the mark. Lee said he'd support limiting abortion to the first trimester — something the GOP bill largely does. So, if Lee voted for the 12-week ban, he would not be backtracking on his campaign statement.
Cooper's claim is partially accurate but leaves out important context. That's our definition of Half True.
Tweet by North Carolina Gov. Roy Cooper on May 4, 2023.
Email exchange with Jordan Monaghan, spokesman for North Carolina Gov. Roy Cooper.
Email exchange with North Carolina state Rep. Ted Davis of New Hanover County.
Email exchange with North Carolina state Sen. Michael Lee of New Hanover County.
Axios Charlotte, "A 'lonely place': The contentious race for the only GOP-held state legislative seat in Mecklenburg," Oct. 24, 2022.
Cornelius Today, "Candidate forum highlights differences of opinion," Oct. 14, 2022.
WSOC-TV, "NC rep pushes back against Gov. Cooper over abortion bill," May 5, 2023.
WRAL-TV, "'Considered a traitor': NC Rep. Tricia Cotham leaves Democrats for GOP," April 5, 2023.
Tweet by North Carolina state Rep. Tricia Cotham on May 3, 2022.
WECT-TV, "N.C. House and Senate candidates to speak at town hall forum," Oct. 19, 2022.
Podcast hosted by the New Hanover County GOP, "2 Minutes or Less w/ Reuel Sample: Ted Davis," Oct. 20, 2022.
StarNews Online op-ed by North Carolina state Sen. Michael Lee, "Let's find common ground on abortion," Sept. 4, 2022.
Browse the Truth-O-Meter
More by Paul Specht
Support independent fact-checking.
Become a member!
In a world of wild talk and fake news, help us stand up for the facts.