Stipends for vice chairs in State Senate is new practice, not old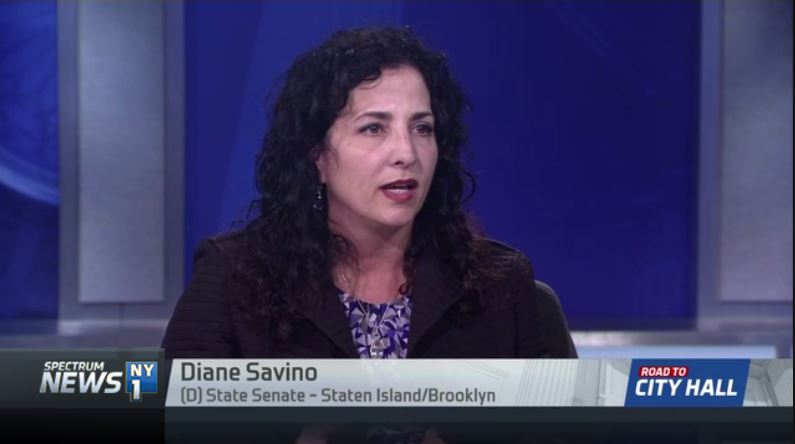 A recent uproar in Albany centered on how eight New York state senators, since 2015, have been paid stipends worth thousands of dollars for committee chairmanships they do not hold.
Diane Savino, a Democrat from Staten Island, called the practice business as usual in the Senate.
"In Albany there seems to be an obsession with something that has been, in fact, a legislative practice for decades," Savino said in an interview on NY1, Charter's 24-hour news channel in New York City.
Is Savino right that this has been going on for decades?
How senators are paid
Each Senate leadership position includes a stipend on top of a senator's $79,500 salary. Stipends range from $9,000 for lower leadership posts to the $41,500 stipend collected by Senate Majority Leader John Flanagan. Committee chairs receive stipends. Vice chairs do not.
A senator can receive only one stipend.
Senate staffers send documents to the New York State Comptroller's Office each year listing the leadership position for which each senator should be paid his or her stipend.
PolitiFact New York obtained the documents through Freedom of Information requests for each year starting in 2006. The Comptroller's Office keeps the documents for only five years, so it provided documents from 2012 to this year. The Senate provided documents from 2006 through 2011.
The documents show the practice of giving a committee chair's stipend to a different member of that committee did not start until 2015. The stipends went to the chairs from 2006 through 2014, unless the chair was paid for a different leadership position. The chair's stipend was not paid to anyone in those cases.
Two lawmakers were paid for committee chairmanships they did not hold in 2015 and 2016.
Sen. David Valesky was paid the $15,000 stipend of Health Committee Chairman Kemp Hannon. At the time, Hannon collected a $25,000 stipend as assistant majority leader on conference operations.
Sen. Andrew Lanza was paid the $18,000 stipend of Codes Committee Chairman Michael Nozzolio, who received $22,000 as the Senate's majority whip.
Valesky and Lanza were listed as vice chairs of the committees.
The practice widened in 2017, when six senators were paid for chairmanships they did not hold. Each, except Sen. Patricia Ritchie, was listed as vice chair of the respective committee.
Savino received the $18,000 stipend of the Codes Committee chair this year. Lanza, who now chairs the Codes committee, received a $19,500 stipend as assistant senate majority whip.
Ritchie, who chairs the Agriculture Committee, was instead paid the Health Committee chair's stipend this year — a $2,500 increase. Ritchie is listed as deputy vice chair of the Health Committee.
Sen. Thomas O'Mara was paid $15,000 as vice chairman of the Transportation Committee. O'Mara otherwise would have received a $12,500 stipend as the Environmental Conservation Committee chairman.
Sen. Patrick Gallivan of Elma received $18,000 as vice chairman of the Education Committee, $5,500 more than he would have been be paid for chairing the Crime Victims, Crime, and Correction Committee.
Sen. Pam Helming would have received a $12,500 stipend as vice chairwoman of the Crime Victims Committee, the amount Gallivan would have been paid had he not collected the $18,000 from his Education Committee post. Helming decided not to accept the payment.
Sen. Jose Peralta, in a twist, took a pay cut. He was paid $12,500 this year as vice chairman of the Energy and Telecommunications Committee. Documents show he was paid $14,500 as the Senate's minority whip last year, a post he no longer holds.
Savino's view
Savino's spokesperson said the senator was talking about granting stipends to members in general, and not referring specifically to committee vice chairs taking the stipends left available by their committee chairs who took stipends from elsewhere.
Stipends have been paid to members for decades. The Legislature started paying stipends to committee chairs in 1976.
But Savino's statement came in reply to an interviewer's question about the stipends going to vice chairs. Viewers who watched the interview could not be expected to understand her comment as her spokesperson said it was intended.
Our ruling
Savino said the practice of giving a committee chairman's stipend to the vice chair in the State Senate has been "a legislative practice for decades."
Records from the state Comptroller's Office indicate otherwise. The practice did not happen any time in the last decade. It started in 2015. Records do not support Savino's statement.
We rate it False.
EDITOR'S NOTE - UPDATE
Savino's office issued a statement about our story after publication on July 10.
"It's amazing that an outlet which calls itself Politifact could take liberties with the truth and distort my words based on their 'perception' of an interview. Perception is not fact it is opinion, and the truth is that the fragment they plucked from my full statement is as true today as it was when I said it: The practice of the Senate issuing stipends to senators has been a legislative practice for decades. I never said vice chairs were, though they are certainly entitled to under the legislative law. In fact, every senator in our house is entitled to one allowance including every senator in the minority," Savino said in the statement.
For context, here's a transcript of the relevant portion of the interview we fact-checked:
ERROL LOUIS: For over a week now we've been telling you about the controversy involving stipends paid to state senators for positions they do not technically hold. Critics have denounced the practice but Republicans and Independent Democratic Conference leaders say it's much ado about nothing. My first guest tonight is one of those senators. Democrat Diane Savino is a member of the IDC. She represents parts of Staten Island and southern Brooklyn and she got her stipend as role of vice chair of the senate codes committee. Welcome to the program, thanks for coming back down from Albany.
SAVINO: Thanks for having me Errol, how are you?
ERROL LOUIS: Oh I'm very good thanks. Tell me what a Vice Chair does. What's the idea?
SAVINO: Well first I want to just reflect on how you opened this. For the past week apparently the Albany press corps has been obsessed with this. When you look at what's happening in the world, it's almost as if the world is going to hell in a handbasket. The president is on the verge of being accused of possible crimes where they're talking about impeachment, the stock market is collapsing today, but yet in Albany there seems to be an obsession with something that has been, in fact, a legislative practice for decades. And in fact when there was a question brought up about it, legal memos were presented and offered to the press to verify that was has been done has been consistent with legislative law and legislative practice for decades, the comptroller's office verified that that is in fact in legislative law and has been practiced for decades. So, I am mystified as to what the obsession is.
Our ruling does not change.