A map showing Hurricane Irma on a path to hit Houston is fake news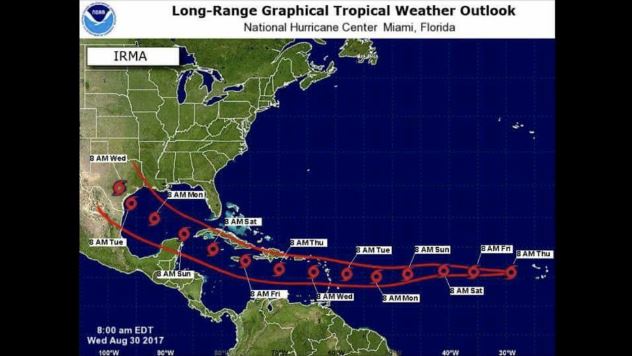 A map showing that government officials predict Hurricane Irma is on a path to hit Houston is fake news.
"Everyone needs to pay attention to Hurricane Irma," read a Facebook post on Aug. 31, 2017. (The post has since been deleted.) "She's predicted to come through Mexico, hit us and everything in between up to Houston. She's already a Category 2 and hasn't even got into warm water yet."
The post uses the official logo of the National Oceanic and Atmospheric Administration and has a map showing a projected path of the storm. It had been shared more than 36,000 times on Sept. 1, 2017.
Joe Maley, the author of the post, did not respond to our request for comment.
The National Weather Service took the rare step of debunking the forecast on Twitter on Sept. 1, 2017, flagging the post as fake.
"Keep your eyes out for fake forecasts. THIS is what an official NOAA advisory looks like. Note: forecast only goes out 5 days. #Irma," the National Weather Service tweeted.
"National Weather Service issued a tweet in response to a Facebook post by someone who is not an employee of NOAA, NWS or the National Hurricane Center," National Weather Service spokeswoman Maureen O'Leary told us. "The post included logos and language that could be mistakenly taken as an official forecast."
As of this writing, the National Weather Service projects Irma's probable path as moving in the direction of the Caribbean, but it's still too early to tell where the storm will make landfall and whether it will impact the United States.
U.S. code subjects people who counterfeit weather forecasts or falsely represent government-issued forecasts to fines or imprisonment for under 90 days.
We rate this claim Pants on Fire!