Rafael Anchia: Six times since 2011, federal rulings found intentional discrimination by Legislature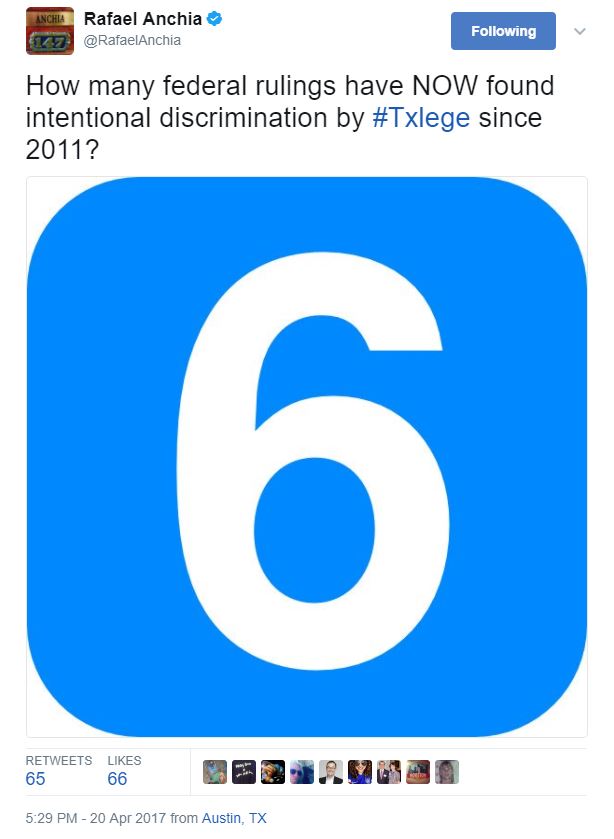 After federal judges in April 2017 ruled that Texas Republicans had intentionally diluted minority voting strength when they redrew U.S. and Texas House districts, a Democratic legislator said it wasn't the first time — or even the fifth.
Rep. Rafael Anchia of Dallas, who chairs the Mexican American Legislative Caucus, posted a tweet saying: "How many federal rulings have NOW found intentional discrimination by #Txlege since 2011? 6."
Six rulings? We wondered.
Specific rulings
When we inquired, Jaclyn Uresti, executive director of MALC, emailed us a list that added up to six decisions, all of which we confirmed from news accounts and court rulings:
The cited rulings looked to us like six instances of federal judges all finding intentional discrimination by the 2011 Legislature.
Potential fallout
That finding, if it sticks, could have significant consequences (though it's also worth keeping in mind that after the 2020 U.S. census, the 2021 Legislature will be expected to redraw districts afresh based on changes in the state's population since 2010).
To our inquiry, Justin Levitt, a constitutional law professor at Loyola Law School in Los Angeles and former civil rights attorney in the Department of Justice under President Obama, said as little as a single judicial finding of intentional discrimination by Texas lawmakers could fuel a court to reimpose a previous decades-long requirement that any changes in state election law be submitted to the Justice Department or a federal court before taking effect.
That "preclearance" hurdle went away for Texas and other jurisdictions, mostly southern states, when the Supreme Court in 2012 found unconstitutional a provision in the Voting Rights Act specifying when a state or local government must face preclearance.
Levitt said of Anchia's claim: "If you include intentional discrimination, there's no question the number is six. Six is a giant number when it comes to this. A court only needs one example to suffice, so five or six is a lot."
Our ruling
Anchia said that six times since 2011, federal rulings found intentional discrimination by the Texas Legislature.
We confirmed six such rulings from August 2012 through April 2017 issued by federal judges regarding Republican-drawn U.S. House and Texas House districts or the GOP-driven law requiring voters to present photo identification at the polls.
We rate the claim True.
---
TRUE – The statement is accurate and there's nothing significant missing. Click here for more on the six PolitiFact ratings and how we select facts to check.