Texan says U.S. Capitol statues of Stephen F. Austin, Sam Houston only ones holding a gun or sword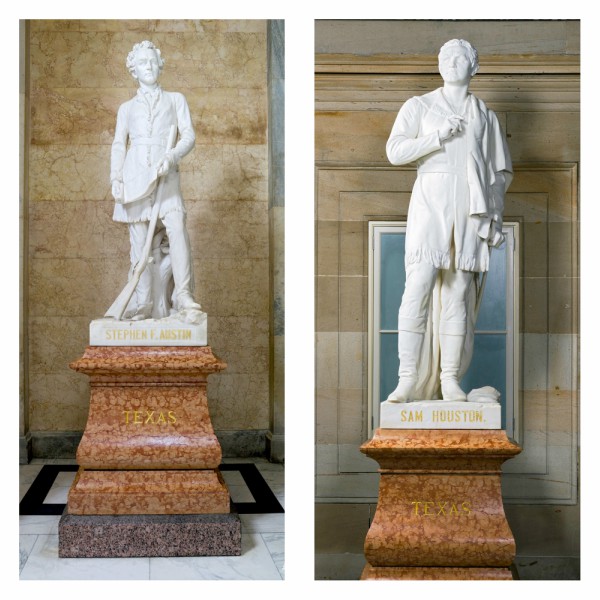 A fundraising email staked a claim to uniqueness about Texans in the U.S. Capitol that made us wonder.
Jonathan Saenz, who heads Texas Values, a group that says it's dedicated to faith, family and freedom, wrote March 28, 2018, that during a recent walk through the U.S. Capitol, "I gazed up at the carvings and paintings that tell America's glorious story… smiling that Stephen F. Austin's and Sam Houston's statues were the only ones holding a rifle or a sword. I was reminded about the truth of all that's exceptional about America and Texas."
That kind of historical trivia seems tailor-made for our Texas Truth-O-Meter.
Tourists visiting Washington, D.C., learn that the Capitol houses 100 statues, two donated by each state. According to the Architect of the Capitol, which is the steward of the landmark buildings and grounds of Capitol Hill, such statues were confined to the building's National Statuary Hall until Congress in 1933 reacted to overcrowding--at the time, 65 statues were wedged three-deep into the hall--by authorizing the statues to be spread throughout the building, which extends to the Capitol Visitor Center.
We scrolled online through the architect office's posted photos of the 100 statues. Could it be that only Austin and Houston were carved holding a gun or sword?
Austin's statue has a long gun front and center, it looked to us, while Houston's statue just barely appeared to have a sword to its left rear side.
But our click-through of photos of the Capitol statues showed that Houston wasn't the only one holding a sword. (A fair number of others, we saw, hold books.)
List of statues holding weapons
When we sought expert help, a curator from the Capitol architect's office, Jennifer Blancato, emailed us a list of Capitol statues holding weapons — with a notation that the Austin statue alone holds a firearm, which she listed as a rifle.
Blancato listed 12 Capitol statues--including the one of Houston--of men holding swords.
Similarly, William C. diGiacomantonio, chief historian of the U.S. Capitol Historical Society, which was chartered by Congress in the 1960s to educate the public on the Capitol's history and heritage, responded by email that the Capitol statue of Austin is the only one brandishing a musket or rifle while, he said, many Capitol statues hold swords.
Blancato specified as the sword-holding statues: Houston; Gen. Joseph Wheeler of Alabama; Gen. Edmund Kirby Smith of Florida; Gen. James Shield of Illinois; John Stark of New Hampshire; Philip Kearney of New Jersey; John Peter Gabriel Muhlenberg of Pennsylvania; Nathanael Greene of Rhode Island; John Sevier of Tennessee; Ethan Allen of Vermont; Robert E. Lee of Virginia; and Gen. Ulysses S. Grant. (Blancato otherwise said the statues of King Kamehameha I of Hawaii and Chief Washakie of Wyoming hold spears.)
We shared Blancato's break-out with Saenz who said in an emailed statement that he based his claim about the Texas statues on what he noticed while at the Capitol, perhaps "because my focus is always primarily on Texas."
Our ruling
Saenz said the Capitol statues of Austin and Houston are "the only ones holding a rifle or a sword."
This proud Texan's claim has an element of truth in that Austin's rifle-bearing statue alone holds a rifle. However, a dozen statues donated by states, including the one of Houston, hold swords.
We rate this statement Mostly False.
---
MOSTLY FALSE – The statement contains an element of truth but ignores critical facts that would give a different impression. Click here for more on the six PolitiFact ratings and how we select facts to check.