Trump wrongly calls Mueller's staffers Clinton supporters, employees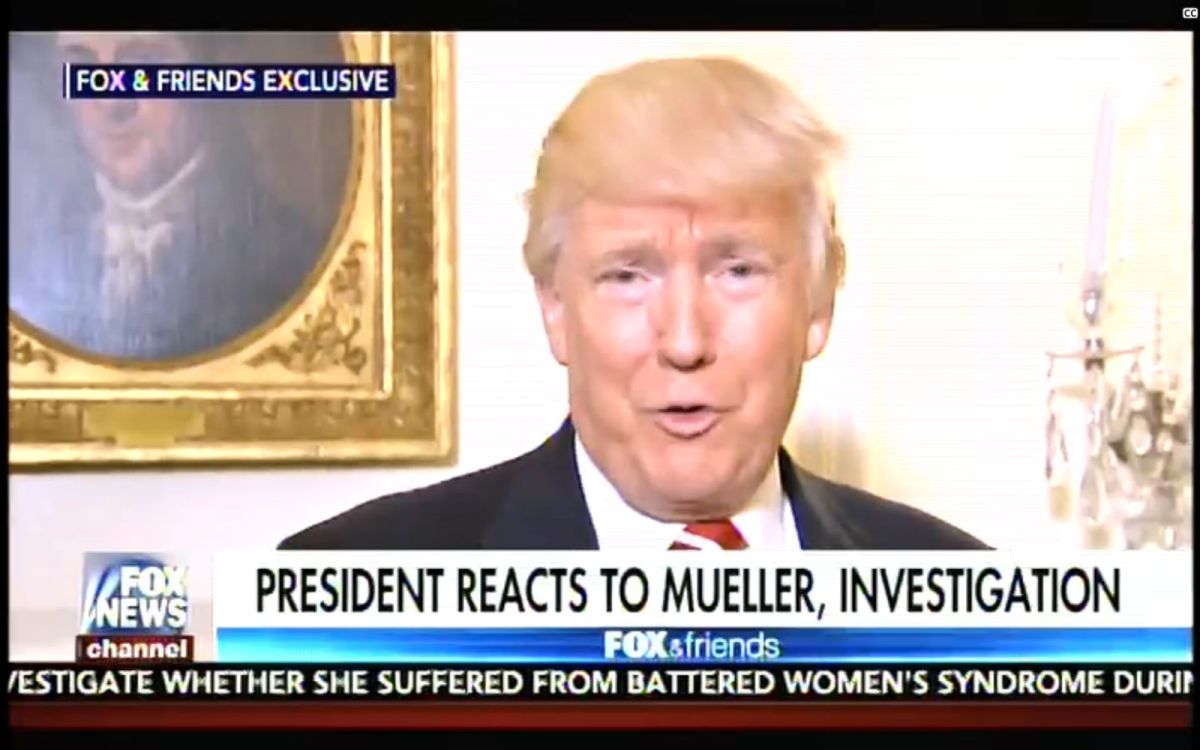 Robert Mueller's appointment as a special counsel to investigate possible collusion between the Trump campaign and Russia has angered President Donald Trump, but he has so far restrained any urge to fire him. Trump has instead blasted angry tweets about the "witch hunt" and recently on Fox & Friends called into question the ability of Mueller's team to do the job.
"I can say that the people that have been hired are all Hillary Clinton supporters, some of them worked for Hillary Clinton," he said of the special counsel staffers.
We decided to look into the campaign contributions and employment history of the list of Mueller's eight staffers that the U.S. Justice Department has made available so far.
We found that of the eight, three have made campaign contributions to Hillary Clinton, none have worked for her, and one has defended the Clinton Foundation in court for WilmerHale, the law firm where Mueller was a partner, while another represented a Clinton aide, also for WilmerHale.
"Under the Rules of Professional Responsibility, attorneys are permitted to participate in matters involving their former firm's clients so long as they have no confidential information about the client and did not participate in the representation," said Peter Carr, a Justice Department spokesperson. "The department's ethics experts have considered the relevant issues and determined that Mr. Mueller's appointment as special counsel and those hired from his former firm are consistent with the rules of professional responsibility."
This is why Mueller was allowed to work on the case, in spite of WilmerHale's representation of several key White House players, including Paul Manafort, Jared Kushner and Ivanka Trump.
On the question of campaign contributions, Deputy Attorney General Rod Rosenstein said in his testimony before a Senate Appropriations subcommittee on June 20 he saw no problems with the political donations from some special counsel staffers. When Sen. Lindsey Graham, R-S.C., asked whether political donations are a reason to disqualify someone from working on the investigation, Rosenstein answered, "No, senator, it is not a disqualification. It is not."
According to Kathleen Clark, a law professor at Washington University in St. Louis, Congress has a longstanding concern about the possibility of partisanship in the federal workplace, leading it to place restrictions on partisan political activity through the Hatch Act. While the Hatch Act prohibits employees from campaigning for or against a subject of the investigation, financial contributions are permitted.
"The Hatch Act places federal employees under two different categories, and some employees are subject to tighter restrictions on their partisan political activities," Clark said. That includes those working on Justice Department criminal investigations. "But even those folks … are permitted to make political contributions."
"If someone has some kind of bias against someone or an association with or against, that's not fair, and there's a specific federal ethics regulation that requires federal officials who are participating in a proceeding like a criminal investigation to be able to be impartial and have the appearance of impartiality," she added. "Even staffers who have represented Clinton don't fall into that category."
Below, we've compiled a list of the special counsel staffers, their financial contributions and employment histories.
Aaron Zebley, Mueller's former FBI chief of staff, previously served as a senior counselor in the National Security Division, as an special agent in the FBI's counterterrorism division, and as assistant U.S. attorney in Alexandria, Va. Following his various stints at the FBI, Zebley worked at WilmerHale, the same law firm as Mueller. There, he once represented Clinton aide Justin Cooper. FEC filings showed that Zebley did not contribute to any political campaigns.
James Quarles, a former Watergate assistant special prosecutor, also worked at WilmerHale. He did not represent Clinton or any of her aides. He did, however, contribute $2,700 to Hillary for America, Clinton's PAC, on Oct. 7, 2016. He also contributed $15,550 to Democratic congressional candidates since 2002; $2,000 to Democratic presidential candidates since 1999; $2,000 to the Democratic Senatorial Campaign Committee; and $1,000 to the Democratic Congressional Campaign Committee in 2009. He is the only staffer who also contributed to a Republican congressional candidate. He gave $2,500 to U.S. Rep. Jason Chaffetz, R-Utah, in 2015.
Michael Dreeben was the deputy solicitor general for the Justice Department, focusing on criminal matters before the Supreme Court and federal appellate courts. While a Michael W. Dreeben shows up in FEC files as having donated $1,000 to Hillary for America on June 27, 2006, this is a different Dreeben in Chicago. The deputy solicitor general has made no campaign contributions.
Andrew Weissmann, the chief of the Justice Department's criminal division fraud section, has also worked as the FBI general counsel, deputy and then director of the Enron task force, and an assistant U.S. attorney in New York. While he made no contributions to Clinton's PAC, he gave a total of $2,350 to the Obama Victory fund in 2008.
Jeannie Rhee was a deputy assistant attorney general in the Office of Legal Counsel and an assistant U.S. attorney for the District of Columbia, prosecuting fraud and public corruption cases. She represented the Clinton Foundation for WilmerHale before a conservative legal activist who brought forth a racketeering lawsuit in June 2015. She also contributed a total of $5,400 to Clinton's PAC in 2015 and 2016.
Lisa Page served in the FBI's general counsel office and as a trial attorney in the Justice Department's criminal division's organized crime and gang section. She made no campaign contributions.
Elizabeth Prelogar is a former Fulbright scholar in Russia who served as an appellate attorney on detail for the Office of the Solicitor General and as an attorney at Hogan Lovells. She contributed $250 to Hillary for America in 2016 and $250 to the Obama Victory Fund in 2012.
Adam Jed, an appellate attorney on detail from the Justice Department's civil division, made no campaign contributions.
Our ruling
Trump said that members of Mueller's team are "all Hillary Clinton supporters, some of them worked for Hillary Clinton."
Three of the eight available Mueller hires made campaign contributions to Clinton, which undermines Trump's statement that all are Clinton supporters. Furthermore, none of them have worked for Clinton directly. Two represented either the Clinton Foundation or an aide, never her, and working for WilmerHale, which has also represented key members of Trump's White House. The Justice Department has looked into the contributions and employment histories of all of their hires and determined them consistent with the rules of professional responsibility. Trump's implication is that the investigation is politically motivated, but we see nothing to support that.
We rate this statement Mostly False.