Get PolitiFact in your inbox.
Can anyone who needs a ventilator get one? So far, it looks like it
If Your Time is short
Representatives from over 30 states told us they haven't had or are not aware of any COVID-19 patients in their state needing a ventilator and not getting one. Many states are reporting excess supplies of the breathing machines.

We can't say for sure that nobody has been denied a ventilator, or that no family has felt pressure to pull their loved one off a ventilator prematurely to free the machine up.

The coronavirus pandemic is far from over. Smaller communities with fewer resources could have trouble keeping up with ventilation needs in the future.
The novel coronavirus has sent more than 120,000 Americans to hospitals for treatment. But President Donald Trump says nobody in need of a ventilator has been denied one.
"I said from the beginning that no American who needs a ventilator would be denied a ventilator and we have kept that promise all over the United States," Trump said April 21.
Other members of the administration, including Vice President Mike Pence, have repeated the same point in recent days.
Just like I was right on Ventilators (our Country is now the "King of Ventilators", other countries are calling asking for help-we will!), I am right on testing. Governors must be able to step up and get the job done. We will be with you ALL THE WAY!

— Donald J. Trump (@realDonaldTrump) April 19, 2020
Trump has made similar statements in the past that turned out to be misleading, like his false claim in March that anybody who wanted a coronavirus test could get one.
This time, however, Trump's comment lines up with what we heard from a number of state officials and hospital representatives. What seemed just a month ago like a potentially catastrophic shortage of ventilators hasn't become the nationwide problem health experts and medical professionals feared.
"To the best of our knowledge, a ventilator has been available for every patient that needed one," said Colin Milligan, director of media relations at the American Hospital Association.
That doesn't necessarily mean there aren't people who were refused access to the machines, which pump air into the lungs of patients struggling to breathe on their own. It's possible there have been cases we'll only learn about later from health workers, doctors and patients battling the virus.
But if ventilator access has been a problem, it hasn't been widespread. Our research found that most states have procured enough ventilators to match the demand.
We want to hear from you: Do you know of someone who needed a ventilator and could not get one? Email us at [email protected].
Ventilator access hasn't been the problem experts feared
We contacted all 50 states asking if any hospitalized patients had been denied a ventilator.
We heard back from more than 30 of them — including several coronavirus hot-spots such as New Jersey, Michigan, California, Pennsylvania, Washington, Florida and Louisiana — plus Washington, D.C., and the hospital associations in Illinois and a few other states.
They all told us the same thing: There hadn't been any cases where their hospitals couldn't provide ventilators to COVID-19 patients who needed them, or they weren't aware of any.
A patient is attached to a ventilator in the emergency room on April 20, 2020, at St. Joseph's Hospital in Yonkers, New York. (AP/Minchillo)
A number of states are publicly tracking how many available ventilators they have in reserve, and some said they've transferred ventilators between hospitals to meet the need.
As of April 23, there were nearly 100,000 confirmed coronavirus cases in New Jersey, for example, but less than half of the state's available ventilators were in use. The same could be said for Illinois and Louisiana, among several other states.
That doesn't guarantee that nobody has been turned away from or kicked off a ventilator.
"I would not be surprised if we find out later that some tragic triage choices had to be made," said Eric Toner, a senior scholar of internal and emergency medicine at the Johns Hopkins Center for Health Security. "I would also note that the pandemic is not over and that many small communities with very limited critical care resources have yet to feel the impact."
But we found little evidence to suggest that hospitals haven't been able to match the need for ventilators so far. We searched Google and Nexis news archives and found no major reports of patients dying for lack of a ventilator or because they were stiffed by a hospital for asking.
Several states credited social distancing, statewide shelter-in-place policies and other mitigation efforts aimed at slowing the spread of the coronavirus with keeping their hospitals from being overwhelmed with patients or burning through their ventilators.
"All those measures are helping, and they're why we didn't run out of ventilators," said Matthew Wynia, director of the Center for Bioethics and Humanities at the University of Colorado.
There were some 160,000 ventilators between hospitals and the federal stockpile as of March, and researchers at the Johns Hopkins Center for Health Security had estimated in 2018 that a severe pandemic like the 1918 flu would put roughly 742,500 people in need of ventilation.
Ventilator production has ramped up since, with major manufacturers like Ford and General Motors chipping in to make more as governors buy them up. In a recent press conference, Trump said the U.S. is on pace to manufacture 150,000 new ventilators in 2020.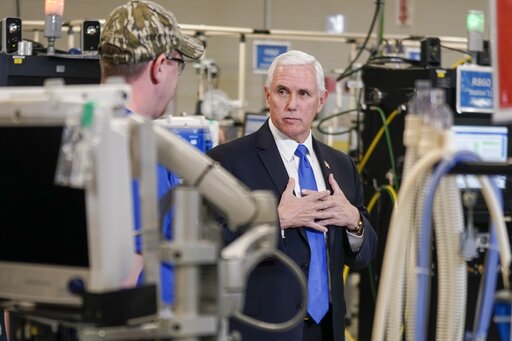 Vice President Mike Pence visits the GE Healthcare manufacturing facility on April 21, 2020, in Madison, Wisconsin. (AP/Gash)
The pandemic has also inspired a wide range of new innovations, with researchers creating new "bridge ventilators" for less critically ill patients and retrofitting other machines, such as those used by people with sleep apnea, for coronavirus purposes, according to the New York Times.
The White House recently set up the "Dynamic Ventilator Reserve" to let hospitals with extra ventilators loan them to more hard-hit areas. Separately, some states had already been passing ventilators around to others that needed them more urgently.
There's still a lot we don't know
In many places, hospitals prepared for the worst. Many states developed triage plans that were never formally activated.
In New York, the nation's hardest-hit state, Gov. Andrew Cuomo authorized hospitals to hook two patients up to the same ventilator, a practice that medical groups opposed but at least one health system in New York wound up testing.
On April 6, Cuomo said the state had not "lost anyone because we didn't have a bed or we didn't have a ventilator."
Officials at the hospital that experimented with ventilator splitting told the New York Times that they hadn't run out of ventilators but were testing the method in case they needed it to manage a future spike in cases.
But Wynia said the application of some practices reserved for crisis situations could mean that we'll one day discover some cases in which ventilator access was not so perfect.
Sometimes, he said, crises can lead doctors to be "a little more coercive in conversations with patients' families about when to not move forward with ventilation."
"When you're putting more than one person on a ventilator, as they apparently have done a couple of times in New York, obviously that's not normal," he said. "That is a crisis."
In the future, we could also learn about likely-infected people who died at home after being denied a COVID-19 test and never making it back to the hospital, or patients who were critically ill with something other than the coronavirus and couldn't get a ventilator for a procedure.
If you know someone who was denied access to a ventilator and needed one, please email us at [email protected].
The White House, "Remarks by President Trump and Members of the Coronavirus Task Force in Press Briefing," April 21, 2020
Johns Hopkins University & Medicine, "Coronavirus resource center," accessed April 24, 2020
Politico, "Live tracker: How many coronavirus cases have been reported in each U.S. state?," April 23, 2020
Santa Clara Public Health, "County of Santa Clara Identifies Three Additional Early COVID-19 Deaths," April 21, 2020
The White House, "With Excess National Supply, Exchanges Will Allow U.S. Hospitals to Continue Meeting Ventilator Demand," April 21, 2020
USA Today, "Family ravaged by coronavirus begged for tests, hospital care but was repeatedly denied," April 20, 2020
The New York Times, "Fears of Ventilator Shortage Unleash a Wave of Innovations," April 17, 2020
Fox17, "Mother denied life-saving surgery due to lack of ventilators," April 8, 2020
NYGovCuomo on YouTube, "ASL: 4/6/20 -COVID-19 Update," April 6, 2020
The New York Times, "At the Top of the Covid-19 Curve, How Do Hospitals Decide Who Gets Treatment?," March 31, 2020
The New York Times, "'The Other Option Is Death': New York Starts Sharing of Ventilators," March 26, 2020
ABC News, "New York approves ventilator splitting, allowing hospitals to treat two patients with one machine," March 26, 2020
American Society of Anesthesiologists, "Joint Statement on Multiple Patients Per Ventilator," March 26, 2020
PolitiFact, "Are states in a bidding war over medical gear with the feds?" April 1, 2020
PolitiFact, "Hannity wrong that health care system is ready as is for coronavirus," March 18, 2020
PolitiFact, "Donald Trump's wrong claim that 'anybody' can get tested for coronavirus," March 11, 2020
Email interview with Eric Toner, senior scholar of internal and emergency medicine at the Johns Hopkins Center for Health Security, April 22, 2020
Phone interview with Matthew Wynia, director of the Center for Bioethics and Humanities at the University of Colorado, April 22, 2020
Email interview with Colin Milligan, director of media relations at the American Hospital Association, April 22, 2020
Statement from the Department of Health and Human Services, April 23, 2020
Email correspondence with Jason Conwall, deputy communications director for New York Gov. Andrew Cuomo, April 23, 2020
Email correspondence with the New Jersey Department of Health, April 23, 2020
Email correspondence with Tammie Smith, spokesperson for the Virginia Department of Health and Virginia Department of Emergency Management Joint Information Center, April 23, 2020
Phone interview with Julian Walker, vice president of communications for the Virginia Hospital and Healthcare Association, April 23, 2020
Email correspondence with Laura Renwick, spokesperson for the South Carolina Emergency Response Team, April 23, 2020
Email correspondence with Erik Filkorn, media management at the Health Operations Center for the State of Vermont, April 23, 2020
Email correspondence with Stacey Hofmann, spokesperson for the Delaware Joint Information Center, April 23, 2020
Email correspondence with Ryan Ash, spokesperson for the Florida Department of Health, April 23, 2020
Email correspondence with Helen Ferre, communications director for Florida Gov. Ron DeSantis, April 23, 2020
Email correspondence with Kelly Haight Connor, communications manager for the North Carolina Department of Health and Human Services, April 23, 2020
Email correspondence with Lyndsey Rosales, communications specialist at the Texas Department of State Health Services, April 23, 2020
Statement from Bob Atlas, president and CEO of the Maryland Hospital Association, April 23, 2020
Email correspondence with Anya Weber, public information officer for the Commonwealth of Kentucky, April 23, 2020
Email correspondence with Jackie Farwell, communications director for the Maine Department of Health and Human Services, April 23, 2020
Email correspondence with the Indiana Joint Information Center, April 23, 2020
Email correspondence with Jennifer Skjod, spokesperson for the North Dakota Joint Information Center, April 23, 2020
Email correspondence with Becky Bennett, public information officer for the state of Washington's COVID-19 response joint information center, April 23, 2020
Email correspondence with Tim Pfarr, Tim Pfarr, assistant director of communications at the Washington State Hospital Association, April 22, 2020
Email correspondence with Danny Chun, vice president of communications and marketing at the Illinois Health and Hospital Association, April 22, 2020
Email correspondence with Kelly Zimmerman, press secretary for the Louisiana Department of Health, April 22, 2020
Email correspondence with Lynn Sutfin, public information officer for the Michigan Department of Health and Human Services, April 22, 2020
Email correspondence with Nate Wardle, press secretary for the Pennsylvania Department of Health, April 22, 2020
Email correspondence with Kerry McKean, vice president for communications and member services at the New Jersey Hospital Association, April 22, 2020
Email correspondence with Arrol Sheehan, director of public information at the Alabama Department of Public Health, April 22, 2020
Email correspondence with the California Department of Public Health, April 22, 2020
Email correspondence with Lisa Cox, communications director for the Missouri Department of Health and Human Services, April 22, 2020
Email correspondence with Charla Haley, public information officer at the Utah Department of Health, April 22, 2020
Email correspondence with Joseph Wendelken, public information officer at the Rhode Island Department of Health, April 22, 2020
Email correspondence with Niki Forbing-Orr, public information manager at the Idaho Department of Health and Welfare, April 22, 2020
Email correspondence with Liz Sharlot, communications director at the Mississippi Department of Health, April 22, 2020
Email correspondence with David Morgan, media and social media manager at the New Mexico Department of Health, April 22, 2020
Email correspondence with Shelley Zumwalt, chief of innovation at the Oklahoma Office of Management and Enterprise Services, April 22, 2020
Email correspondence with Alison Reeves, public affairs specialist at the DC Department of Health, April 22, 2020
Email correspondence with Shelley Walker, director of the office of communications and media relations at the Tennessee Department of Health, April 22, 2020
Email correspondence with Robb Cowie, communications director at Oregon Health Authority, April 22, 2020
Email correspondence with Meg Mirivel, director of the office of health communications at the Arkansas Department of Health, April 22, 2020
Email correspondence with Khalilah LeGrand, director of communications for the Nebraska Department of Health and Human Services, April 22, 2020
Email correspondence with Amy Shogren, director of communications and administration for the Nevada Hospital Association, April 22, 2020
Browse the Truth-O-Meter
More by Bill McCarthy