Stand up for the facts!
Misinformation isn't going away just because it's a new year. Support trusted, factual information with a tax deductible contribution to PolitiFact.
I would like to contribute
PolitiFact's top 10 fact-checks of 2020
PolitiFact entered 2020 by fact-checking claims about Australian wildfires and a virus outbreak in China. With an upcoming election, we assumed the year would be eventful, however, we had no idea just how many claims would fly our way in the coming months — and from every direction.
Between an historic race for the White House, a pandemic that ravaged the world and touched millions of lives, and a loud national conversation about racial injustice and police brutality that inspired millions to take to the streets, facts were in high demand. Claims filled the airwaves, cluttered social media feeds and informed — or misinformed — political discourse.
While PolitiFact every year chooses its Lie of the Year — this year "awarded" to claims that denied, downplayed or disinformed about COVID-19 — we also wanted to take a look at what fact-checks generated the most readership.
The 10 most popular checks from social media tended to be those that were rated False or Pants on Fire. But when we ran the numbers on fact-checks of statements by politicians and pundits, we found the most popular tended to have a bit more nuance to the ratings: More than half of the claims in the top 10 were rated Mostly False or Half True.
With that, here's PolitiFact's countdown to the most popular fact-check of 2020.
Rating: Mostly False
The WHO never offered to sell test kits to the United States. The Centers for Disease Control and Prevention opted to develop its own coronavirus test, although manufacturing and quality control issues plagued and slowed the effort from the beginning.
Other developed countries with advanced research capabilities produced their own tests, too.
Claim: "The Postal Service is not losing money because of Amazon. It's losing money because in 2006, the Republican-led Congress passed a law forcing it to prepay its pensions for 75 years, which no other corporation does ... Without this law, the Postal Service would be turning a profit." — Facebook post shared by the AFL-CIO
Rating: Half True
The Postal Service has experienced years of financial troubles. While last-mile delivery services it provides for Amazon are one part of the issue, so is the 2006 Postal Accountability and Enhancement Act which required the Postal Service to pre-fund future retiree health benefits, not pensions, as this claim states. The law put a financial strain on the service, which has defaulted on some of the statutorily prescribed payments.
Claim: Speaking of his administration's restriction on travel from China, "I had (Joe) Biden calling me xenophobic. … He called me a racist, because of the fact that he felt it was a racist thing to stop people from China coming in." — Donald Trump
Rating: Mostly False
Biden did not directly say that the restrictions were xenophobic. Around the time the Trump administration announced the travel restriction, Biden said that Trump had a "record of hysteria, xenophobia, and fear-mongering." Biden used the phrase "xenophobic" in reply to a Trump tweet about limiting entry to travelers from China and in which Trump described the coronavirus as the "Chinese virus."
Claim: The Obama administration left Trump with a "stockpile with a cupboard that was bare." — Donald Trump
Rating: Mostly False
N95 masks were depleted after the H1N1 outbreak in 2009, and experts warned years ago that the supply should have been replenished. However, it's an exaggeration to call it a bare cupboard. Just a couple of months before COVID-19 cases appeared in the U.S., the former director of the stockpile described it as an $8 billion enterprise, with extensive holdings of many needed items.
Claim: Says George Soros is "funding the chaos" in Minneapolis via his Open Society Foundations. — Candace Owens
Rating: False
Billionaire philanthropist Soros and Open Society Foundations say they do not support violence. There is no evidence that the organization has given any grants to groups that funded or arranged violent protesting in Minneapolis.
Claim: "The DNC omitted 'one nation under God' from the Pledge of Allegiance." — Peggy Hubbard
Rating: Mostly False
Some caucuses omitted "under God" from the Pledge of Allegiance during Democratic National Convention meetings. But the line was not excluded from any of the convention's primetime spots.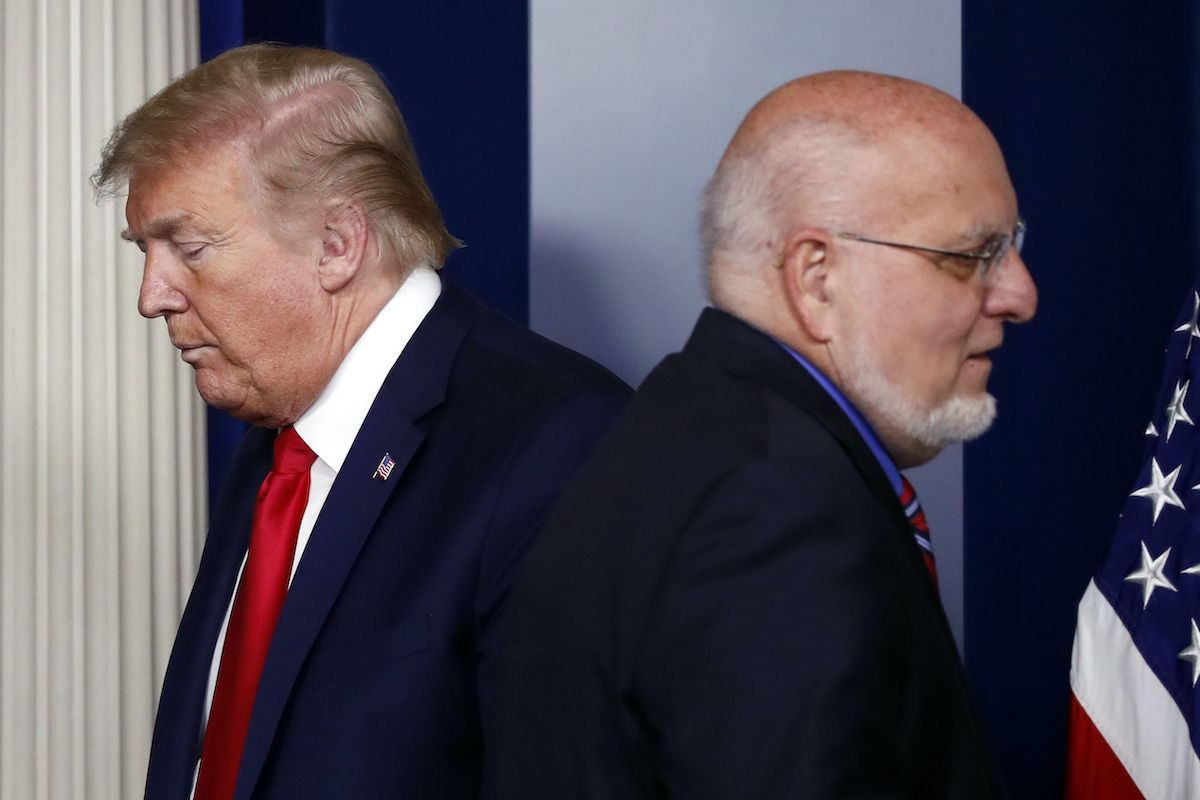 President Donald Trump passes Dr. Robert Redfield, director of the Centers for Disease Control and Prevention, during a briefing about the coronavirus in the James Brady Press Briefing Room of the White House, April 22, 2020. (AP)
Claim: Says of President Donald Trump's actions on the coronavirus: "No. 1, he fired the pandemic team two years ago. No. 2, he's been defunding the Centers for Disease Control." — Michael Bloomberg
Rating: Half True
"Fired" may be a little strong, but in 2018, top national security officials handling pandemics left abruptly and were not replaced by the Trump administration.
As for funding, there's no question that the Trump administration sought to cut key CDC budget categories. But thanks to Congress, that funding was restored and even increased in bills that Trump ultimately signed.
Browse the Truth-O-Meter
More by Samantha Putterman