Stand up for the facts!
Our only agenda is to publish the truth so you can be an informed participant in democracy.
We need your help.
I would like to contribute
If Your Time is short
A person claimed in a viral video that postal workers in Traverse City, Mich., were told on Nov. 4 to backdate mail-in ballots to Nov. 3 so they could be counted in the election.

There's no postmark deadline for ballots in Michigan. The state requires ballots to be received by 8 p.m. on Nov. 3. Ballots received after that time — no matter the postmark — are not counted.

The city clerk in Traverse City said only two ballots have so far arrived after the 8 p.m. Nov. 3 deadline. Neither ballot had a postmark of Nov. 3.
A video of a person alleging attempted election fraud on the part of U.S. Postal Service workers in Michigan is taking off on social media, but state and local officials say the back-dated ballots described in the video would not be counted if they weren't received by 8 p.m. on Election Day.
The Nov. 5 video was posted by Project Veritas, an investigative outlet run by conservative activist James O'Keefe. It's been shared tens of thousands of times on Twitter, including by high-profile conservatives such as Donald Trump Jr., President Donald Trump's son.
"Michigan @USPS whistleblower details directive from superiors: back-date late mail-in ballots as received November 3rd, 2020, so they are accepted," O'Keefe wrote in the tweet.
The video is an interview between O'Keefe and someone who said they are a Postal Service employee. The person displayed a Postal Service ID card but had their face hidden and voice changed. The person claimed to work at the post office on Barlow Street in Traverse City, Mich.
The person said his or her post office supervisor told postal workers on Nov. 4 to separate mail-in ballots from standard letter mail so that they could be hand-stamped with the previous day's date and appear as though they were postmarked by Election Day.
A Postal Service spokesperson said the service is aware of the video, which was referred to the U.S. Postal Inspection Service and the U.S. Postal Service Office of Inspector General. The Traverse City police department said it was neither aware of nor investigating the video.
PolitiFact could not verify whether such a directive was given to postal workers in Traverse City, and we could not verify the identity of the person in the video. But we can say that the postmark on a ballot in Michigan isn't relevant to whether or not the ballot gets counted.
That's because ballots in Michigan must have been received on Election Day in order to have been counted, state and local election officials told PolitiFact. The postmark date is not a factor.
Unlike some states, postmarks don't matter in Michigan
"The information in that video is entirely false," said Tracy Wimmer, a spokesperson for the Michigan Department of State, in an email. "Michigan does not have a postmark deadline for ballots. It has a hard deadline — they must all be received by 8 p.m. on Election Day to count."
"Changing postmarks on ballots yesterday would not have mattered," Wimmer said. "Any ballots in the post office yesterday means they were not already in the hands of a clerk Tuesday night and therefore would be rejected."
Elections officials for Traverse City and the surrounding Grand Traverse County agreed.
"Even if the ballots were postmarked as Nov. 3, they cannot be counted because the ballots had to be in the hands of the township or city clerks by 8 p.m. Nov. 3," said Bonnie Scheele, county clerk for Grand Traverse County, which includes Traverse City. "All ballots received up to that time were counted and have been secured. Late ballots will not be counted in Michigan."
"At the end of the day, doing that has no impact on the actual outcome of the election, if what the person is alleging is true," added Benjamin Marantette, city clerk for Traverse City.
Some states do allow ballots postmarked on Nov. 3 to be counted if they arrive in election offices after Nov. 3. Ballots postmarked by Nov. 3 in Pennsylvania, for example, can be received by Nov. 6 and still be counted.
In Texas, ballots postmarked by Nov. 3 can arrive up until five days after Election Day, according to the National Conference of State Legislatures. In Ohio, the deadline is until 10 days after the election.
In Michigan, mail-in ballots must be received by 8 p.m. on Election Day, as the state made clear on its website. Michigan residents sued to extend that deadline, but a state appeals court ruled in October that ballots received after 8 p.m. on Election Day would not be counted.
"It is absolute," Wimmer said of the state's 8 p.m. Election Day deadline. "There is literally no circumstance in Michigan where someone's ballot being 'postmarked' by Nov. 3 would count."
Very few late ballots in Traverse City
If an influx of Traverse City ballots arriving after Election Day were postmarked on Nov. 3, Marantette, the city clerk, would know about them, he said. But to date, his office has received just two absentee ballots after the deadline, he said. Neither was postmarked on Nov. 3.
"There's nothing about the circumstances or what we've seen that has alarmed me," he said, adding that roughly 97% of absentee ballots the city sent out came back on time.
Neil W. McCabe, the communications director for Project Veritas, stood by the outlet's story and the allegations made about fraudulent postmarks by the anonymous person in the video.
"This is a first person account that was backed up by another postal employee at another post office in Traverse City. The second source would not consent to being recorded," McCabe said.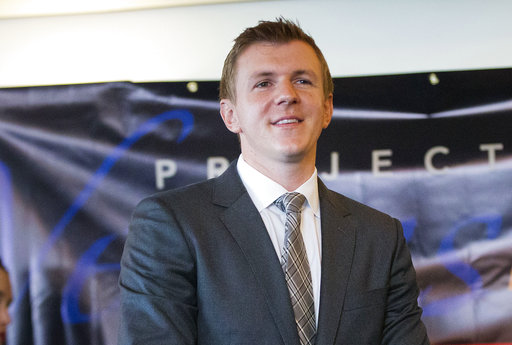 James O'Keefe, founder of Project Veritas, is seen at a news conference at the National Press Club in Washington on Sept. 1, 2015. (AP)
"Nothing said by a Michigan government official addresses the insider's allegation," McCabe added.
'Not something that the Postal Service does'
Michael Mize, president of the Michigan Postal Workers Union, said he questioned whether a post office supervisor would make such an order. Mize said he had not heard anything about orders to backdate mail before the video. If he had, he said, "I would be blowing it up."
"That's just not something that the Postal Service does," Mize said. "If we fraudulently backdate something, you could lose your job for it. It's hard for me to believe that a manager would give that order knowing that they're putting their job on the line."
"It wouldn't matter as far as there being an election-fraud issue," Mize added, referring to the state's 8 p.m. deadline. "It would matter for me being a 23-year veteran in the Postal Service. That is an egg on our face. If we do that, then we're just making the Postal Service look bad."
Postal Service spokesperson Martha Johnson said the service is taking several "extraordinary measures" consistent with past elections to speed the delivery of ballots, including express mail.
But on a national level, the Postal Service failed to meet a federal judge's court-imposed deadline for the accelerated processing of hundreds of thousands of mail-in ballots that had not been delivered to election offices across the country before Election Day.
James O'Keefe on Twitter (archived here), Nov. 5, 2020
Michigan Voter Information Center, "Vote at Home (Absentee)," accessed Nov. 5, 2020
The Traverse City Morning Eagle, "Video claims ballot tampering at Barlow Post Office; clerks say no impact on local election," Nov. 5, 2020
The Hill, "Postal Service misses court-ordered deadline for unsent mail ballots," Nov. 3, 2020
Detroit Free Press, "Appeals court reverses ruling that said late-arriving absentee ballots must be counted," Oct. 16, 2020
Email and phone interviews with Neil W. McCabe, communications director for Project Veritas, Nov. 5, 2020
Email interview with Martha Johnson, senior public relations representative for the U.S. Postal Service, Nov. 5, 2020
Phone correspondence with the American Postal Workers Union, Nov. 5, 2020
Phone interview with Michael Mize, president of the Michigan Postal Workers Union, Nov. 5, 2020
Email interview with Tracy Wimmer, director of media relations for Michigan Secretary of State Jocelyn Benson, Nov. 5, 2020
Email interview with Bonnie Scheele, Grand Traverse County Clerk, Nov. 5, 2020
Phone interview with Benjamin Marantette, city clerk for Traverse City, Nov. 5, 2020
Phone interview with Keith Gillis, patrol services division captain at the Traverse City Police Department, Nov. 5, 2020
Browse the Truth-O-Meter
More by Bill McCarthy