Get PolitiFact in your inbox.
The guilty verdict against Derek Chauvin, explained
If Your Time is short
Former Minneapolis police officer Derek Chauvin was convicted by a jury of two counts of murder and one count of manslaughter after killing George Floyd in May 2020.

Floyd's murder was captured in a video that sparked protests across the U.S. Several medical experts testified that Floyd died from a lack of oxygen, and several use-of-force experts said Chauvin's restraint of Floyd with a knee on his neck was excessive.

With the second-degree murder conviction, the prosecution proved to the jury beyond a reasonable doubt that Chauvin caused Floyd's death while assaulting him.
After weeks of testimony and a year of reckoning, a jury in Minneapolis convicted former police officer Derek Chauvin of two counts of murder and one count of manslaughter for the killing of George Floyd, who died gasping for air while Chauvin kneeled on his neck for nine minutes.
The verdict follows testimony from 45 witnesses in one of the most high-profile court cases in decades. Floyd's killing on May 25, 2020, spurred a summer of nationwide protests over racial justice and police brutality.
"Guilty! Painfully earned justice has finally arrived for George Floyd's family," Floyd family attorney Ben Crump said in a statement. "This verdict is a turning point in history and sends a clear message on the need for accountability of law enforcement."
President Joe Biden, who called the Floyd family shortly after the verdict was announced, celebrated the decision in remarks to the nation. "It was a murder in full light of day, and it ripped the blinders off for the whole world to see the systemic racism" in the U.S., Biden said.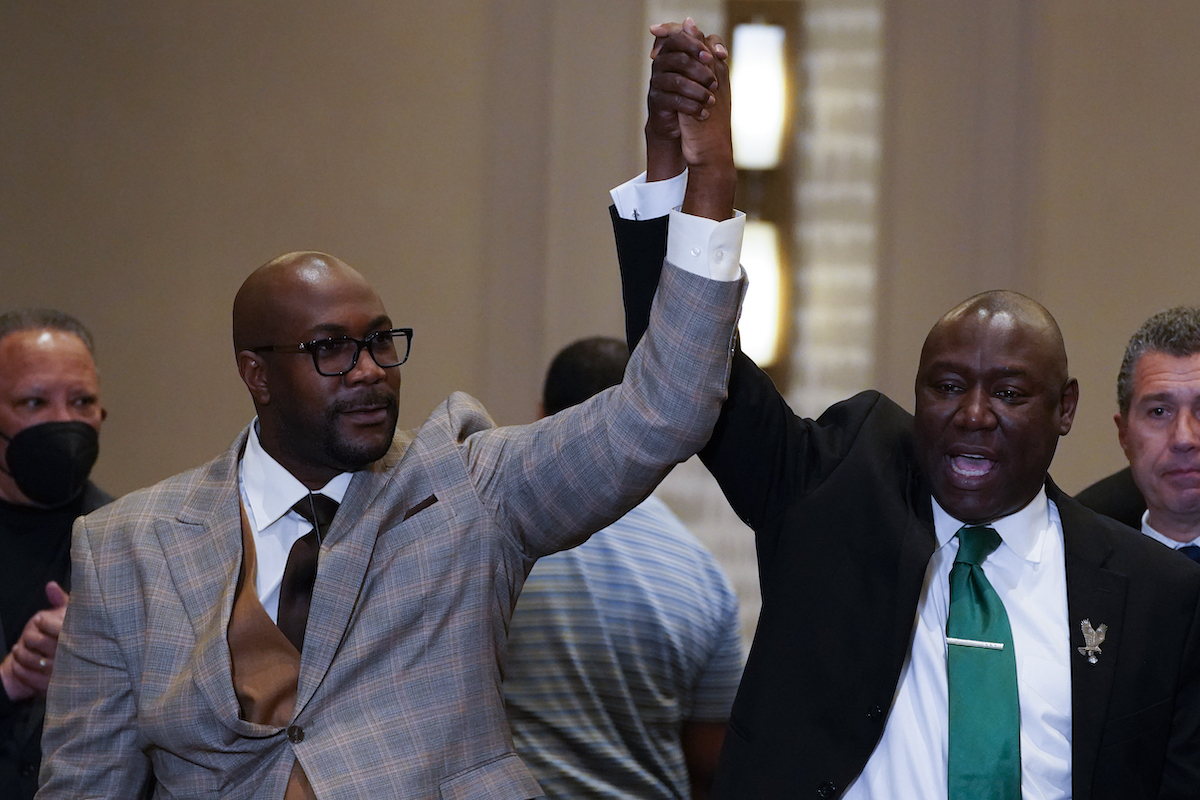 Philonise Floyd and Attorney Ben Crump react after Derek Chauvin's guilty verdict was announced on April 20, 2021, in Minneapolis. (AP)
The jury found Chauvin, 45, guilty of second- and third-degree murder and second-degree manslaughter. Each murder charge carries a presumptive sentence of 12-and-a-half years in prison, while the manslaughter charge carries a four-year presumptive penalty, under Minnesota state sentencing guidelines.
But prosecutors are seeking a longer sentence on the basis of several factors, such as Floyd's vulnerability and the fact that his murder was witnessed by children, including a 9-year-old girl who testified to feeling "sad and kind of mad" at the sight of Floyd in distress. Chauvin, who has no prior criminal history, could spend decades in prison.
Chauvin's bail was revoked, and he was taken into custody. His sentencing will come in two months.
Crowds in Minneapolis cheered the news of Chauvin's conviction from outside the barricaded courthouse and in the streets near Cup Foods, where Chauvin pinned Floyd, 46, to the pavement nearly a year earlier for 9 minutes and 29 seconds.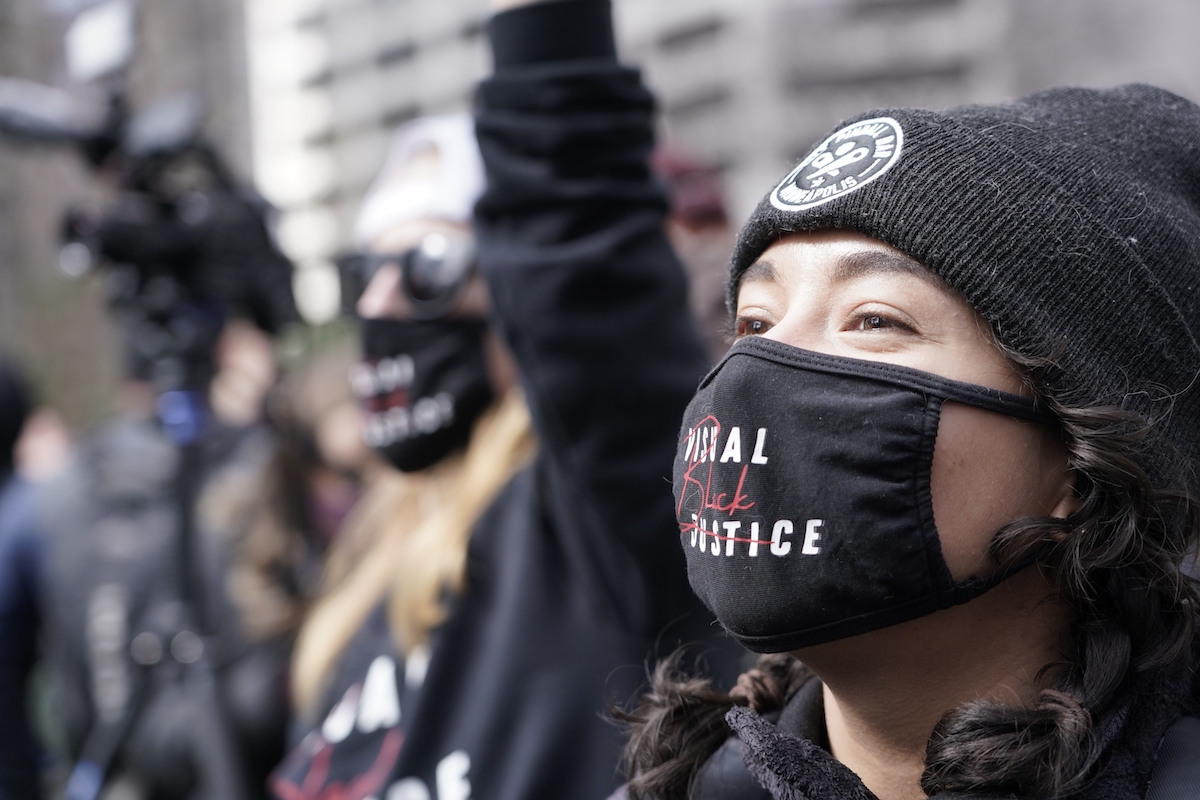 People cheer after Derek Chauvin's guilty verdict was announced on April 20, 2021, in Minneapolis. (AP)
The video of Floyd's death, captured by then-17-year-old Darnella Frazier, was central to the case against Chauvin. Special prosecutor Jerry Blackwell played it for the jury on the trial's first day and urged them to "believe your eyes that it's a homicide."
Frazier, who uploaded the video to Facebook, testified in court that she saw her Black friends and family members in Floyd — a feeling shared by many Americans who marched in solidarity with Floyd and other Black people killed by police in recent years.
Other evidence included two autopsy reports that ruled Floyd's death a homicide, as well as witness testimony from several medical experts who said Floyd died from a lack of oxygen and several use-of-force experts who said Chauvin's actions against Floyd were excessive.
"Once there was no longer any resistance, and clearly when Mr. Floyd was no longer responsive and even motionless, to continue to apply that level of force to a person proned out, handcuffed behind their back, that in no way shape or form is anything that is by policy," said Minneapolis Police Chief Medaria Arradondo April 5.
The testimony from Arradondo and other officers denouncing Chauvin's actions marked a change from previous cases — "a breach in the 'blue wall of silence,'" said Mark Osler, professor of law at the University of St. Thomas.
"We have to hope that this is an inflection point, leading to greater accountability for police officers who kill," Osler said.
The jury's decision to convict on all three charges signals that the prosecution proved beyond a reasonable doubt that Chauvin's use of force was unreasonable and caused Floyd's death.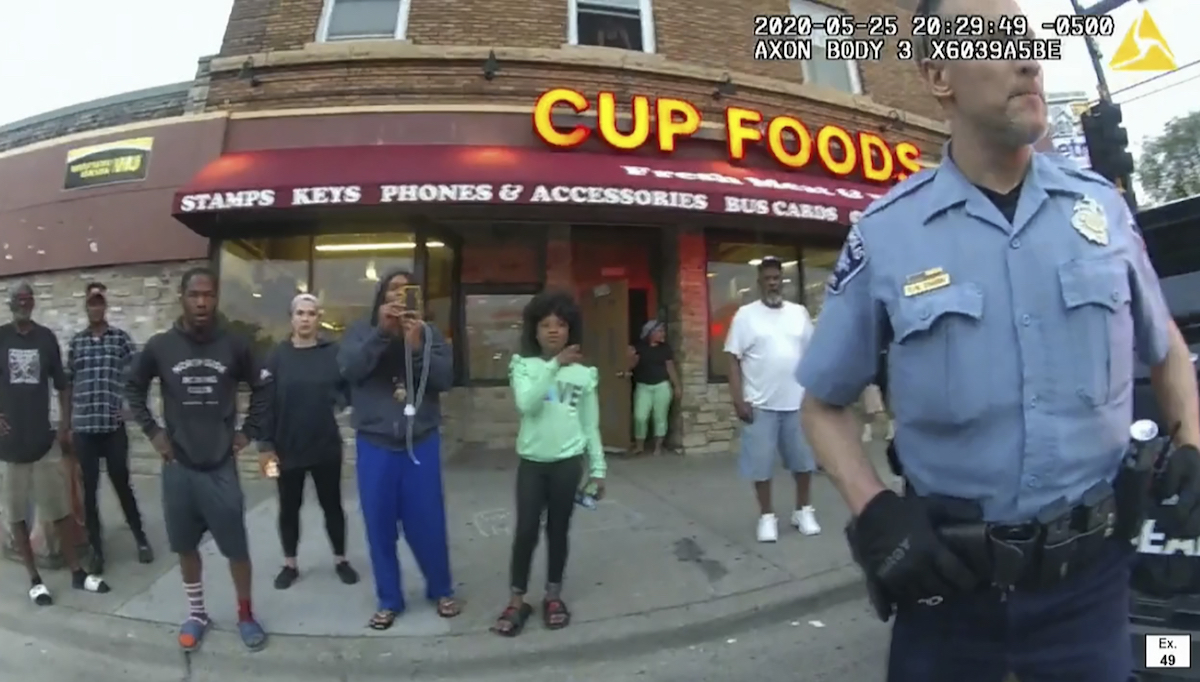 An image captured from police body camera video shows former Minneapolis police officer Derek Chauvin stands outside Cup Foods in Minneapolis, on May 25, 2020. (AP)
The second-degree murder conviction is the most serious.
To get a conviction on that charge, the prosecution had to prove that Chauvin caused Floyd's death while committing or attempting to commit another felony, in this case third-degree assault. To show that Chauvin committed third-degree assault, prosecutors had to prove he "intentionally inflicted bodily harm on Floyd, and that this resulted in substantial bodily harm," Osler said.
The burden of proof was lower for the other charges. Third-degree murder, for example, is unintentionally causing someone's death with an "eminently dangerous" act committed "with a conscious indifference to the loss of life," Judge Peter Cahill said in his instructions to jurors.
Second-degree manslaughter occurs when someone, through "culpable negligence," takes an unreasonable risk with another person's life that puts the person at risk of death or great bodily harm or causes that person's death, Cahill said.
The jury, which deliberated for about 10 hours before reaching its verdict, followed the proper legal process but made its decision in a "very short" time because of "the overwhelming amount of evidence brought to bear against Chauvin," said Ric Simmons, professor for the administration of justice and rule of law at the Ohio State University.
"The vast majority of Americans had made up their mind about Chauvin's guilt immediately after seeing the infamous videotape," Simmons said. "But the legal process required a very different, more deliberative process."
Three other officers involved in the arrest that preceded Floyd's murder are scheduled to be tried in August on charges of aiding and abetting murder and manslaughter.
CNN on YouTube, "Watch jury's verdict at Derek Chauvin's trial," April 20, 2021
The Associated Press, "Chauvin guilty of murder and manslaughter in Floyd's death," April 20, 2021
Ben Crump on Twitter, April 20, 2021
Minnesota Sentencing Guidelines Commission, "2020 Sentencing Guidelines and Commentary," accessed April 20, 2021
The Associated Press, "EXPLAINER: What are charges against Chauvin in Floyd death?" April 20, 2021
USA Today, "What are the charges against Derek Chauvin? Here's what the jury is considering for the death of George Floyd," April 20, 2021
Law & Crime Network on YouTube, "MN v. Derek Chauvin Trial - Jury Instructions," April 19, 2021
Minneapolis Star-Tribune, "What are the charges against ex-Minneapolis police officer Derek Chauvin in the killing of George Floyd?" April 19, 2021
Minneapolis Star-Tribune, "A day-by-day recap of the Derek Chauvin murder trial," April 15, 2021
Minneapolis Star-Tribune, "Who are the witnesses in the Derek Chauvin trial?" April 15, 2021
Darnella Frazier on Facebook, May 26, 2020
PolitiFact, "Did Derek Chauvin have his hand in his pocket as he restrained George Floyd?" April 19, 2021
PolitiFact, "Instagram post ignores full Floyd video to falsely claim officer's knee was not on Floyd's neck," April 9, 2021
PolitiFact, "Did George Floyd say he 'ate too many drugs,' as Derek Chauvin's defense claimed?" April 8, 2021
PolitiFact, "No, autopsy doesn't say George Floyd died of overdose," March 30, 2021
Email interview with Ric Simmons, Chief Justice Thomas J. Moyer Professor for the Administration of Justice and Rule of Law at the Ohio State University Moritz College of Law, April 20, 2021
Email interview with Mark Osler, Professor and Robert and Marion Short Distinguished Chair in Law at the University of St. Thomas School of Law, April 20, 2021
Browse the Truth-O-Meter
More by Bill McCarthy