Stand up for the facts!
Our only agenda is to publish the truth so you can be an informed participant in democracy.
We need your help.
I would like to contribute
Debunking the anti-vaccine hoax about 'vaccine shedding'
If Your Time is short
Medical experts and the CDC said it's not biologically possible for the COVID-19 vaccine to "shed" or affect unvaccinated people, despite what anti-vaccine activists claim.

The misinformation about "vaccine shedding" has had a real-world impact. One Miami private school recently instructed immunized teachers to stay away from students, citing the baseless claim that unvaccinated people can experience menstrual irregularities and other reproductive harm simply from interacting with vaccinated people.

There is no evidence that the COVID-19 vaccines cause fertility or menstruation problems in people who get them, let alone in their close contacts, experts said.
In April, faculty and staff at a small Miami private school received a letter telling them that if they chose to get the COVID-19 vaccine, they would have to keep their distance from the students. A week later, one fifth-grade student sent an email home to her parents from the school.
The teacher "is telling us to stay away from you guys," the student wrote, according to reports.
The episode at the Centner Academy is the latest example of online misinformation seeping into the real world. School co-founder Leila Centner framed the policy as a matter of protecting the unvaccinated people from "being negatively impacted" by those who got their COVID-19 shots.
"We have at least three women with menstrual cycles impacted after having spent time with a vaccinated person," Centner said.
The notion that the COVID-19 vaccines can be "shed" like the coronavirus itself "is a conspiracy that has been created to weaken trust" in the vaccines, said Christopher Zahn, vice president of practice activities at the American College of Obstetricians and Gynecologists.
The script-flipping narrative not only dissuades people from getting the vaccine, but also seeks to isolate or punish those who have.
The misinformation has taken a hold anyway — well beyond one school in Miami. Businesses in Canada asked vaccinated customers to stick to curbside pickup. And on Facebook, Instagram and Twitter, users shared warnings that serious side effects, including menstrual irregularities and infertility, can come from contact with vaccinated people.
PolitiFact talked to medical experts about what emerged in April as a prevailing narrative within the anti-vaccine community. The claims about "vaccine shedding" are not only false, but also biologically impossible given the construction of the COVID-19 vaccines.
"There is absolutely no biological mechanism for any COVID-19 vaccine side effects or vaccine components to shed to others," said Dr. Shruti Gohil, the associate medical director for epidemiology and infection prevention at the University of California, Irvine.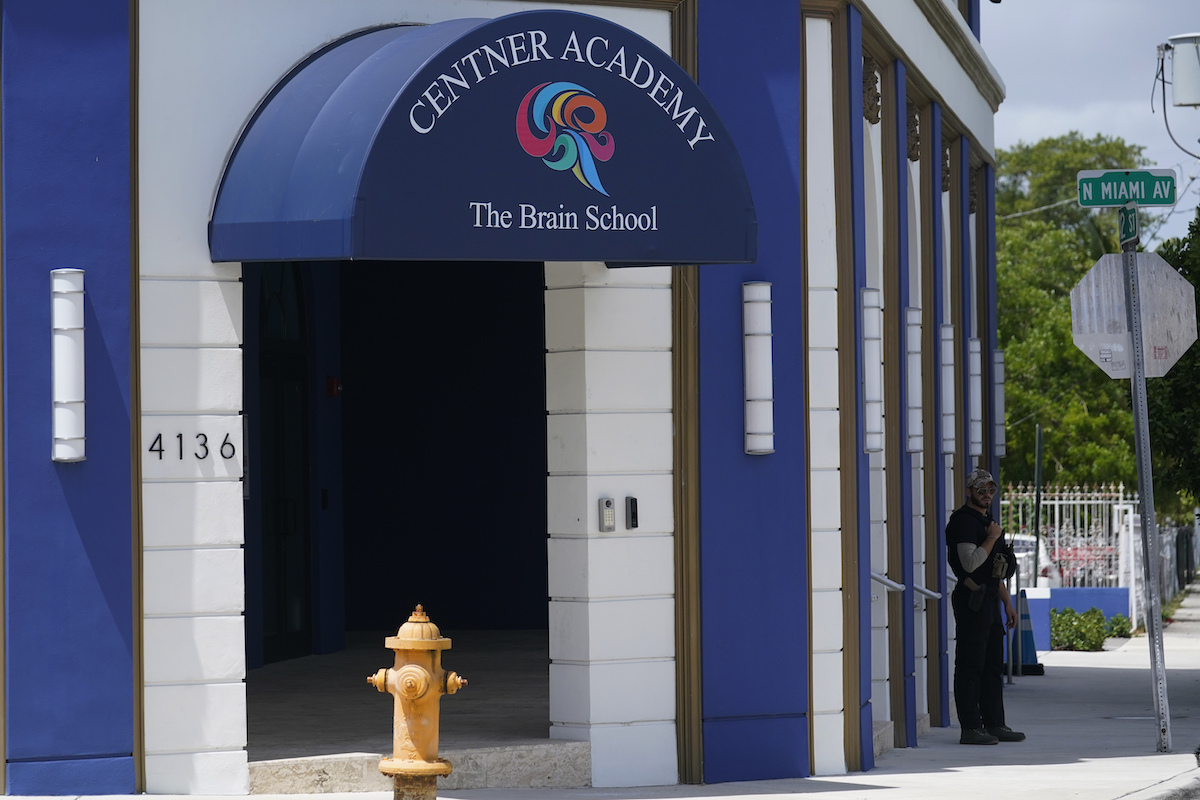 The Centner Academy is shown on April 27, 2021, in Miami. (AP)
COVID-19 vaccines do not 'shed'
The notice sent out at Centner Academy stirred so much controversy that a reporter asked about it during a White House press briefing. But the facts aren't up for debate.
None of the three COVID-19 vaccines approved for use in the U.S. "can possibly affect a person who has not been vaccinated, and this includes their menstruation, fertility, and pregnancy," said Dr. Jennifer Gunter, a gynecologist who has written about the vaccines, in a blog post. "Let me be very clear. The COVID-19 vaccines cannot affect anyone by proxy."
"In fact, the opposite is true," added John Grabenstein, the associate director for scientific communications at the Immunization Action Coalition. "By being vaccinated, one avoids being infected and so does not become a COVID-19 virus factory."
The vaccines use different technologies to instruct cells to make versions of one spike protein found on the coronavirus, so the immune system can mount a response to it, said Dr. Paul A. Offit, chair of vaccinology at the University of Pennsylvania's Perelman School of Medicine.
The Pfizer-BioNTech and Moderna vaccines use messenger RNA, or mRNA. The Johnson & Johnson vaccine uses an adenovirus that's been altered to make it harmless.
In a statement, the Centers for Disease Control and Prevention described the process this way:
"COVID-19 vaccines give instructions to teach our cells how to make a protein — or even just a piece of a protein — that triggers an immune response inside our bodies. After the protein piece is made, the cell breaks down the instructions and gets rid of them. The immune response, which produces antibodies, is what protects us from getting infected if the real virus enters our bodies."
The process occurs "in much the same manner that you make insulin or hemoglobin or myosin or any of the hundreds and hundreds of proteins that your body makes everyday," Offit said.
"If I come and stand next to someone, I'm not going to catch their insulin," he said. "They're not going to transfer insulin from them to me. That's the level of thinking."
Some live-virus vaccines in history have "shed" the virus enough to affect others, including the oral polio vaccine and a rotavirus vaccine, experts said. The phenomenon — known as "contact immunity" — played a role in eradicating polio, because one child's vaccination could inoculate others indirectly. In rare cases, the oral polio vaccine could actually cause illness.
But the oral polio vaccine has not been used in the U.S. for years, said Kelly L. Moore, deputy director at the Immunization Action Coalition. And none of the COVID-19 vaccines authorized in the U.S. are live-virus vaccines.
There's no evidence COVID-19 vaccines cause infertility, menstruation problems
PolitiFact previously debunked social media posts that claimed exposure to vaccinated people could trigger menstrual cycles and fertility problems in unvaccinated women, along with similar posts that said the vaccines could cause death or disease in unvaccinated people by shedding.
Further, there is "absolutely no evidence whatsoever" that the shots cause fertility problems, miscarriages or menstrual irregularities in people who get inoculated themselves, Gohil said.
The thinking for some of the false claims about fertility in particular is that the vaccines can stunt the recipient's ability to get pregnant, because the spike protein resembles a protein on placental cells, called syncytin-1. But the two proteins aren't similar enough to trick the immune system into attacking the placental cells.
"There isn't molecular mimicry," Offit said. If there was, then people infected with COVID-19 would have experienced the same problem, he said.
Offit pointed to the phase-three vaccine trials as evidence that they don't hinder pregnancies.
Pfizer and Moderna did not accept people who were pregnant into their trials, and they asked participants not to get pregnant, Offit said. But some women got pregnant anyway — 36 in total across the two trials, each of which enrolled more than 30,000 participants.
"If it was true that the vaccine affected fertility, then all of those pregnancies should have been in the placebo group," he said. "But they weren't. They were equally divided among the two groups, which is to say that the vaccines neither promoted nor negated your ability to get pregnant."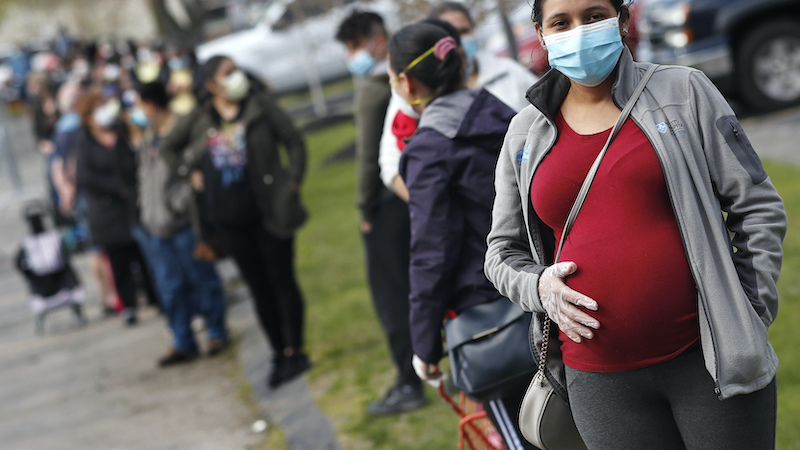 A pregnant woman wearing a face mask and gloves holds her belly as she waits in line for groceries during a food pantry at St. Mary's Church in Waltham, Mass., on May 7, 2020. (AP)
The trials didn't reveal concerns about the vaccines' impact on menstruation, either, experts said. Some anecdotal reports of menstrual changes have since surfaced, but no study has identified the shots as the direct cause. A woman's menstrual cycle can fluctuate due to several factors, including diet, stress, exercise, illness and pregnancy, according to the Mayo Clinic.
Prominent anti-vaccine activists spread "shedding" claims
Social media posts about "vaccine spreading" appeared to accelerate on Twitter, Facebook and Instagram in mid April, according to CrowdTangle, a social media insights tool.
Some widely shared posts were videos of anti-vaccine activists, such as Drs. Christian Northrup, Sherri Tenpenny and Lawrence Palevsky. (NewsGuard identified Northrup and Tenpenny as "super-spreaders" of COVID-19 vaccine misinformation.)
The claims were also amplified by blogs and groups such as InfoWars, the far-right website banned by Facebook and other platforms for pushing conspiracy theories, and America's Frontline Doctors, a physicians group that has spread baseless claims about the coronavirus.
Jennifer Reich, a University of Colorado-Denver sociology professor who has studied vaccine hesitancy, said such misinformation can feel compelling because the vaccines are new and "people don't have a long track record with them yet."
But Offit, who has written several books about the anti-vaccine movement, said the "shedding" narrative represents a new low.
"This is as close to a perfect vaccine as you could ever want to confront a pandemic the likes of which no one has seen," Offit said.
Various Facebook posts and Facebook videos, accessed May 3, 2021
Various Instagram posts and Instagram videos, accessed May 3, 2021
Various tweets, accessed May 3, 2021
Various blog posts, accessed May 3, 2021
Various videos on YouTube and Rumble, accessed May 3, 2021
Various searches on CrowdTangle, accessed May 3, 2021
Various searches on Hoaxy, accessed May 3, 2021
The New York Times, "How a Miami School Became a Beacon for Anti-Vaxxers," May 2, 2021
Jennifer Gunter on Twitter, May 1, 2021
Health Feedback, "Insufficient evidence to claim COVID-19 vaccines cause menstrual irregularities in vaccinated women; vaccinated people aren't making unvaccinated people ill," April 30, 2021
The New York Times, "No, Other People's Covid Vaccines Can't Disrupt Your Menstrual Cycle," April 29, 2021
MedPage Today, "The Latest Anti-Vax Myth: 'Vaccine Shedding,'" April 29, 2021
Mayo Clinic, "Menstrual cycle: What's normal, what's not," April 29, 2021
U.S. Centers for Disease Control and Prevention, "Information about COVID-19 Vaccines for People who Are Pregnant or Breastfeeding," April 28, 2021
USA Today, "Fact check: No, interacting with a vaccinated person won't cause miscarriage or menstrual changes," April 27, 2021
The New York Times, "A private school in Miami, citing false claims, bars vaccinated teachers from contact with students," April 26, 2021
Forbes, "No Evidence—Yet—For Covid-19 Vaccination Affecting The Menstrual Cycle. There May Be Soon," April 26, 2021
America's Frontline Doctors, "Identifying Post-Vaccination Complications & Their Causes: An Analysis of COVID-19 Patient Data," April 26, 2021
University of Nebraska Medicine, "The COVID-19 vaccines, irregular periods and spike protein shedding," April 24, 2021
Tea Rocks Rocky on Facebook, April 24, 2021
Reuters, "Fact Check-COVID vaccines do not 'shed' from one person to another and then cause reproductive problems," April 23, 2021
Respectful Insolence, "Shedding: An antivax trope resurrected for COVID-19 vaccines," April 23, 2021
Global News, "Okanagan business bans vaccinated people from entering," April 22, 2021
Full Fact, "Being near to people vaccinated against Covid-19 won't give you side effects," April 22, 2021
Jennifer Gunter on Substack, "The COVID-19 vaccine is a vaccine, not a spell," April 20, 2021
InfoWars, "DISTURBING: Unvaccinated Women Claim Unusual Menstrual Cycles & Miscarriages After Being Near Recently Vaccinated Individuals," April 15, 2021
Reuters, "Fact check: Available mRNA vaccines do not target syncytin-1, a protein vital to successful pregnancies," Feb. 4, 2021
NewsGuard, "Misinformation about development of a COVID-19 vaccine spreads widely on Facebook," Nov. 30, 2020
PolitiFact, "No, there is no evidence that spending time around vaccinated people causes death or disease," April 30, 2021
PolitiFact, "No, you don't need to avoid getting pregnant after getting a COVID-19 vaccine," April 26, 2021
PolitiFact, "No, women's cycles and fertility are not affected by being around vaccinated people," April 21, 2021
PolitiFact, "COVID-19 vaccines did not cause a 366% increase in miscarriages, as article claims," April 2, 2021
PolitiFact, "False vaccine claims persist on Facebook, despite a ban. Here's why," March 30, 2021
PolitiFact, "No, Pfizer's head of research didn't say the COVID-19 vaccine will make women infertile," Dec. 10, 2020
Statement from the U.S. Centers for Disease Control and Prevention, May 4, 2021
Statement from Christopher Zahn, vice president of practice activities at the American College of Obstetricians and Gynecologists, May 3, 2021
Email interview with Jennifer Reich, professor of sociology at the University of Colorado, Denver, May 3, 2021
Email interview with John Grabenstein, associate director for scientific communications at the Immunization Action Coalition, May 3, 2021
Email interview with Kelly L. Moore, deputy director at the Immunization Action Coalition, May 3, 2021
Email interview with Shruti Gohil, associate medical director for epidemiology and infection prevention, and assistant professor of infectious diseases, at the University of California, Irvine, School of Medicine, May 4, 2021
Phone interview with Paul A. Offit, director of the Vaccine Education Center at the Children's Hospital of Philadelphia and chair of vaccinology at the University of Pennsylvania's Perelman School of Medicine, May 4, 2021
Browse the Truth-O-Meter
More by Bill McCarthy