Stand up for the facts!
Our only agenda is to publish the truth so you can be an informed participant in democracy.
We need your help.
I would like to contribute
The facts behind the Russian, right-wing narratives claiming Hunter Biden funded biolabs in Ukraine
If Your Time is short
The U.S. is not developing biological weapons in coordination with Ukraine, as Russian officials and far-right media outlets in the U.S. have claimed. The allegation took on a new twist recently as some alleged that Hunter Biden had funded Ukraine's biological research labs.

The new Hunter Biden narrative is based on his affiliation with an investment firm that raised money for and invested in Metabiota, a startup that does work related to global health. It's unproven that Biden was involved with the investment decision.

Metabiota separately received money from the Pentagon's Defense Threat Reduction Agency for subcontracted work related to the biological research labs in Ukraine. That work involved helping to train and otherwise support scientists at those facilities.

PolitiFact found no evidence that Metabiota's work assisting staff at the labs in Ukraine was directly financed by Hunter Biden or his investment firm. Metabiota said that the work it performed in Ukraine was fully financed by the DTRA.
Russia's invasion in Ukraine has unfurled yet another round of Ukraine-related allegations targeting Hunter Biden, President Joe Biden's son.
The latest claim from Russian officials, Russian media and some conservative U.S. outlets echoes a more recent conspiracy theory about alleged bioweapons laboratories funded by the U.S. in Ukraine.
There are no U.S.-run bioweapons facilities in Ukraine, which joined the U.S. in signing the 1972 convention that prohibited the development, production and possession of biological weapons. The U.S. has instead helped support and secure Ukrainian biological research labs as they study pathogens and strive to prevent infectious disease outbreaks.
The allegation that Ukraine's labs are shielding weapons for biological warfare emerged days before the Russian invasion and was widely debunked as it gained traction. But the suspicions around the Ukrainian labs have expanded in recent weeks, courtesy of Russian-backed allegations claiming to connect the labs to the president's son.
Russia and its state media released a flowchart on March 24 purporting to outline various links between the U.S., Hunter Biden, billionaire philanthropist George Soros and the labs in Ukraine.
"U.S. President Joe Biden himself is involved in the creation of biolaboratories in Ukraine," said Vyacheslav Volodin, the chairman of the State Duma, one of the chambers of Russia's parliament. "An investment fund run by his sun (sic) Hunter Biden funded research and the implementation of the United States' military biological program."
Hunter Biden has been criticized over business activities in Ukraine while Joe Biden was vice president. A federal investigation into his taxes is intensifying, according to reports.
But the line from Ukraine's biological research to Hunter Biden is convoluted, with the younger Biden at least a few degrees of separation away from the labs in question, rather than directly bankrolling their operation, PolitiFact found. Here's what we know.
A Pentagon program enlists a startup
Since 2005, the U.S. has partnered with Ukraine through the Pentagon's Biological Threat Reduction Program. The purpose is "to support peaceful and safe biological detection and diagnostic capabilities and to reduce the threats posed by pathogens," according to a fact sheet.
The program is implemented by the Pentagon's Defense Threat Reduction Agency, or DTRA. It is part of the Cooperative Threat Reduction program, which began after the dissolution of the Soviet Union in 1991 as a project aimed at dismantling and securing leftover weapons of mass destruction programs and infrastructure in former Soviet nations.
The labs in Ukraine are owned and operated by the country's government, said Robert Pope, director of the Cooperative Threat Reduction program. But since 2005, the U.S. has invested about $200 million in Ukraine, supporting 46 labs, health facilities and diagnostic sites, the fact sheet said. That support has included upgrading, renovating and training staff in the facilities.
The DTRA has roped in various companies to assist with its work. One company that got involved in 2013 was a San Francisco-based startup called Metabiota. The company provides "data, analytics, advice, and training to prepare for global health threats and mitigate their impacts," according to its website.
"Metabiota worked in Ukraine until 2020, providing training to help improve local capacity to detect and respond to health threats," Metabiota said in a statement.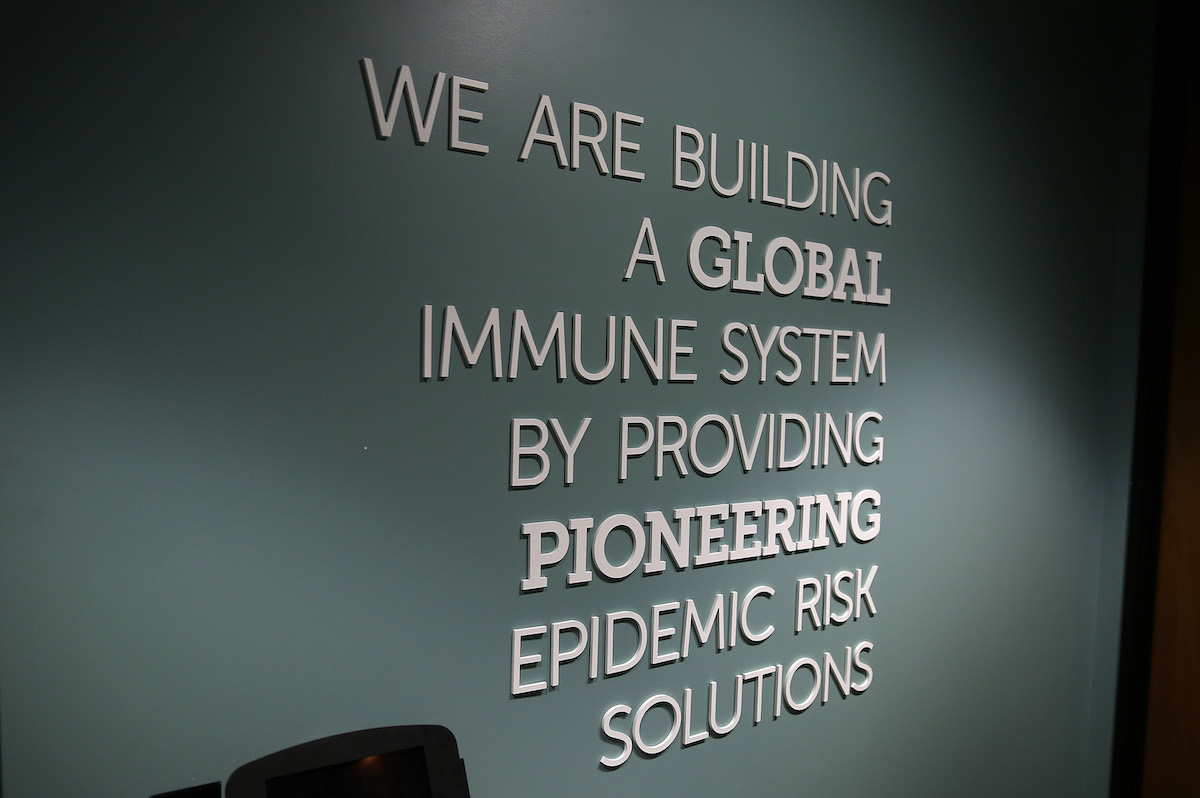 A sign in a hallway at Metabiota Inc. in San Francisco advertises the company's mission on Sept. 18, 2015. (AP)
Metabiota worked in other countries, too. Its work in Ukraine involved pairing local experts with international experts to investigate diseases, helping scientists share their findings at international conferences and in peer-reviewed journals, Pope said. It also trained personnel on biosafety, biosecurity and diagnostics.
"It was very positive, legitimate and important to global health," said Andrew Weber, a senior fellow at the Council on Strategic Risks and the former U.S. assistant secretary of defense for nuclear, chemical and biological defense programs.
Federal contracting records indicate that Metabiota received $18.4 million from the Pentagon between 2014 and 2017, including $307,091 itemized for "Ukraine research projects."
Hunter Biden's alleged link in the chain
The claims that Hunter Biden funded Ukrainian biolabs are based on Metabiota's work and Biden's affiliation with Rosemont Seneca Partners, an investment firm he co-founded in 2009.
Rosemont Seneca Partners had a stake in another independent firm called Rosemont Seneca Technology Partners, or RSTP, according to the Washington Post.
The Washington Post reported that RSTP invested and helped lead initial rounds of funding for Metabiota.
In a 2014 memo that the Post obtained and PolitiFact reviewed, RSTP detailed proposed investments that would bring its ownership of Metabiota to 13.4%. Archived versions of RSTP's website show Metabiota listed among its investments.
It was this relationship between RSTP and Metabiota that gave rise to the Hunter Biden-biolabs narrative.
But the younger Biden's role in the relevant investment decisions was limited, the Washington Post reported. He was not on the committee that decided to invest in Metabiota, the Post reported, and he did not profit from it because he was kicked out of the firm.
Archived webpages confirm that, between 2014 and 2015, Hunter Biden was removed from the group's "Our Team" page, where he had been listed as a "managing director."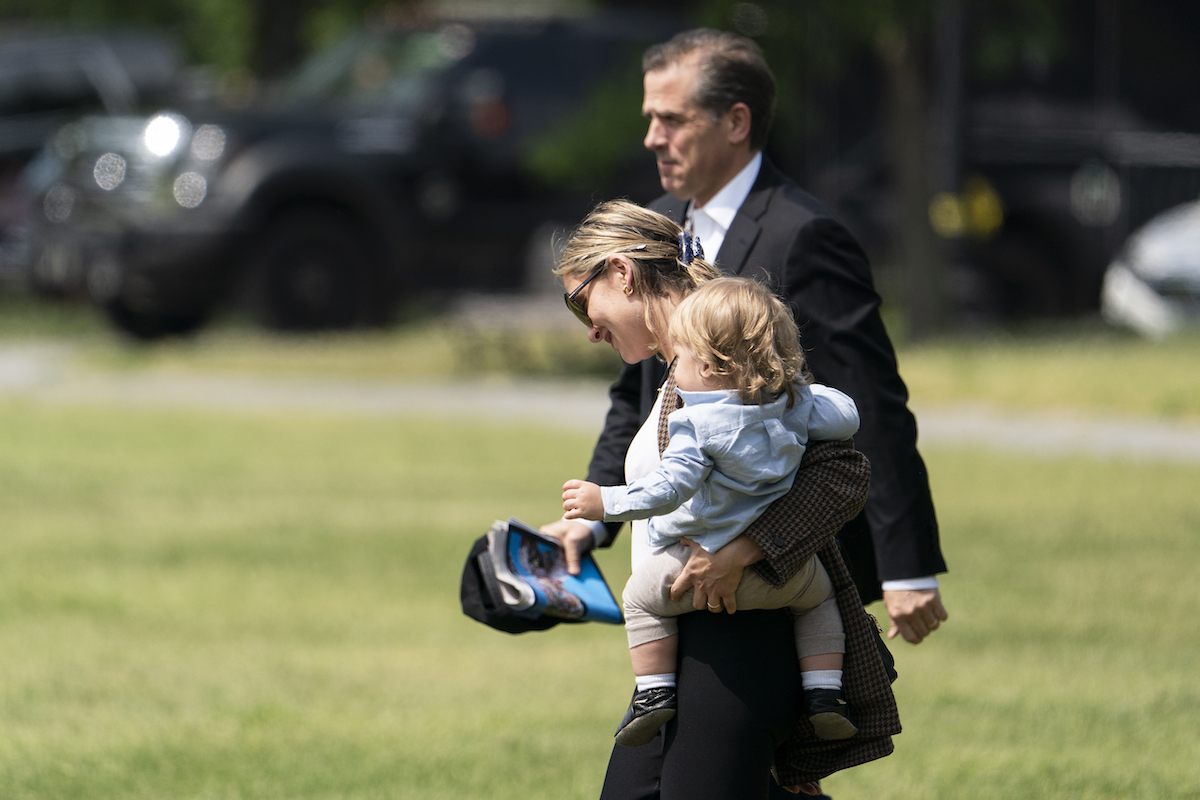 Hunter Biden, Melissa Cohen and baby Beau Biden walk to Marine One at the White House on May 22, 2021, in Washington. (AP)
There's another problem with the claims about Hunter Biden bankrolling the labs, Weber said.
"How can he be funding it if Metabiota is receiving money from the Department of Defense?" he said. "The money was going in the other direction."
Metabiota confirmed to PolitiFact that the work it performed in Ukraine was fully financed by the DTRA, with no money from private investments used to carry out the contract. The company added in its statement that it is "concerned about the disinformation and the impact it may have on the safety of scientists working to support public health in Ukraine and worldwide."
The Washington Post reported that RSTP's investments focused more on Metabiota's other initiatives around, for example, epidemiological forecasting and pandemic insurance.
"DTRA is unaware of any direct connection between Hunter Biden and the work Metabiota performed at the labs we support(ed) in Ukraine," said Pope, the director of Cooperative Threat Reduction program. He said the agency was never directed to contract with any company.
An attorney for Hunter Biden did not respond to requests for comment.
How the narrative took shape
In 2021, the National Pulse, a conservative news outlet, wrote about RSTP's Metabiota investment in an article that sought to link Hunter Biden to a research institute and nonprofit group at the center of theories that COVID-19 leaked from a lab due to gain-of-function research in Wuhan, China.
Soon after, a similar storyline began percolating among message boards, social media accounts and influencers associated with the QAnon conspiracy theory.
By the time Russia invaded Ukraine, the narrative had reached InfoWars, the website run by known conspiracy theorist Alex Jones. On March 8, InfoWars ran a story with the headline: "How Are Hunter Biden, Klaus Schwab & CIA Connected To US Biolabs In Ukraine?" The Gateway Pundit, another conservative website that has amplified false news before, followed up with its own report two days later.
All that set the stage for the claims to explode weeks later.
On March 24, Igor Kirillov, the head of the radiation, chemical and biological defense forces of the Russian Armed Forces, unveiled the flow chart claiming to show links connecting Biden to the Ukrainian facilities. RIA Novosti, a Russian state-owned news agency, quoted Kiriollov as saying that "Hunter Biden's Rosemont Seneca investment fund financed the Pentagon's military biological program in Ukraine," according to an English translation of the article.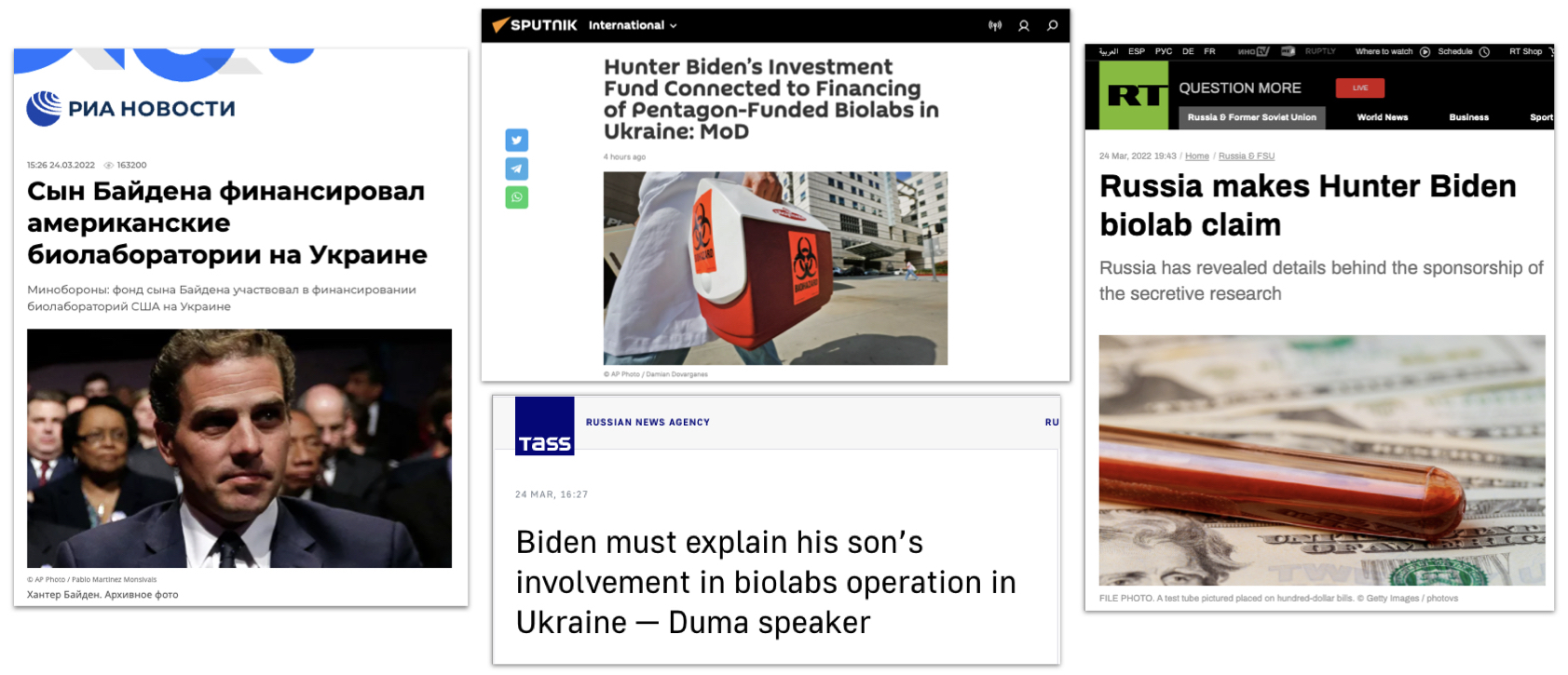 This PolitiFact illustration shows a compilation of headlines about Hunter Biden in Russian media that are based on a dubious narrative.
The allegations popped up the same day across American and British conservative media, with stories in the National Pulse, Daily Mail and New York Post claiming emails gleaned from the hard drive of an abandoned laptop that had purportedly belonged to Hunter Biden showed his involvement with Metabiota. "BOMBSHELL: Did Russia Invade Ukraine Because of the Bidens' Biolabs? Hunter's Laptop Says 'Yes,'" read one headline on PJ Media, a conservative website.
Fox News host Tucker Carlson gave the National Pulse's story a megaphone, citing it in a March 24 segment featuring a chyron that read, "Report: Hunter Linked to Ukrainian Biolab."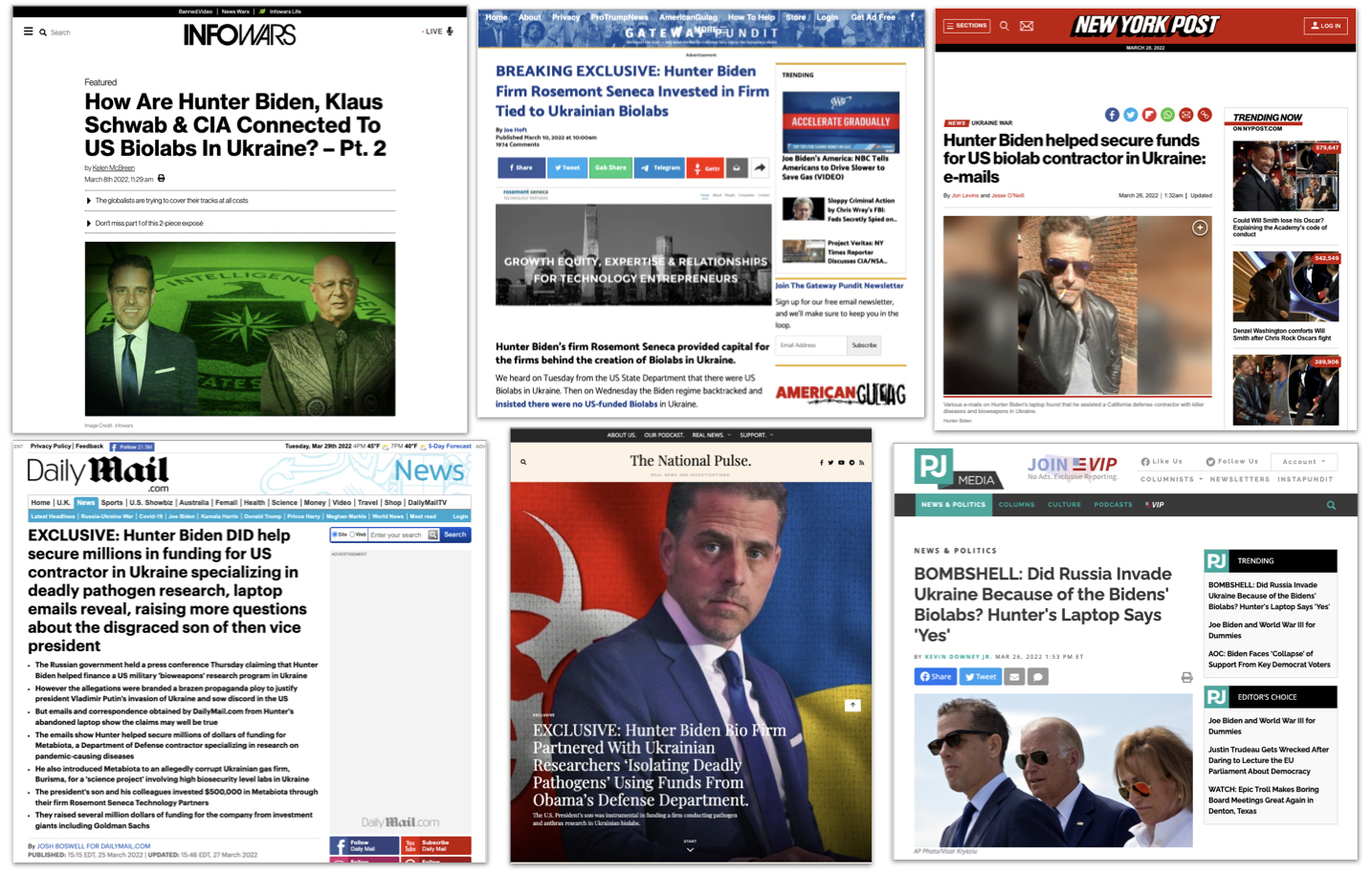 This PolitiFact illustration shows a compilation of headlines about Hunter Biden in conservative U.S. and British media that are based on a dubious narrative.
PolitiFact does not have access to the hard drive and cannot verify the authenticity of the emails allegedly on it, or whether they were presented accurately and in context.
But Weber cautioned against claims pushed by Russia — especially from officials like Kirillov, whose agency maintains what the U.S. has assessed to be an "offensive" biological weapons program.
"This is what KGB-style disinformation purveyors do," Weber said. "It's like saying Hunter Biden is responsible for the Japanese attack on Pearl Harbor. It's equally ridiculous, but there's just enough little, tiny, true facts that they can then create this false story on top of it."
PolitiFact researcher Caryn Baird contributed to this report.
USASpending.gov, accessed March 31, 2022
Metabiota website, accessed March 31, 2022
Black & Veatch website, accessed March 31, 2022
Rosemont Seneca Technology Partners website, accessed March 31, 2022
CNN, "Federal investigation of Hunter Biden heats up," March 30, 2022
CBS News, "New details emerge about federal investigation into Hunter Biden," March 30, 2022
The Washington Post, "The truth about Hunter Biden and the Ukrainian 'bio labs,'" March 29, 2022
Center for Arms Control and Nonproliferation, "Fact Sheet: The Nunn-Lugar Cooperative Threat Reduction Program," March 29, 2022
Media Matters for America, "A conspiracy theory about Hunter Biden and Ukrainian biolabs went from QAnon supporters and far-right message boards to the Kremlin and Tucker Carlson," March 28, 2022
New York Post, "Hunter Biden helped secure funds for US biolab contractor in Ukraine: e-mails," March 26, 2022
PJ Media, "BOMBSHELL: Did Russia Invade Ukraine Because of the Bidens' Biolabs? Hunter's Laptop Says 'Yes,'" March 26, 2022
Daily Mail, "EXCLUSIVE: Hunter Biden DID help secure millions in funding for US contractor in Ukraine specializing in deadly pathogen research, laptop emails reveal, raising more questions about the disgraced son of then vice president," March 25, 2022
Fox News, "Tucker Carlson Tonight," March 24, 2022
The Daily Beast, "Russia Ramps Up the Crazy With 'Biolabs' Presentation Featuring Hunter Biden," March 24, 2022
TASS, "Biden must explain his son's involvement in biolabs operation in Ukraine — Duma speaker," March 24, 2022
The National Pulse, "EXCLUSIVE: Hunter Biden Bio Firm Partnered With Ukrainian Researchers 'Isolating Deadly Pathogens' Using Funds From Obama's Defense Department," March 24, 2022
NBC News, "Russian propaganda on Ukraine's non-existent 'biolabs' boosted by U.S. far right," March 24, 2022
The Gateway Pundit, "BREAKING EXCLUSIVE: Hunter Biden Firm Rosemont Seneca Invested in Firm Tied to Ukrainian Biolabs," March 10, 2022
InfoWars, "How Are Hunter Biden, Klaus Schwab & CIA Connected To US Biolabs In Ukraine? – Pt. 2," March 8, 2022
The National Pulse, "Hunter Biden Invested In A Pandemic Firm Collaborating With Daszak's EcoHealth and The Wuhan Lab," June 28, 2021
U.S. Department of State, "2021 Adherence to and Compliance With Arms Control, Nonproliferation, and Disarmament Agreements and Commitments," April 15, 2021
The Wall Street Journal, "Virus Hunter Metabiota Finds Niche in Epidemic Research," May 20, 2015
PolitiFact, "Russia, China and Tucker Carlson lack evidence on Ukraine bioweapons labs," March 11, 2022
PolitiFact, "There are no US-run biolabs in Ukraine, contrary to social media posts," Feb. 25, 2022
PolitiFact, "The Hunter Biden investigations: An update," Dec. 15, 2020
Emailed statements from Metabiota, March 30, 2022, and March 31, 2022
Email interview with Gigi Gronvall, senior scholar at the Johns Hopkins Center for Health Security, March 30, 2022
Phone interview with Andrew Weber, senior fellow at the Council on Strategic Risks and former U.S. Assistant Secretary of Defense for Nuclear, Chemical and Biological Defense Programs, March 30, 2022
Email interview with Robert Pope, director of the Cooperative Threat Reduction Department for the Defense Threat Reduction Agency, March 30, 2022
Browse the Truth-O-Meter
More by Bill McCarthy