Stand up for the facts!
Our only agenda is to publish the truth so you can be an informed participant in democracy.
We need your help.
I would like to contribute
Why Holocaust comparisons by anti-vaccine activists like RFK Jr. are grossly inaccurate
If Your Time is short
Robert F. Kennedy Jr. compared the experiences of modern-day COVID-19 vaccine deniers with those of Anne Frank and other victims of the Holocaust.

The Nazis forcibly interned Jews in ghettos and systematically murdered an estimated 6 million of them during the Holocaust. Frank, whose family temporarily avoided detection before they were caught and sent to a concentration camp, was among those who died.

Kennedy's historically inaccurate metaphor was part of a larger pattern of anti-vaccine activists co-opting Holocaust imagery and rhetoric to paint themselves as the victims of persecution. Anti-mask and anti-vaccine protesters have worn mock Stars of David stitched with phrases like "unvaccinated" at rallies around the world.
Anti-vaccine advocate Robert F. Kennedy Jr. compared the experience of vaccine deniers to the plight of Anne Frank and other Jews persecuted by the Nazi Germans during the Holocaust.
"Even in Hitler's Germany, you could cross the Alps into Switzerland, you could hide in an attic like Anne Frank did," said Kennedy during a Jan. 23 rally against COVID-19 vaccine passports and mandates in Washington, D.C.
The Nazis murdered an estimated 6 million Jews during the Holocaust. Among those who died was Frank, whose diary revealed that her family hid for over two years in a secret apartment in the Netherlands before they were discovered and transported to a concentration camp.
Kennedy's line prompted criticism from the Auschwitz Memorial and the U.S. Holocaust Memorial Museum. Kennedy, the son of the late Sen. Robert F. Kennedy, ended up making an apology, and his wife released a statement distancing herself from his comparison.
But the sentiment had support at the "Defeat the Mandates" rally.
As the crowd clustered on the National Mall, one protester waved a large yellow sign shaped like the Star of David, the symbol of Judaism that the Nazis forced Jews to wear as an identifier during the Holocaust. "Unvaccinated," the sign said.
Another woman wore a Star of David patch with the same message, and another sign called for the return of the Nuremberg Trials held after World War II for Nazi war criminals. A number of people in white lab coats donned armbands that read, "Mandated outcast."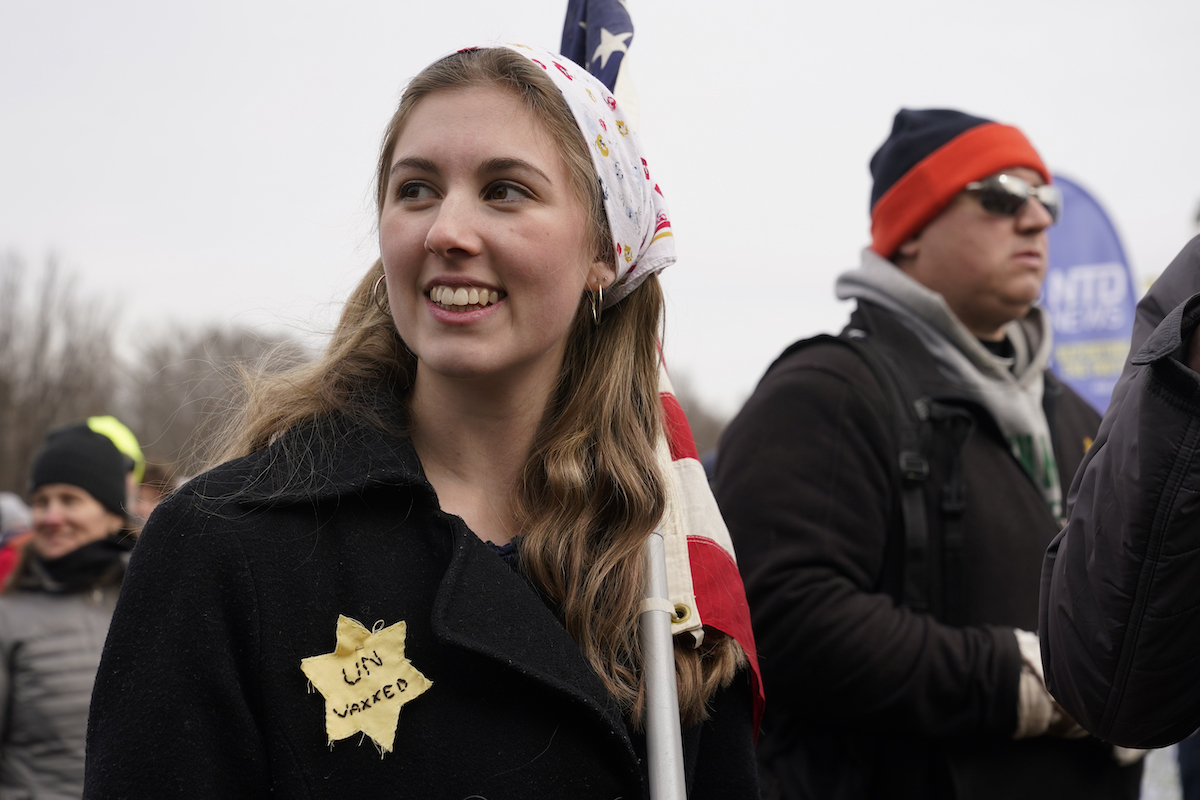 A protester wears a yellow Star of David with the text "Un vaxxed" at the anti-vaccine rally in Washington on Jan. 23, 2022. (AP)
Among the dozens of speakers were Dr. Robert Malone, who previously compared COVID-19 vaccination efforts in the U.S. to Nazi Germany; Fox Nation host Lara Logan, who once likened Dr. Anthony Fauci to Joseph Mengele, the Nazi doctor who performed torturous and often lethal experiments on Jewish prisoners; and anti-vaccine activist Del Bigtree, who quoted from a Holocaust-era poem and pinned a yellow star to his lapel during a speech in 2019.
In his own address at the Washington rally, Bigtree invoked the Nuremberg Trials as he threatened to "come after" Fauci, other public officials and the press.
But historians said that at the root of the anti-vaccine community's rhetoric comparing modern-day vaccination rules to Nazis' systematic persecution of Jews is a ridiculous and false equivalence that appropriates Holocaust imagery in a grossly inaccurate manner.
Vaccines are a voluntary medical intervention that saves lives; the Holocaust was genocide.
"Being unvaccinated is a voluntary status, whereas being a Jew persecuted by the Nazis was not," said Peter Hayes, professor emeritus of history and German at Northwestern University.
The Holocaust comparisons have become a potent form of misinformation among anti-vaccine communities because they call to mind the most recognizable example of evil, play on fears that an overreaching government could do something similar again, and employ a narrative that portrays anti-vaccine activists as righteous victims.
"It sort of changes the narrative that anti-vaxxers are the bad guys. It's like, 'Oh, no, we're the good guys. We're being persecuted,'" said Kolina Koltai, a postdoctoral fellow at the University of Washington's Center for an Informed Public. "They're using historical knowledge that groups have been persecuted by people in power, and they're putting themselves in that shoe."
'A gross violation of historical accuracy'
Some businesses have mandated the COVID-19 vaccines, and proof of vaccination is currently required for admittance into bars, restaurants and certain other establishments in a handful of major cities, including Washington.
But the shots have not been forced on all Americans with a national mandate. While not getting them may come with some inconveniences in certain communities, that experience bears no resemblance to the Holocaust-era persecution of Jews that saw millions of people forced from their homes and killed.
Living underground as a Holocaust-era Jew was brutally difficult, said Benjamin Hett, a historian at Hunter College and the Graduate Center of the City University of New York. Those who managed to do so couldn't keep fixed addresses. They usually had to scrounge for food.
Most weren't so lucky. When Hitler came to power in 1933, there were about 700,000 people in Germany whom the Nazis considered to be Jewish, Hett said. About half had emigrated by the time World War II started in 1939. By 1945, when the war ended, about 12,000 Jews remained.
"The idea that if you were a German Jew, you could evade Nazi murder is such a gross violation of historical accuracy," Hett said. "It's so ignorant. It's so moronic."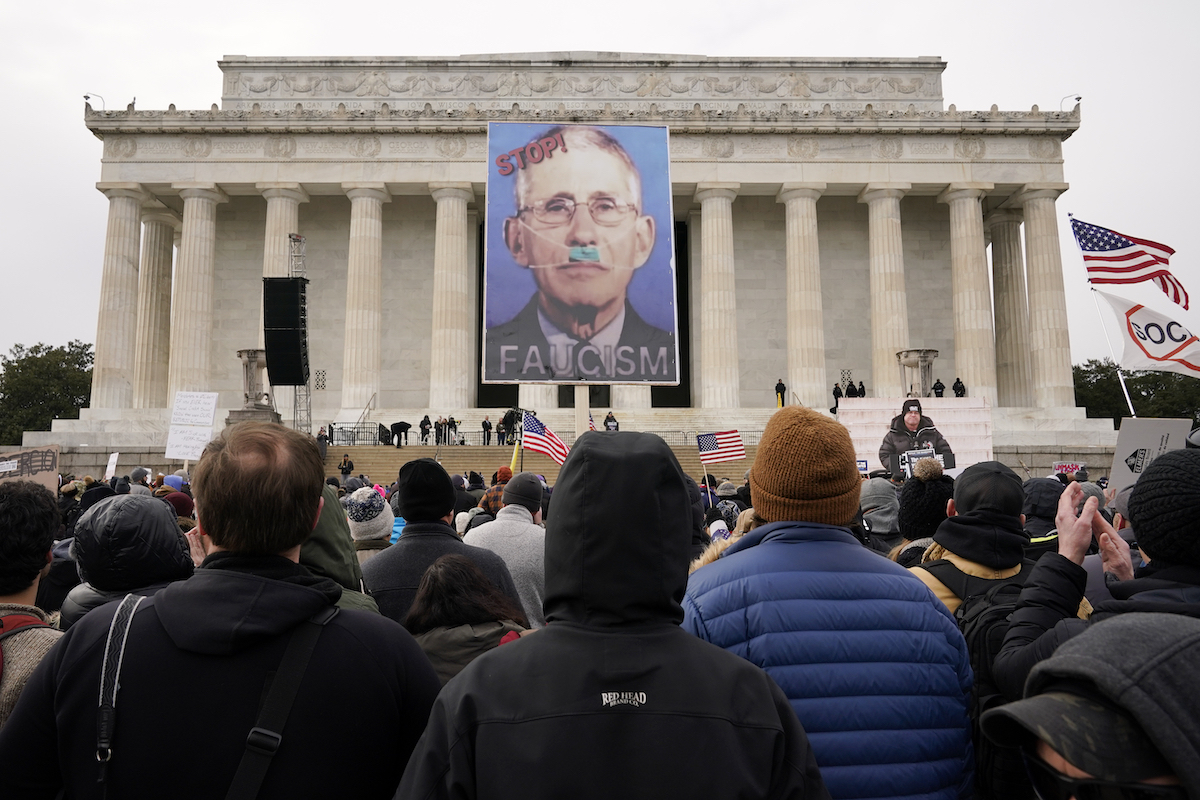 Protesters gather in front of the Lincoln Memorial for an anti-vaccine rally in Washington on Jan. 23, 2022. (AP)
An estimated 1.1 million people died in the Auschwitz concentration camp alone, according to the Auschwitz Memorial. But many Jews were killed outside of the gas chambers, too. Earlier on in the Holocaust, the Nazis rounded up and concentrated Jews in ghettos, where they lived in poor conditions and were ravaged by diseases today's vaccines could prevent. "It was part of the point, as far as the Nazis were concerned, to have people die that way," Hett said.
Anne Frank died of typhus after she was death marched to a concentration camp in Germany from Auschwitz, where she was sent after the Nazis found her family hiding in the Netherlands.
"I don't know of any country or part of one where the police are hunting non-vaccinated people down in order to arrest and murder them, as was happening in the Netherlands," Hayes said.
Anti-vaccine activists have appropriated the Holocaust for years
The co-opting of Holocaust imagery didn't begin with the "Defeat the Mandates" rally.
Kennedy has invoked the Holocaust before, including in October, when he referenced Nazis while discussing public health measures. He also apologized in 2015, after he described what he claimed was an "autism epidemic" linked to vaccines as "a holocaust," although scientists widely agree that there's no link between vaccines and autism.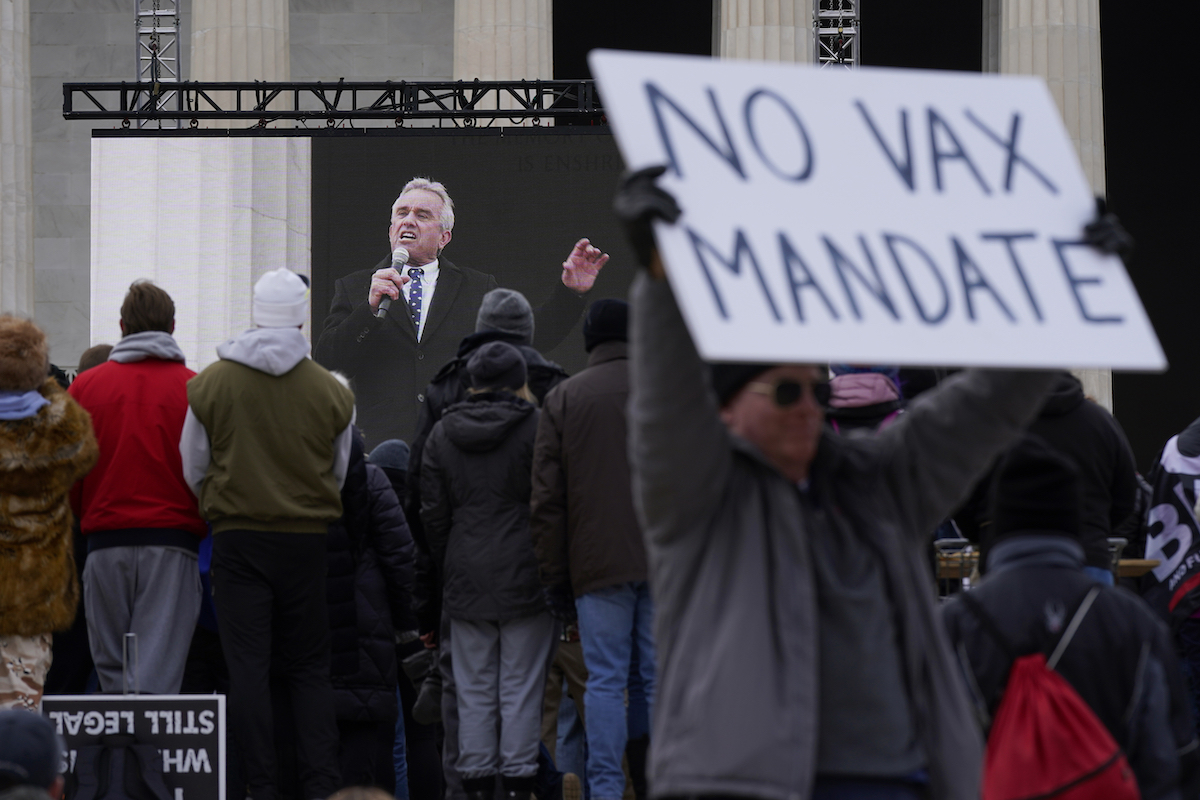 Robert F. Kennedy Jr., is broadcast on a large screen as he speaks during the anti-vaccine rally in front of the Lincoln Memorial in Washington on Jan. 23, 2022. (AP)
"This is not something that just has happened once or twice when it comes to the anti-vax movement," said Aryeh Tuchman, senior associate director of the Anti-Defamation League's Center on Extremism.
Koltai said she has seen anti-vaccine communities misusing Stars of David and comparing themselves to Anne Frank and other Holocaust victims since she started studying vaccine misinformation in 2015.
At first, the comparisons were mostly happening in memes online. Then in 2019, as measles outbreaks exploded around the world, Koltai said she noticed more anti-vaccine activists wearing Stars of David as so-called "vaccine stars" at protests.
COVID-19 brought even more attention to vaccines and, in turn, the anti-vaccine movement and similar crusades against mask-wearing, lockdowns and other efforts to slow the virus's spread.
The comparisons have popped up on signs and clothing at protests across the U.S. and in other countries, including in the United Kingdom, France, Israel and Germany.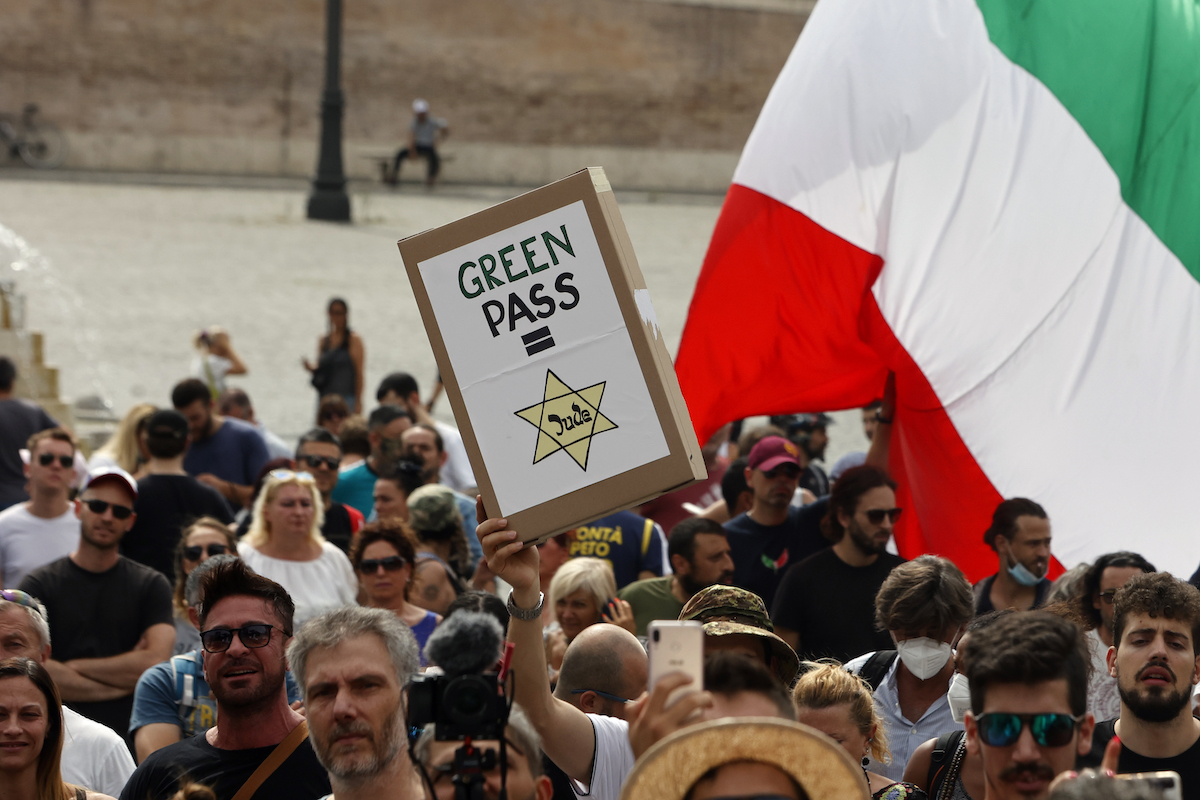 Protesters rally against a COVID-19 vaccination pass in Rome on July 27, 2021. (AP)
Since February 2020, the term "Nazi" has been mentioned more than 1.6 million times in conversations about COVID-19 on social media, broadcast and traditional media, and online sites, according to an analysis from Zignal Labs, a media intelligence firm. The term "Holocaust" has been mentioned in the context of COVID-19 almost 1 million times.
A Kansas newspaper posted a cartoon likening the state's mask mandate to the Holocaust. A state lawmaker in Maine compared a vaccine mandate for health care workers to Mengele's experiments on prisoners. An Ohio Senate candidate warned about the Gestapo showing up at people's doors. A Tennessee hat shop sold Star of David patches saying, "Not vaccinated."
People have also worn masks with swastikas on them into public spaces to signal their beliefs that the mask mandates are a form of Nazi oppression, Tuchman said.
Promoting the "Defeat the Mandates" rally on his show Jan. 21, Fox News host Tucker Carlson asked: "After watching what the Imperial Japanese Army and the Nazis did in their medical experiments, I thought that American physicians agreed that compulsory medical care was unethical, it was immoral, and it could never be imposed on anyone. When did we forget that?"
Before that, Rep. Marjorie Taylor Greene, R-Ga., equated a congressional mask requirement to the Holocaust, then weeks later compared a door-to-door White House vaccination push to Nazi-era "brown shirts." Rep. Lauren Boebert, R-Colo., said the White House was sending out "needle Nazis." Rep. Kelly Townsend, R-Ariz., tweeted an image of a swastika made up of vaccine syringes. Rep. Thomas Massie, R-Ky., shared and deleted a photo that compared restaurants requiring proof of vaccination for entry to the identification numbers tattooed on Jews at Auschwitz. And Facebook sold ads to companies selling merchandise comparing the vaccines to the Holocaust.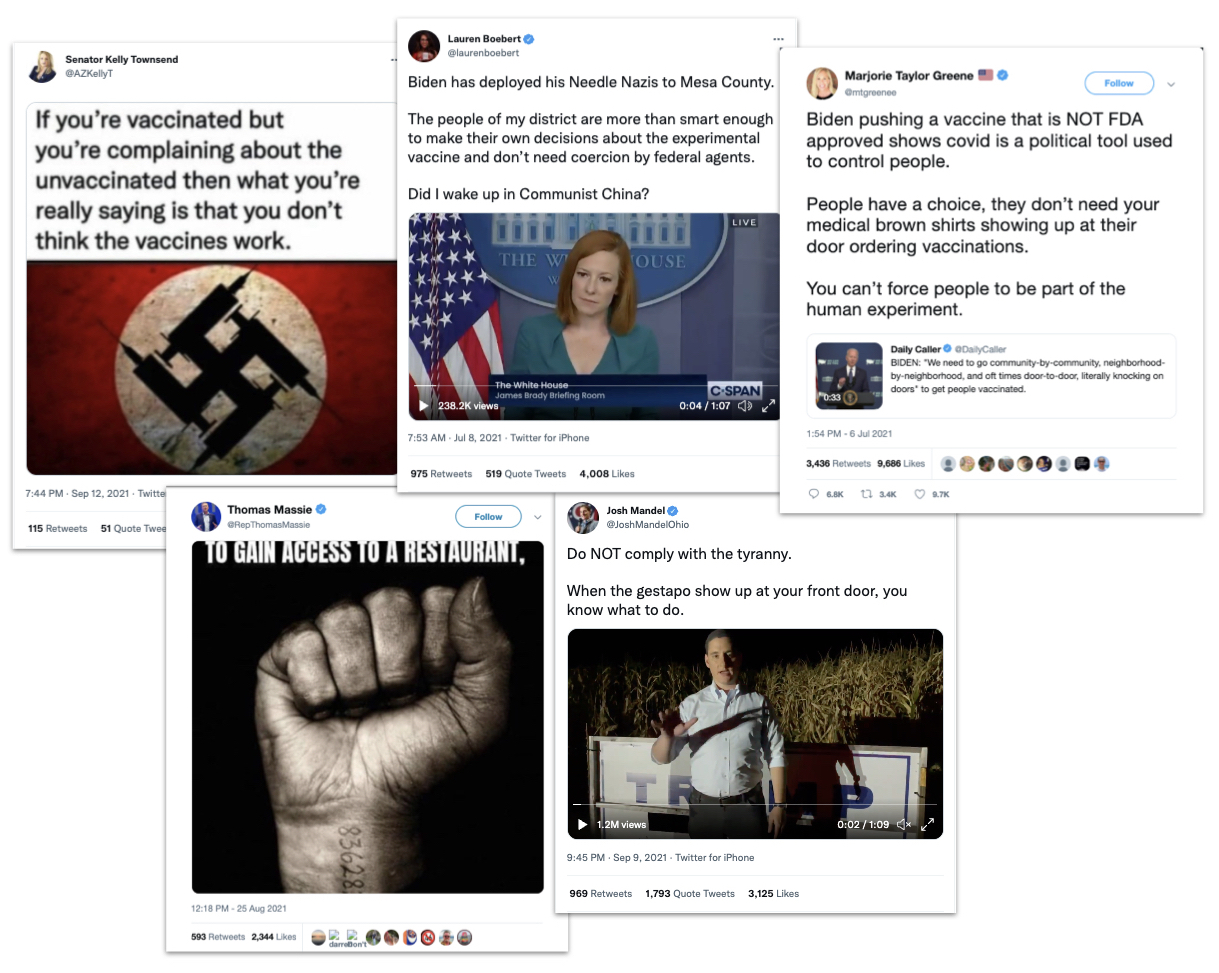 This illustration shows tweets from Republican politicians making comparisons to the Holocaust.
Why it matters
The repetition of this narrative comes with consequences.
When leaders like Kennedy draw false equivalencies between the plight of Holocaust-era Jews and the grievances of today's anti-vaccine activists, it unites them around feelings of anger and victimization, Tuchman said. That could make them less likely to compromise on their claims about the vaccines and government, misguided as they may be, because they see themselves as participants "in a fight between light and darkness" with the fate of the nation at stake.
The comparisons are also offensive to Jewish communities with historical memory of the event, experts said. And they distort the public's collective memory of the Holocaust.
There is a dramatic and unequivocal difference between not being able to enter a certain bar without proof of vaccination amidst a pandemic and the terrors of the Holocaust, said Hett, the CUNY historian. "If you think that is in any way equivalent to the persecution that Jews suffered under the Nazis … then you have zero comprehension of the full scale of the horrors of the Holocaust, and that is getting a good way along the road towards Holocaust denial."
Koltai said the anti-vaccine community has shown a tendency to recycle the same false narratives about vaccines — that they trigger autism, cause infertility, carry microchips — whenever a new vaccine arrives. This one, she predicted, will also have sticking power.
"Even if you took everyone and sent them over to the Holocaust Museum, they're going to be like, 'See, this is what we're worried about,'" Koltai said. "'We think it's going to happen to us.'"
CORRECTION, Feb. 7, 2022: Anne Frank died of typhus, according to the Anne Frank House and the U.S. Holocaust Memorial Museum. A previous version of this fact-check wrongly stated she died of typhoid.
Zignal Labs, "Zignal Labs: Select Nazi Germany Narratives," Jan. 25, 2022
Robert F. Kennedy on Twitter, Jan. 25, 2022
Cheryl Hines on Twitter, Jan. 25, 2022
The Washington Post, "Robert F. Kennedy Jr. slammed for saying the unvaccinated have less freedom than Anne Frank did," Jan. 25, 2022
The Associated Press, "RFK Jr. remarks on Anne Frank, vaccines draw condemnation," Jan. 25, 2022
CNN, "Robert F. Kennedy Jr. invokes Nazi Germany in offensive anti-vaccine speech," Jan. 24, 2022
U.S. Holocaust Museum on Twitter, Jan. 24, 2022
The Daily Beast, "Anti-Vaxxers Offer Up Bonkers Holocaust Analogies at D.C. March: Now We Can't Even 'Hide in the Attic,'" Jan. 23, 2022
Auschwitz Memorial on Twitter, Jan. 23, 2022
Sergio Olmos on Twitter, Jan. 23, 2022
Ben Collins on Twitter, Jan. 23, 2022
Media Matters for America, "Tucker Carlson compares vaccine requirements to Nazi and Imperial Japanese Army medical experimentation," Jan. 21, 2022
History.com, "Nuremberg Trials," Oct. 13, 2021
Slate, "Anti-Vaxxers Only Have Two Historical Reference Points, Apparently," Sept. 21, 2021
Axios, "Holocaust comparisons by anti-vax movement denounced," Aug. 5, 2021
The Washington Post, "Anti-vaxxers are comparing themselves to Holocaust victims — who relied on vaccines to survive," April 10, 2019
Anti-Defamation League, "Anti-Vaccine Protesters Misappropriate Holocaust-Era Symbol to Promote Their Cause," April 5, 2019
PolitiFact, "Who is Robert Malone? Joe Rogan's guest was a vaccine scientist, became an anti-vaccine darling," Jan. 6, 2022
PolitiFact, "COVID-19 vaccination does not violate the Nuremberg Code," Aug. 20, 2021
PolitiFact, "The Pants on Fire claim that Donald Trump has as much blood on his hands as Hitler, Stalin, Mao," Aug. 26, 2019
History.com, "Josef Mengele, known as the 'Angel of Death,' dies," Feb. 7, 1979
Email correspondence with Zignal Labs, Jan. 25, 2022
Phone interview with Kolina Koltai, postdoctoral fellow at the Center for an Informed Public at the University of Washington, Jan. 25, 2022
Phone interview with Aryeh Tuchman, senior associate director of the Center on Extremism at the Anti-Defamation League, Jan. 25, 2022
Phone interview with Benjamin Hett, professor of history at Hunter College and the Graduate Center of the City University of New York, Jan. 25, 2022
Email interview with Peter Hayes, professor emeritus of history and German at Northwestern University, Jan. 24, 2022
Browse the Truth-O-Meter
More by Bill McCarthy