Stand up for the facts!
Our only agenda is to publish the truth so you can be an informed participant in democracy.
We need your help.
I would like to contribute
If Your Time is short
The Oct. 28 attack on House Speaker Nancy Pelosi's husband is an example of how consumption of radical content including QAnon conspiracy theories can escalate to political violence, an expert told PolitiFact.

Social media sites such as Twitter, Facebook, Instagram, TikTok and YouTube have taken steps to prevent QAnon content from spreading on their platforms. But QAnon supporters, phrases and narratives are still found on mainstream social platforms.

Experts said some mainstream Republicans employ thinly veiled references to QAnon ideology to court proponents of the theory, who now make up part of the conservative base.
David DePape had the tools he believed he needed to send a message to members of Congress: a hammer, zip ties and a plan to break House Speaker Nancy Pelosi's kneecaps "if she lied."
He later told authorities that if he had executed his plan, "she would then have to be wheeled into Congress, which would show other members of Congress there were consequences to actions," according to an FBI report. San Francisco prosecutors have since said other leaders were in his sights.
DePape, 42, faces federal and state charges after authorities say he broke into Pelosi's home and violently beat Pelosi's husband with a hammer. Nancy Pelosi, long a top target of threats and misinformation, was in Washington, D.C., during the Oct. 28 attack. Paul Pelosi is recovering from a fractured skull and other injuries; he was released from a hospital Nov. 3.
Before the invasion, DePape espoused some ideas associated with QAnon, a conspiracy theory invoking pedophilia and a Democratic cabal that the FBI has long warned could lead its adherents to commit violence.
QAnon rhetoric provided some of the fuel for the Jan. 6, 2021, attack on the U.S. Capitol. Rioters then similarly called out for Nancy Pelosi, D-Calif., as they ransacked congressional offices, giving air to the false idea that the 2020 presidential election was fraudulent.
Days from the Nov. 8 elections, the Pelosi attack reinforces how threads of the false narrative have woven themselves into the midterm mindset, heightening the potential for violence. Numerous political campaigns sprung from Q-aligned concepts like election denialism, with former President Donald Trump amplifying these fantastical ideas on his own Truth Social platform.
Despite some platforms' high-profile efforts to eliminate QAnon content, references to deep state conspiracies, stolen elections and more QAnon themes continue to appear on Facebook, Instagram, YouTube, TikTok and Twitter.
DePape attorney Adam Lipson told reporters his team will explore how these ideas might have affected DePape: "There's been a lot of speculation regarding Mr. DePape's vulnerability to misinformation, and that's certainly something we are going to look into."
The link was clear to Mia Bloom, a Georgia State University communication and Middle East studies professor and international security fellow at New America.
"This attack on Mr. Pelosi was a movement from consumption of radical content to actually engaging in violence," Bloom said.
Violence and threats linked to QAnon beliefs
DePape told San Francisco police officers he viewed Pelosi "as the 'leader of the pack' of lies told by the Democratic Party. On Facebook, he had shared videos that falsely claimed the 2020 was stolen. He posted links to websites that claimed COVID-19 vaccines are deadly. And he shared transphobic images, CNN reported. On blogs linked to DePape, PolitiFact found posts titled "Take the Red Pill," "Q," "Gamer Gate," "No evidence of election fraud," and "Fall of the Cabal."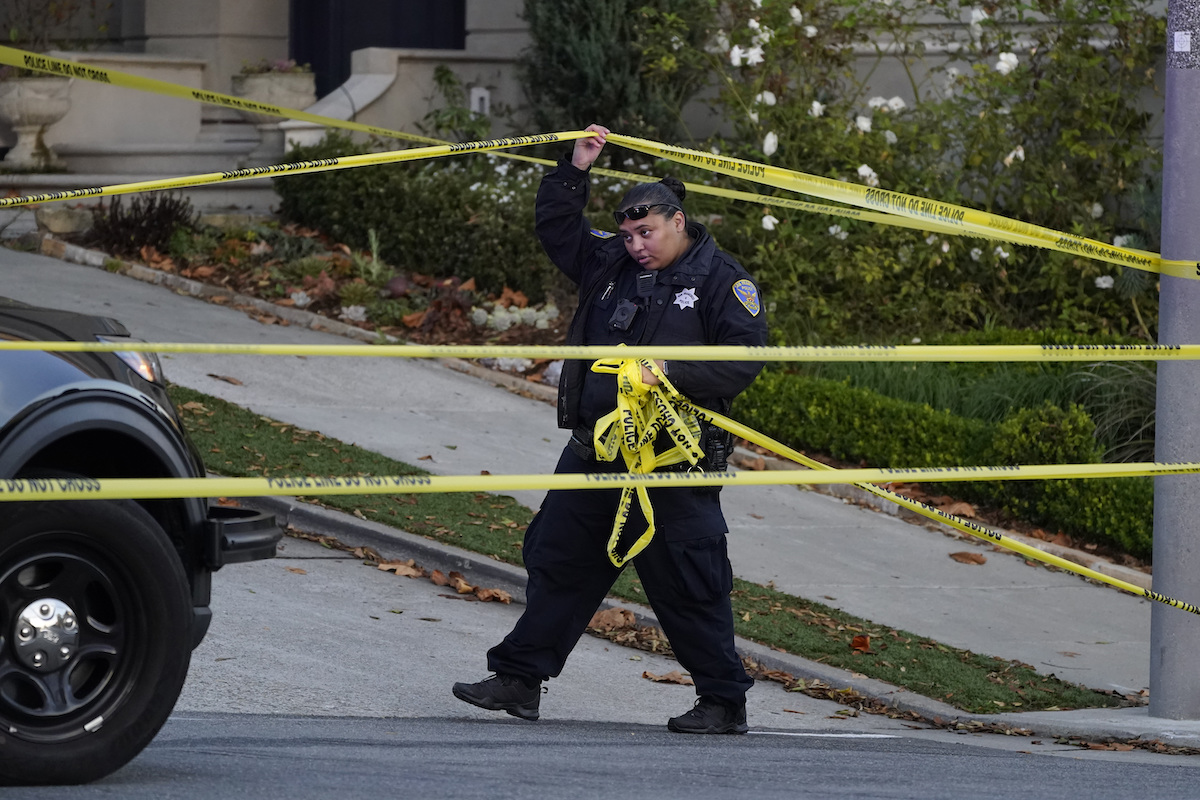 A police officer rolls out more yellow tape on the closed street below the home of House Speaker Nancy Pelosi and her husband Paul Pelosi in San Francisco, Oct. 28, 2022. (AP)
His example should not be seen in isolation.
On the same day DePape attacked Pelosi, a man in California was found guilty of murder in a QAnon-inspired plot to kill sex offenders.
Other cases have connected QAnon beliefs and mental health issues with familial violence.
In Michigan, police said Igor Lanis shot his wife, his eldest adult daughter and the family dog Sept. 11. Police killed Lanis during a subsequent armed standoff; only his daughter survived the attack. After the attack, his younger daughter told news outlets her father was a QAnon believer.

A California man confessed to the 2021 killing of his two young children with a spear gun. He told an investigator he had been "enlightened by QAnon and Illuminati conspiracy theories," and feared his children had serpent DNA, The Associated Press reported.

Colorado mother Cynthia Abcug was involved in planning a raid to kidnap her son from foster care in 2019. Her teenage daughter said the plot emerged after Abcug began associating with QAnon adherents.
Threats against election officials and members of Congress and the judiciary have increased sharply since Trump's 2016 election.
In September, a man who was arrested after an incident at a Dairy Queen restaurant in Pennsylvania told investigators he had a loaded gun in his pocket to protect himself from drug traffickers and that he "intended to kill 'Democrats and liberals' and wanted to 'restore Trump to president king of the United States,'" according to local news reports. His online presence included posts and videos featuring QAnon phrases such as "the deep state."
DePape repeatedly told officials investigating his attack that he'd been "fighting against tyranny without the option of surrender," according to a federal criminal complaint.
During the attack, Paul Pelosi reportedly asked DePape why he wanted to see Nancy. According to state court filings, DePape said: "Well, she's number two in line for the presidency, right?" When Paul Pelosi agreed, DePape "responded that they are all corrupt and 'we've got to take them all out,'" said the court document.
That document also said DePape repeatedly said he had more targets than Pelosi, including "a local professor, several prominent state and federal politicians" and their relatives.
Despite repeated warnings about the growing threat of political violence, popular Republican figures including Trump, members of Congress and candidates continue to allude to QAnon conspiracy theory narratives — or, in some cases, invoke the theory outright.
Trump, other conservative figures continue to amplify QAnon narratives
Trump has embraced QAnon imagery on Truth Social, his social media site. On Sept. 22, he reshared a video of QAnon phrases including the "storm" and the "WWG1WGA" sequence, as well as a photoshopped image of himself inside a "Q+" symbol. Many QAnon proponents call Trump "Q+."
Of nearly 75 accounts Trump reposted on his Truth Social profile from mid-August to mid-September, more than a third promoted QAnon by sharing the movement's slogans, videos or imagery, according to the AP.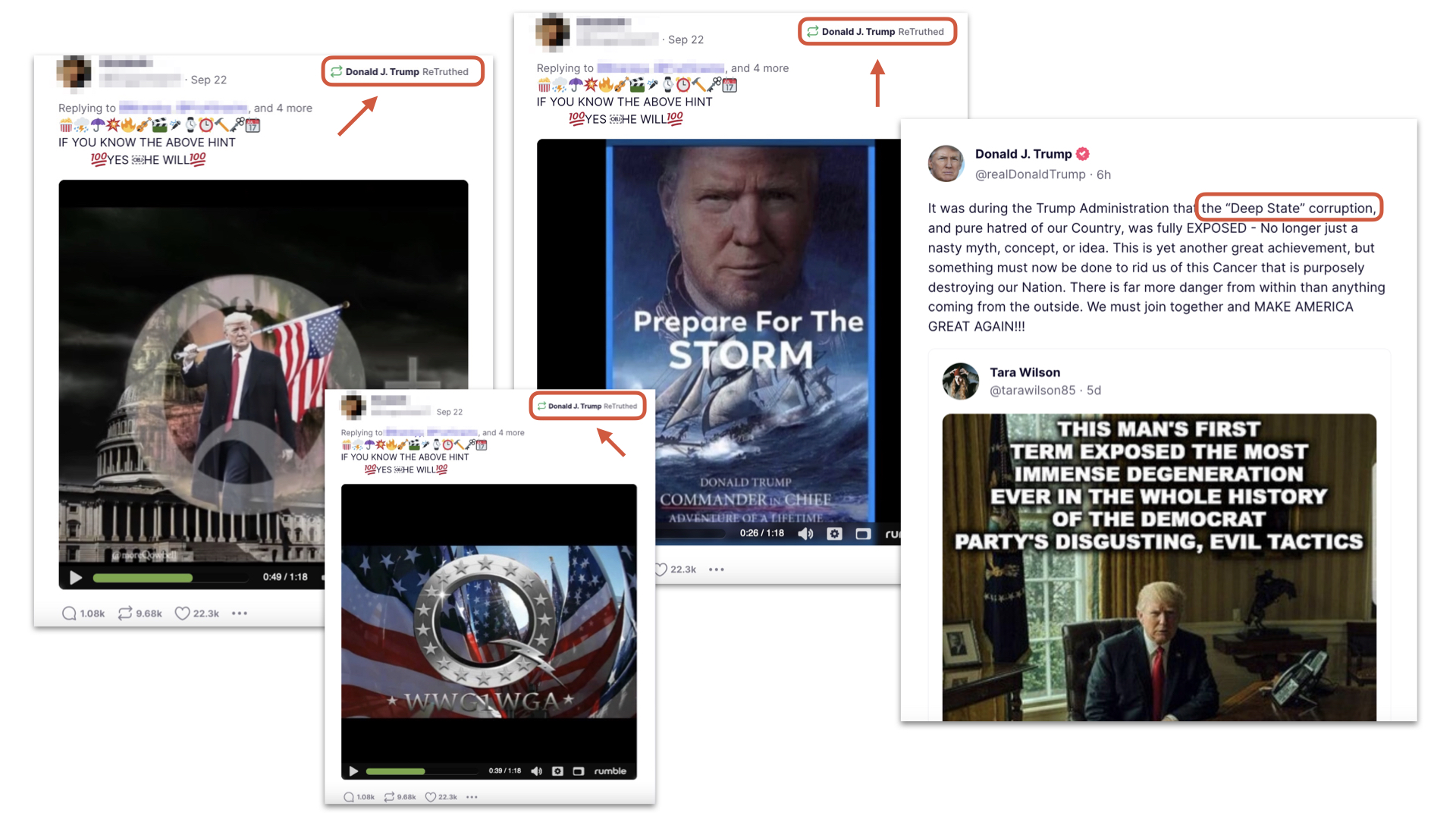 Examples of imagery or phrases that Trump has reshared or written himself on Truth Social. (Screenshots from Truth Social)
In QAnon communities there are "millions of people who are committed to a certain idea that is pro-Republican and pro-Trump," said Heidi Beirich, co-founder of the Global Project Against Hate and Extremism. "Why not tap into that — either by sort of dog whistling to QAnon, or being more overt like Trump is being?"
Trump's recent public embrace of QAnon may signal that if he is not treated as he believes he should be, he can call on an army of dedicated followers, said Bloom, who co-authored the book, "Pastels and Pedophiles: Inside the Mind of QAnon."
Despite moderation efforts, QAnon-linked conspiracy theories remain online
In October 2020, Meta, YouTube and TikTok all announced plans to crack down on QAnon-associated content.
Meta said it would remove QAnon Facebook pages, groups and Instagram accounts, even if they contained no violent content. Thousands of QAnon-linked profiles and pages have been taken down, it said.
YouTube announced it would prohibit videos that target people with "conspiracy theories that have been used to justify real-world violence," such as QAnon. It deleted more than 10,000 QAnon videos and hundreds of channels, it said.
TikTok said it banned all content or promotion of videos that advance QAnon conspiracy theory ideas.
Months later, after the Jan. 6, 2021, attack on the U.S. Capitol, Twitter removed more than 70,000 accounts that promoted "harmful QAnon-associated content."
But QAnon-linked claims and narratives persist. In some cases, it's because the creators have evaded moderation by using coded language or because QAnon adherents simply moved to platforms that were more hospitable to false information.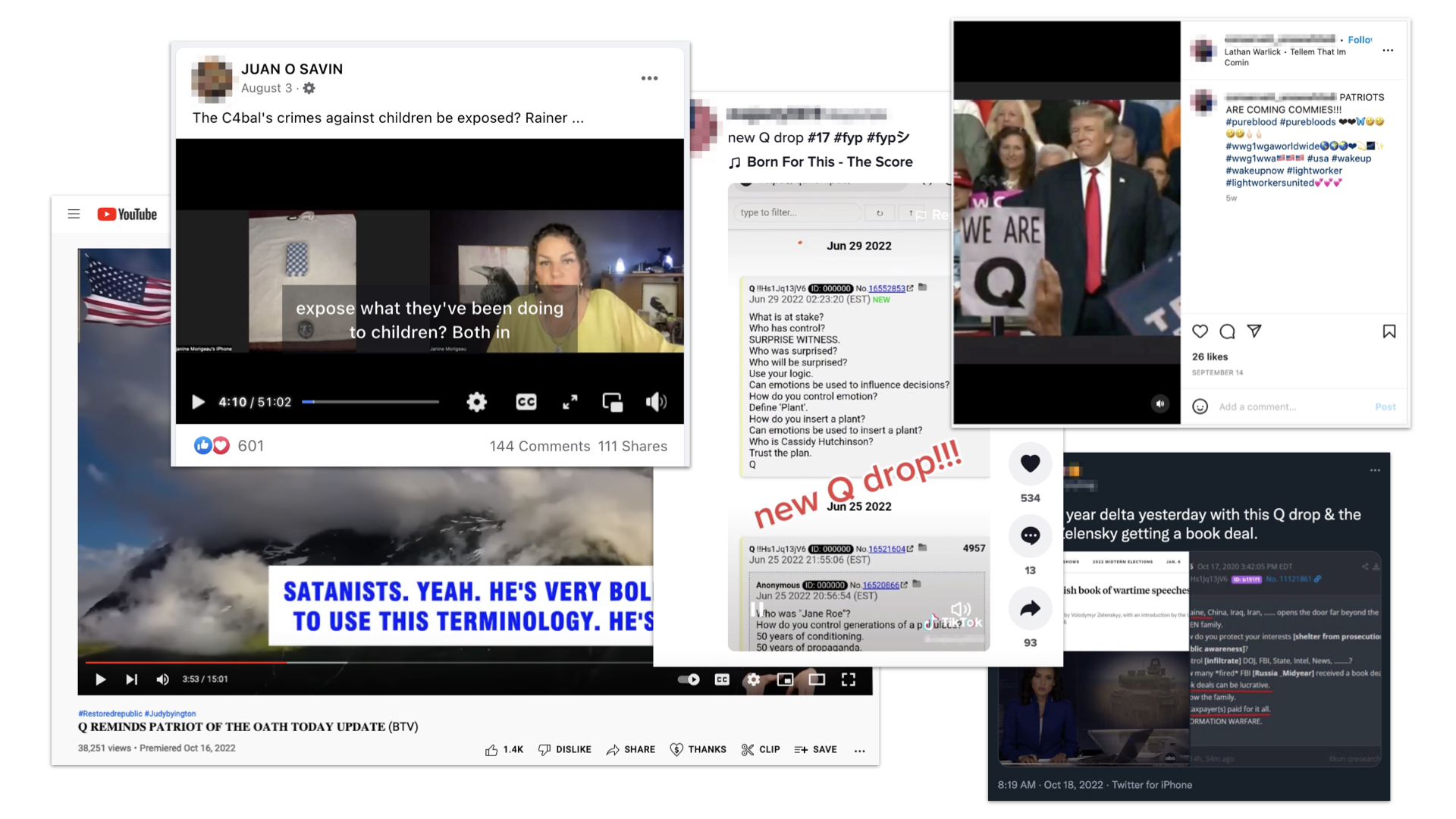 Even overt QAnon language and rhetoric persists on widely used social media platforms. The above examples were pulled from YouTube, Facebook, Tiktok Instagram and Twitter in October 2022. (Screenshots from respective platforms)
Some networks turned to alternative tech platforms. This includes sites such as Gab, a cross between Facebook and Twitter that brands itself as a "free speech social network"; Truth Social; Telegram, an encrypted messaging app that grew by millions of users after Jan. 6, 2021; and Rumble, a video platform that markets itself as being "immune from cancel culture."
Pew Research Center on Oct. 6 published findings showing that seven of such platforms — BitChute, Gab, Gettr, Parler, Rumble, Telegram and Truth Social — feature prominent accounts that commonly share QAnon related content.
There are so many QAnon narratives and ways to make claims without using "traditional QAnon language," that it presents a challenge for mainstream social media platforms that have tried to crack down on QAnon content, said Beirich of the Global Project Against Hate and Extremism. "AI systems have to constantly be retrained with new phrases, new ideas."
Some conservative politicians have embraced this approach, alluding to QAnon narratives in ways that are less blatant. That's political strategy, Bloom said.
For example: Kristina Karamo, the Trump-backed Republican candidate for secretary of state in Michigan, advanced one of the most outlandish QAnon ideas, that elites are tied to child sacrifice, in November 2020. While running for statewide office, she has tried to distance herself from QAnon beliefs despite speaking at events organized by QAnon proponents.
Leading up to the election, Karamo has repeatedly made unproven claims about election fraud in apparent nods to QAnon-linked narratives: "Systemic fraud in our system has gone on for years," she wrote on Twitter Oct. 19. "Everyone in Michigan knows it. Everyone in Michigan feels it."
'Stop the steal' QAnon rhetoric expected to intensify surrounding midterms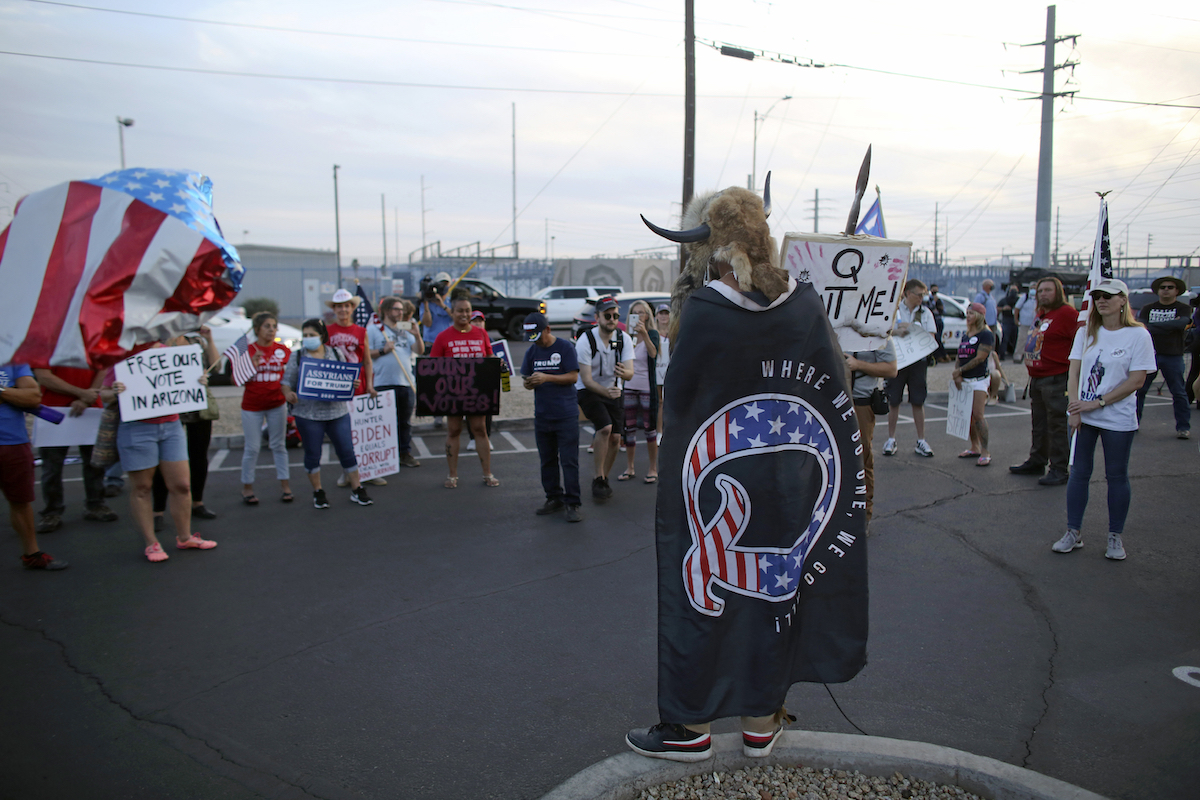 A QAnon believer speaks to a crowd of President Donald Trump supporters outside of the Maricopa County Recorder's Office where votes in the general election are being counted, in Phoenix, Nov. 5, 2020. (AP)
When QAnon first emerged in 2017, its anti-pedophilia focus called adherents to "save the children" and stop the deep state cabal. The narrative hinged on the false idea that Trump was working behind the scenes to bring those in the cabal to justice.
Election denialism was folded in after 2020 and remains a key element, said Beirich. A coalition of Republican election deniers — some of whom could still win statewide positions following the Nov. 8 election — endeavored to take control of elections offices in swing states like Nevada, Arizona, Michigan and Pennsylvania. An influential QAnon conspiracy proponent formed that coalition.
When a Category 4 hurricane hit Florida, one former Republican candidate with QAnon ties suggested it was a plot by "the deep state" to take out conservative-leaning communities just weeks before the election.
In QAnon ideology, all things that negatively affect the theory's proponents are attributed to the "deep state cabal," said Bloom. So, if QAnon supporters' favored candidates lose midterm elections, "stop the steal" language could return even more forcefully.
"They're refocusing on the election and Trump," Beirich said. "It seems to me, they're sort of revving up for 2024, right? It's not just the midterms that are coming."
PolitiFact reporter Gabrielle Settles and researcher Caryn Baird contributed research to this report.
RELATED: Election officials, lawmakers in Congress have faced increase in threats
RELATED: Misinformation fuels false narratives about attack on Paul Pelosi
RELATED: QAnon, Pizzagate conspiracy theories co-opt #SaveTheChildren
RELATED: What is a MAGA Republican?
Interview with Mia Bloom, a professor at Georgia State University and an international security fellow at New America, Oct. 4, 2022
Interview with Heidi Beirich, co-founder of the Global Project Against Hate and Extremism, Oct. 5, 2022
Interview with Jared Holt, senior research manager at the Institute for Strategic Dialogue, Oct. 6, 2022
Emailed statement from Truth Social CEO Devin Nunes, Oct. 7, 2022
Emailed statement from YouTube spokesperson Jack Malon, Oct. 6, 2022
Emailed statement from a Twitter spokesperson, Oct. 5, 2022
Interview with Mia Bloom, a professor at Georgia State University and an international security fellow at New America, Nov. 2, 2022
Meta, Dangerous individuals and organizations policy details, accessed Oct. 12, 2022
PRRI, New PRRI report reveals nearly one in five Americans and one in four Republicans still believe in QAnon conspiracy theories, Feb. 24, 2022
CBS News, 'This place looks like it's been bombed out': Florida communities devastated by Hurricane Ian, Oct. 9, 2022
The Washington Post, Far from coasts, flooding from Hurricane Ian devastates inland communities, Oct. 4, 2022
PolitiFact, Climate change isn't the sole cause of any hurricane, but it might affect them, Sept. 29, 2022
PRRI, Understanding QAnon's connection to American politics, religion, and media consumption, May 27, 2022
PolitiFact, Hurricane Ian was a natural disaster, not a political conspiracy to devastate Floridians, Sept. 30, 2022
National Environmental Satellite Data and Information Service, Hurricane Ian's path of destruction, Oct. 4, 2022
Rumble, Proof Hurricane IAN geo-engineered! Dane Wigington exclusive interview on weather warfare, Oct. 7, 2022
Rumble, Heart attacks in kids now blamed on VIDEO GAMES! Pfizer director bombshell admission, Oct. 13, 2022
Wired, DARPA hearts HAARP; Tinfoil hats melt, Aug. 13, 2007
Forbes, 'Q' hasn't posted in six months — but some QAnon followers still keep the faith, Dec. 10, 2021
The Atlantic Council's Digital Forensic Research Lab, QAnon's hallmark catchphrases evaporating from the mainstream internet, May 26, 2021
Forbes, QAnon Content Is 'Evaporating' From The Internet, New Report Finds, May 26, 2021
Anti Defamation League, After 18-Month hiatus, new QAnon posts surface, June 29, 2022
PolitiFact, The facts of a fair US election have only gotten stronger since Capitol attack, Jan. 6, 2022
NBC News, Study finds nearly one-in-five Americans believe QAnon conspiracy theories, May 27, 2021
The New York Times, Shocked by Trump's loss, QAnon struggles to keep the faith, Nov. 10, 2020
BBC Sounds, QAnon at the ballot box, July 30, 2022
Institute for Strategic Dialogue, QAnon, the COVID-19 incubator and the hybridized threat landscape, July 30, 2022
CSPAN, Mia Bloom on "QAnon" and conspiracy theories, Oct. 10, 2022
The Daily Beast, MAGA heads have a new scheme: Running for Congress, Sept. 16, 2019
Global Network on Extremism & Technology, QAnon women in politics part two: QAnon careers, April 29, 2021
Media Matters, Here are the QAnon supporters running for Congress in 2020, Jan. 7, 2020
The New York Times, California primary election results: 12th House District, March 20, 2020
NBC News, Highlights and analysis from Election Day 2020, Jan. 6, 2021
Foreign Policy, As QAnon copes with Trump's likely loss, they wonder where Q is, Nov. 6, 2020
Global Network on Extremism & Technology, QAnon is not dead: New research into Telegram shows the movement is alive and well, July 28, 2021
BBC Sounds, Has QAnon fuelled South Africa's divisions? Aug. 6, 2022
The New York Times, Twitter, in widening crackdown, removes over 70,000 QAnon accounts, Jan. 11, 2020
NPR, TikTok tightens crackdown on QAnon, will ban accounts that promote disinformation, Oct. 18, 2020
NBC News, Vote Watch: Twitter takes fast action on accounts violating platform's policies, Nov. 4, 2020
Instagram post by Deanna Lorraine, Oct. 7, 2022
Facebook post by DeAnna Lorraine, Oct. 7, 2022
The Associated Press, Trump openly embraces, amplifies QAnon conspiracy theories, Sept. 16, 2022
The New York Times, QAnon candidates aren't thriving, but some of their ideas are, July 25, 2022
Politico, 'Trump is a Messianic figure in the QAnon calls,' Sept. 23, 2022
PolitiFact, There's no proof antifa stormed the Capitol. The rumor spread quickly anyway, Jan. 7, 2021
USA Today, In Trump embrace of QAnon, election experts see potential for midterm 'chaos' and more election denying, Sept. 28, 2022
Global Network on Extremism & Technology, What is QAnon?, Oct. 15, 2020
News Guard, Trump and his Truth Social platform actively promote QAnon, August 2022
CBS News, QAnon power vacuum on Telegram is being exploited by antisemitic extremists, ADL says, Sept. 24, 2021
Vice, Trump is single-handedly keeping QAnon alive, Sept. 29, 2022
Anti Defamation League, QAnon, Sept. 24, 2020
The Associated Press, US intel report warns of more violence by QAnon followers, June 14, 2021
The New York Times, The F.B.I. warns that some QAnon believers could turn to violence as predictions fail to bear fruit, June 15, 2021
The Associated Press, Colorado mom guilty of Qanon kidnapping conspiracy, Aug. 26, 2022
NBC News, QAnon beliefs, promise of child custody help hang over deadly shooting, Dec. 1, 2020
NBC News, Colorado woman denies alleged QAnon plot to kidnap her son from a foster home, Aug. 25, 2022
The New York Times, Shocked by Trump's loss, QAnon struggles to keep the faith, Nov. 10, 2020
Center for Strategic & International Studies, Examining extremism: QAnon, June 10, 2021
Tweet by researcher Alex Mendela, Aug. 29, 2022
U.S. News, A quarter of Republicans believe central views of QAnon conspiracy movement, Feb. 24, 2022
The Associated Press, California man charged with spear-gun killing of children, Aug. 11, 2021
USA Today, A White House summit on hate-fueled violence and another QAnon murder, Sept. 16, 2016
National Consortium for the Study of Terrorism and Responses to Terrorism, QAnon crime maps, accessed Oct. 11, 2022
Detroit Free Press, Walled Lake man's motive for violent shootings and links to internet under investigation, Sept. 12, 2022
The Washington Post, Daughter says QAnon conspiracy theory fueled father's deadly rampage, Sept. 12, 2022
Global Network on Extremism & Technology, QAnon and Beyond: Analyzing QAnon trends a year after January 6th, Jan. 6, 2022
Logically, EXCLUSIVE: Logically identifies GhostEzra, Florida man behind world's 'Largest antisemitic internet forum,' Aug. 20, 2021
Stanford University Press, Pastels and Pedophiles: Inside the Mind of QAnon, accessed Oct. 12, 2022
Brandeis Magazine, Code words and crumbs: Deciphering QAnon messaging, accessed Oct. 12, 2022
NBC News, California QAnon believer indicted on charges of killing his 2 children with a spearfishing gun, Sept. 9, 2021
The Independent, Former GOP candidates push baseless QAnon conspiracy theory that Hurricane Ian was created to punish DeSantis, Sept. 30, 2022
Meta, An update to how we address movements and organizations tied to violence, Aug. 19, 2020
Archived TikTok, saved Oct. 18, 2022
Archived YouTube video, saved Oct. 18, 2022
Archived Facebook post, saved Oct. 19, 2022
Archived Facebook post, saved Oct. 19, 2022
Archived Tweet, saved Oct. 19, 2022
Archived Instagram post, saved Oct. 19, 2022
The Associated Press, Inauguration sows doubt among QAnon conspiracy theorists, Jan. 20, 2021
Pew Research Center, The Role of Alternative Social Media in the News and Information Environment, Oct. 6, 2022
NBC News, QAnon videos are getting millions of views on TikTok as Trump embraces conspiracy theory, Sept. 21, 2022
Meta, An update to how we address movements and organizations tied to violence, accessed Oct. 19, 2022
BBC, QAnon: YouTube moves to purge 'harmful conspiracy theories,' Oct. 15, 2020
YouTube, ​​Managing harmful conspiracy theories on YouTube, Oct. 15, 2020
NBC News, Twitter bans Michael Flynn, Sidney Powell in QAnon account purge, Jan. 8, 2021
Twitter, An update following the riots in Washington, DC, Jan. 12, 2021
CBS News, Facebook bans QAnon pages, groups and Instagram accounts, Oct. 7, 2020
BBC, QAnon: TikTok blocks QAnon conspiracy theory hashtags, July 24, 2020
Morning Consult, Belief in QAnon wavers slightly among adults after Capitol riots, inauguration, Feb. 2, 2021
Kevin Drum Blog, Barely anyone believes in QAnon's conspiracy theories, Feb. 10, 2021
PRRI, The persistence of QAnon in the post-Trump era: An analysis of who believes the conspiracies, Feb. 24, 2022
The Washington Post, Gab, the social network that has welcomed Qanon and extremist figures, explained, Jan. 11, 2021
CNN, Gab: Everything you need to know about the fast-growing, controversial social network, Jan. 17, 2022
The New York Times, Rumble, the right's go-to video site, has much bigger ambitions, March 28, 2022
The Texas Tribune, Ted Cruz and John Cornyn question Ketanji Brown Jackson about anti-racism books, Supreme Court's gay marriage ruling, March 22, 2022
The New York Times, Judging a judge on race and crime, G.O.P. plays to base and fringe, March 22, 2022
NPR, Hawley's attacks on Ketanji Brown Jackson fuel a surge in online conspiracy chatter, March 24, 2022
The Washington Post, The QAnon catchphrases that took over the Jackson hearings, April 5, 2022
The Washington Post, How Rep. Marjorie Taylor Greene, promoter of QAnon's baseless theories, rose with support from key Republicans, Jan. 30, 2021
Axios, Republican and QAnon supporter Lauren Boebert wins House race in Colorado, Nov. 4, 2020
Telegram, CEO message, Jan. 12, 2021
The Daily Beast, MAGA's new shock jock is a bounty hunter with a troubled past, Nov. 5, 2021
PolitiFact, Stew Peters film 'Watch the Water' ridiculously claims COVID-19 is snake venom. That's Pants on Fire, April 19, 2022
The Associated Press, Checked by reality, some QAnon supporters seek a way out, Jan. 19, 2021
NPR, Where Have QAnon Supporters Gone? Jan. 30, 2021
The New York Times, QAnon believers struggle with inauguration, Jan. 20, 2021
Darren Bailey tweet, Oct. 18, 2022
PolitiFact, Social media post misleads about pretrial detention under Illinois Safe-T Act, Sept. 14, 2022
USA Today, Donald Trump embraces QAnon again at North Carolina rally as ties to violence raise concern, Sept. 23, 2022
Politico, QAnon follower gets 28-month sentence for death threats to Pelosi, Dec. 14, 2021
SFGate, QAnon believers convince themselves Nancy Pelosi video is full of secret messages, Jan. 30, 2022
Mashable, The 'QAnon Shaman' is not connected to Nancy Pelosi, Jan. 7, 2021
CNN, Alleged Paul Pelosi attacker posted multiple conspiracy theories, Oct. 28, 2022
Rolling Stone, Paul Pelosi's alleged attacker raged about 'pedos,' shared QAnon beliefs, Oct. 28, 2022
The Washington Post, Alleged assailant filled blog with delusional thoughts in days before Pelosi attack, Oct. 29, 2022
The Independent, Trump supporter in clown wig arrested at a Dairy Queen after threatening to 'kill all the Democrats,' Sept. 14, 2022
Insider, An armed Trump supporter in a clown wig was arrested after allegedly storming into a Dairy Queen and vowing to 'kill Democrats,' Sept. 14, 2022
The New York Times, Read the court filing by local prosecutors, Nov. 1, 2022
NPR, Today's Jan. 6 hearing looked at the role of Q-Anon, Proud Boys and Oath Keepers, July 12, 2022
PolitiFact, Election officials, lawmakers in Congress have faced increase in threats, Nov. 1, 2022
Insider, An armed Trump supporter in a clown wig was arrested after allegedly storming into a Dairy Queen and vowing to 'kill Democrats,' Sept. 14, 2022
Congresswoman Nancy Pelosi, Full biography, accessed Nov. 2, 2022
The Washington Post, Attack on Nancy Pelosi's husband follows years of GOP demonizing her, Oct. 29, 2022
The Associated Press, Suspect in assault at Pelosi home had posted about QAnon, Oct. 29, 2022
The New York Times, Suspect in Pelosi attack had other targets, authorities say, Nov. 1, 2022
Vanity Fair, Republican response to the Pelosi attack shows the party still won't confront political violence, Nov. 1, 2022
Los Angeles Times, 'We are a tinderbox': Political violence is ramping up, experts warn, Oct. 30, 2022
The Washington Post, The right's worst offenders on Paul Pelosi conspiracy theories, Nov. 1, 2022
Murrysville Star, Hempfield man in clown wig carrying loaded gun arrested at Delmont Dairy Queen, Sept. 12, 2022
Brookings, We need to take political violence seriously, Aug. 15, 2022
The Appeal, Wheatland man guilty of murder: Influenced by conspiracy theories, Banks had 'hit list' of potential victims, Nov. 2, 2022
PolitiFact, No, blogs weren't created day of Pelosi attack to smear conservatives, ​Nov. 2, 2022
NPR, Journalist enters the world of QAnon: 'It's almost like a bad spy novel,' Aug. 20, 2020
Los Angeles Times, Accused Pelosi attacker David DePape shared QAnon, other far-right, bigoted conspiracies, Oct. 28, 2022
USA Today, Pelosi attacker's conspiracies, hate speech spikes on Twitter & another QAnon murder, Nov. 4, 2022
Insider, Far-right pundits baselessly claim Hurricane Ian was created by the 'deep state' to target Gov. Ron DeSantis and other red states: 'They are angry with us,' Oct. 1, 2022
The Washington Post, A majority of GOP nominees deny or question the 2020 election results, Oct. 12, 2022
MLive, GOP SOS candidate Karamo takes election fraud conspiracies to court, Nov. 1, 2022
Vice, GOP candidate said elites drink blood, sell 'baby body parts' after abortion, Nov. 1, 2022
Bridge Michigan, Michigan GOP Secretary of State candidate to speak at QAnon conference, Oct. 20, 2021
Browse the Truth-O-Meter
More by Madison Czopek