There's no evidence that Rihanna or these other celebrities are sending water to the Amazon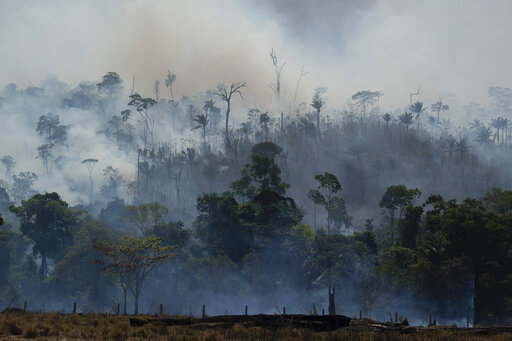 As wildfires continue to consume large swaths of the Amazon rainforest, some social media users are crediting celebrities with trying to help extinguish them.
In an Instagram post published Sept. 2, one user published a screenshot of a tweet that claims the singer Rihanna has hired "five planes that carried 90,000 liters of water to support the fire control" in the Amazon rainforest. Brazil's National Institute for Space Research estimates there have been 90,000 fires throughout the region this year.
"We luv Rihanna," the Instagram user wrote about the artist. "(Pretty sure it's a joke but we still luv her)"
We don't know if it's a joke, but we do know it's not true. The post, which has racked up thousands of Instagram likes and numerous shares, was flagged as part of Facebook's efforts to combat false news and misinformation on its News Feed. (Read more about our partnership with Facebook, which owns Instagram.)
(Screenshot from Instagram)
PolitiFact reached out to the Instagram user who shared the post, but we haven't heard back. We also reached out to the public relations agency that represents Rihanna for more details. We'll update this story if we hear back.
A search for the original tweet pictured in the Instagram post turned up several examples of the same claim, although with different celebrities. Over the past week, tweeters have claimed that Selena Gomez, rapper Bhad Bhabie, Nicki Minaj and other public figures have also hired five planes to carry 90,000 liters of water to the Amazon.
An advanced Twitter search of Rihanna's tweets revealed that the artist has never tweeted about the Amazon rainforest. She also hasn't mentioned the fires on her Instagram in the past several weeks.
Finally, we couldn't find any news stories mentioning Rihanna even speaking about the Amazon fires, much less hiring planes to carry water there. It's reasonable to assume a celebrity as well-known as Rihanna would receive at least some press attention for such a move. Rihanna's foundation, for example, has been involved with other humanitarian efforts, such as giving grants to nonprofits for disaster relief.
But when it comes to this rainforest claim, we couldn't find any evidence to support the notion that she or any of the other celebrities mentioned on Twitter had hired aircraft to help put out the Amazon fires.
We do know, however, that the Brazilian military has used warplanes to dump water on the blazes.
The Facebook post is inaccurate. We rate it False.