Social media posts mislead on Democratic senators' records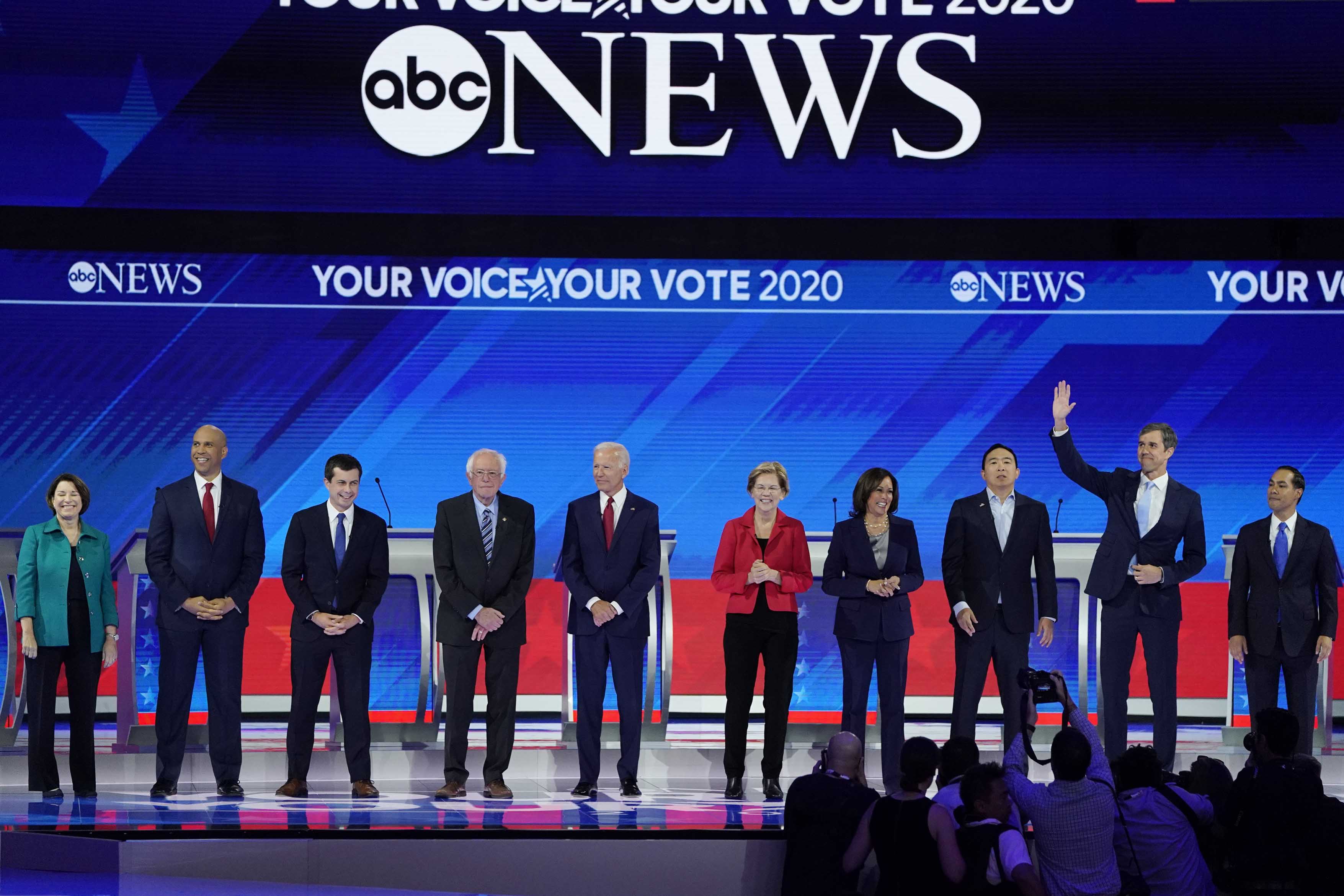 Just before the start of the Houston presidential debate, some Facebook users spread misinformation about the legislative records of Democratic lawmakers running for president.
One post claimed several of the senators running for president in 2020 had not passed any of the dozens of bills they had introduced.
"In Congress, Elizabeth Warren introduced 110 bills. 2 passed. Cory Booker introduced 120 bills. 0 passed," the Sept. 12 post reads. "Kamala Harris introduced 54 bills. 0 passed. Bernie Sanders never held a job until age 53. He lived off of welfare and four different women."
The Facebook post, which was actually a screenshot of a tweet, was flagged as part of Facebook's efforts to combat false news and misinformation on its News Feed. (Read more about our partnership with Facebook.)
It's a common strategy to attack politicians for their legislative records. And the post has been shared thousands of times on Facebook and Twitter, so we wanted to check it out. It's worth mentioning that it doesn't include an assertion about Amy Klobuchar, D-Minn. — the other senator vying for president.
The tweet screenshotted in the Facebook post was originally published by Mark Simone a little after midnight on March 14. Simone is a conservative talk show host on WOR, a radio station based in New York City. We reached out to Simone for the sources behind his tweet, but we haven't heard back.
The post is inaccurate and paints an incomplete picture of the politicians' effectiveness.
Tweet misconstrues the legislative record
For this fact-check, we first used the most stringent definition of the word "passed" — legislation that is signed by the president — to assess the validity of this post. Then we looked at how many of the senators' bills had passed at least the Senate. We looked at each senator's record at the time of Simone's tweet to find out.
Below are their records as of March 13, the last business day before the original post, according to GovTrack, a website that keeps tabs on congressional legislation.
Sen. Cory Booker, D-N.J.
Introduced: 113
Sen. Kamala Harris, D-Calif.
Introduced: 56
Signed by president: 0
Sen. Elizabeth Warren, D-Mass.
Introduced: 108
Signed by president: 0
Those numbers are close but not exactly to what Simone shared. Harris had introduced slightly more legislation than the radio host claimed in his tweet, while Booker and Warren had introduced slightly less. It's possible that Simone used a separate source that counted each senator's bills differently. But we don't know for sure since he did not get back to us.
However, all the senators had introduced legislation that had passed at least the Senate as of March 13. Booker even had two bills signed into law by President Barack Obama. So it's inaccurate to say that none of them had any of their bills passed as of March 13. It's even more inaccurate to repost that claim on Facebook six months after it was originally made.
Finally, some experts doubt the premise of counting how many bills lawmakers have proposed.
"Sponsoring bills is a very limited and often questionable way of judging effectiveness," said Norman Ornstein, a resident scholar at the American Enterprise Institute, in an email. "Much key legislating now is done in omnibus bills, where much is done through amendments. Divided government shuts out minority lawmakers, especially now in this tribal era."
"There are many, many other ways of being effective."
For instance, the Boston Globe reported in 2018 on a dozen or so examples Warren can point to in which she worked with Republicans to get bills to Trump's desk.
"She introduced legislation with GOP Senator Chuck Grassley of Iowa to make hearing aids available over-the-counter, for example. She cosponsored the 'Smart Savings Act' with GOP Senator Rob Portman of Ohio to boost federal employees' savings; an opioids bill with Shelley Moore Capito of West Virginia; and, with John Cornyn of Texas, legislation to make it easier for veterans to obtain commercial driver's licenses," the Globe wrote.
Booker, meanwhile, is credited with helping pass the First Step Act, a criminal justice reform bill that was signed into law by Trump. Booker was a co-sponsor on the legislation, which reversed harsh drug sentencing guidelines adopted in the 1980s and 1990s.
Post revises Sanders' resume
Attacks on lawmakers' legislative records are pretty common. So are falsehoods about Sanders' life and career.
Claims like those made in the Facebook post, that Sanders "never held a job until age 53" and that he "lived off of welfare and four different women," have been circulating online since at least 2016 — the last time he ran for president. We rated a similar post False in March.
In that fact-check, we noted that, after graduating from the University of Chicago in 1964, Sanders held a variety of odd jobs, including carpenter and preschool teacher. Those were likely not full time, but working part-time jobs is not the same as being unemployed.
RELATED STORY: Fact-checking the Democratic presidential debate in Houston
We also found no evidence to support the claim that Sanders lived off welfare, which generally consists of several government programs designed to help low-income individuals, before being elected.
A spokesperson for his campaign previously told us that the assertion was made-up. There have been media reports suggesting Sanders collected unemployment benefits in 1974, the second time he ran for U.S. Senate representing Vermont. He won only 4.1% of the vote that year, partially because he campaigned as a member of the Liberty Union Party, which advocates for democratic socialism.
Sanders also made unsuccessful bids for governor of Vermont in 1972, 1976 and 1986. He served as mayor of Burlington, Vt., from 1981 to 1989 before joining the U.S. House of Representatives in 1991. In 2006, he was elected to the Senate.
The source of the claim that Sanders lived off "four different women" is unclear. The senator has been married twice, but there's no evidence to suggest they were the primary breadwinners.
Our ruling
A Facebook post claimed, "In Congress, Elizabeth Warren introduced 110 bills. 2 passed. Cory Booker introduced 120 bills. 0 passed. Kamala Harris introduced 54 bills. 0 passed. Bernie Sanders never held a job until age 53. He lived off of welfare and four different women."
The post attacks the legislative effectiveness of Senate Democrats. The original tweet is also inaccurate; at the time, all the senators mentioned had sponsored bills that passed the Senate. Two of Booker's bills had even been signed by the president. As for Sanders, the post fabricates several parts of the senator's biography.
The Facebook post is inaccurate. We rate it False.