Stand up for facts and support PolitiFact.
Now is your chance to go on the record as supporting trusted, factual information by joining PolitiFact's Truth Squad. Contributions or gifts to PolitiFact, which is part of the 501(c)(3) nonprofit Poynter Institute, are tax deductible.
I would like to contribute
Says a prank phone call caused "400 children to be taken from their parents... without warrant."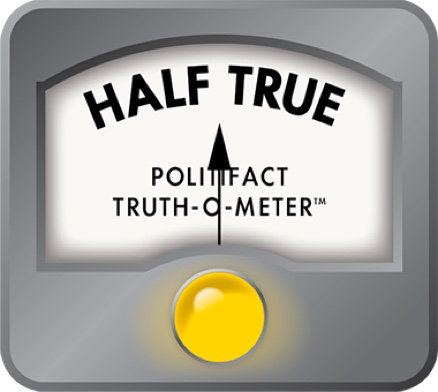 Medina says 400 children were taken from their parents because of a hoax
Republican Debra Medina recently issued a call to action asking fellow Texans to join her in "the fight for freedom" that she's dubbed the cornerstone of her campaign for governor.

"Why have we Texans allowed 400 children to be taken from their parents, from a prank call, without warrant?" her Jan. 27 e-mail states. "This is NOT FREEDOM."

Medina didn't respond to several phone calls to elaborate on what she meant.

But it's all but certain she was referring to the Yearning for Zion Ranch raided by state officials in April 2008, leading to 439 children being placed into foster care for about two months while authorities investigated child abuse suspicions about men living on the ranch outside Eldorado, where a polygamist sect of the Fundamentalist Church of Jesus Christ of Latter Day Saints had settled.

By all accounts, a March 30, 2008, telephone call to a West Texas family violence shelter led the shelter to contact state officials who then got a judge's permission to raid the ranch. The judge also authorized the removal of children from the ranch.

Authorities said then that the crucial initial call came from a 16-year-old girl who told the shelter she'd suffered sexual and physical abuse at the hands of her husband on the ranch.

Texans watching the saga—including the separation of many children from their mothers and siblings—grew uncertain over whether state officials had overstepped their lawful duty to intervene in response to reports of child abuse or neglect.

In May 2008, the Texas Supreme Court ordered all but a handful of the children to be returned to the ranch. The court further ruled that the state went too far by removing every child. It also said the state failed to show that any more than five teenage girls were being sexually abused or that prepubescent children were in danger.

In the following months, however, officials filed criminal charges ranging from bigamy to sexual assault of a child against 12 men connected with the ranch, including sect leader Warren Jeffs, 54.

Last November, Raymond Jessop, 38, was sentenced to 10 years in prison for sexually assaulting an underage girl with whom he had a "spiritual marriage." His young wife had become pregnant at age 16.

But the state has ended its day-to-day oversight of the ranch residents; the last girl returned from foster care in August 2009.

And officials never found anyone who admitted to being the girl authorities say called the crisis center. They did determine, however, that the call was made from a phone in an apartment in Colorado Springs, Colo., then home to Rozita Swinton, a woman who has been convicted making another hoax call.

Spokesman Patrick Crimmins of the Texas Department of Family Protective Services, which oversees Child Protective Services, the agency responsible for investigating suspicions of abuse and neglect, conceded that the call from Colorado prompted investigators to seek judicial approval to visit the ranch.

But Crimmins disputed the notion that the call—hoax or not—prompted the removal of children.

"Once caseworkers arrived at the YFZ Ranch," Crimmins said, "the investigation that occurred and the subsequent removal was based on what investigators found — evidence of abuse."

A December 2008 DFPS report concluded that 12 girls who'd been living on the ranch were victims of sexual abuse. The report said more than 260 children suffered neglect because they were exposed to sexual abuse in their households.

Medina correctly said more than 400 children were taken from their parents. And the detention of the children happened after state authorities were called by the shelter that fielded a call from Colorado that may have been a hoax — though no authority has proved the call was a prank.

Significantly, the removal of children didn't solely occur because of the call, as Crimmins said.

The children were taken temporarily based on what investigators saw upon the raid. Therefore, Medina's additional claim that the children were removed "without warrant" isn't supported.

We rate Medina's claim Half True.
The Supreme Court of Texas, In the interest of the children at YFZ Ranch, May 29, 2008
The Texas Department of Family and Protective Services, Eldorado investigation, Dec. 22, 2008
Austin American-Statesman, Sect members get an earful, by Corrie MacLaggan, April 15, 2009

Associated Press, Where 1 man ruled, by Michelle Roberts, April 5, 2009

Associate Press, Eldorado sect marks raid anniversary, by Michelle Roberts, April 4, 2009

Austin American-Statesman, Year after raid, bills consider removal policy, by Corrie MacLaggan, April 3, 2009

Associated Press, Woman linked to abuse call, by George Merritt, April 24, 2008

Interview with Patrick Crimmins, Department of Family Protective Services spokesman, Jan. 29

Interview with Jerry Strickland, Attorney General spokesman, Jan. 29
Browse the Truth-O-Meter
More by Ciara O'Rourke
Support independent fact-checking.
Become a member!
In a world of wild talk and fake news, help us stand up for the facts.