Stand up for facts and support PolitiFact.
Now is your chance to go on the record as supporting trusted, factual information by joining PolitiFact's Truth Squad. Contributions or gifts to PolitiFact, which is part of the 501(c)(3) nonprofit Poynter Institute, are tax deductible.
I would like to contribute
"Nobody has been talking about it (Medicaid fraud), focused on it, or paying attention to it."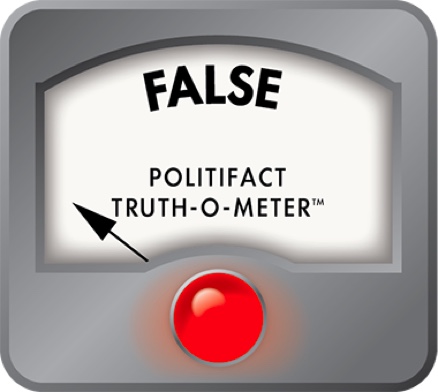 Alex Sink says 'nobody' paying attention to Medicaid fraud in Florida
Chief Financial Officer Alex Sink is criticizing her potential November opponent for governor for failing to address abuses in the state-run Medicaid system.

The Democrat's campaign is touting that the number of Medicaid fraud cases opened has dropped significantly since Republican Attorney General Bill McCollum took office, and that Florida has the second-highest number of Medicaid recipients in the nation, but ranks 39th in convictions per person in its fraud unit.

By one estimate, Medicaid fraud costs Floridians $3.2 billion annually. The attorney general's office oversees Medicaid fraud investigations.

"That Medicaid thing is just glaring," Sink said in a March 4, 2010, interview with the St. Petersburg Times/Miami Herald. "And ... this is nothing new, this is not a new problem. Nobody has been talking about it, focused on it, or paying attention to it. It goes on and on and on. Very frustrating."

For this item, we'll zero in on Sink's statement that "Nobody has been talking about it (Medicaid fraud), focused on it, or paying attention to it."

We'll cut to the chase. It turns out lots and lots of people -- including McCollum -- have.

Medicaid fraud, in fact, has been a constant topic of discussion among state lawmakers since at least 2004.

From the highlight reel:
Former Gov. Jeb Bush signed a bill in 2004 requiring prior government authorization for patients seeking certain medications and limited Medicaid recipients to one doctor or pharmacy. The bill also increased penalties for drug dealers selling drugs paid for by Medicaid.
A 2007 bill gave the attorney general the ability to recover triple damages in Medicaid fraud cases.
The Legislature passed a bill in 2008 that increased oversight of home health agencies and nursing businesses that provided Medicaid services.
In 2009, the Legislature passed and the governor signed a health care bill specifically addressing Medicaid fraud. The bill, SB 1986, created incentives for people reporting cases of Medicaid fraud, according to Senate staff analysis. (McCollum later allocated $1 million). It increased penalties for Medicaid fraud and increased licensing standards. It also designated Miami-Dade County as a "health care fraud crisis area" and directed the Agency for Health Care Administration to start two pilot projects to better control and prevent fraud in South Florida.
This year, state Sen. Charlie Justice, D-St. Petersburg, and state Rep. Scott Randolph, D-Orlando, are sponsoring bills that would require the Department of Health and Office of Insurance Regulation to revoke or refuse to renew permits of people or businesses who have been convicted on Medicaid fraud charges. State Sen. Don Gaetz, R-Niceville, sponsor of the 2009 changes, has filed a followup fraud bill this year.
McCollum, specifically, also has been involved. As attorney general, he twice wrote to U.S. Health and Human Services Secretary Kathleen Sebelius asking for a federal waiver to expand some fraud detection programs in his Medicaid Fraud Control Unit. That unit, meanwhile, has seen Medicaid fraud convictions steadily rise, from 38 in 2004 to 64 in 2007 to 109 in 2009, the attorney general's office reported.

That's a contrast to the number of cases opened -- the figure Sink cited. The attorney general's office says that's because it changed the way it classifies when a case is opened. Previously, every complaint constituted an open case. Now, only complaints with merit become a case.

Fighting against Medicaid fraud has long been a priority of state government, said Alan Levine, who served as the Agency for Health Care Administration secretary under Gov. Jeb Bush. AHCA manages the Medicaid program, while the attorney general's office investigates and prosecutes fraud cases.

"We made fighting fraud a huge effort," said Levine, who now leads Louisiana's health department. "Legislatures going back eight or nine years passed sweeping measures with significant statute changes for the sole purpose of fighting fraud."

Levine said in his office he had anywhere between 50 and 100 people examining Medicaid claims, in addition to the 200 or so investigating fraud in the attorney general's office. The problem, he said, is the system -- which pays out the claims before regulators have a chance to look at the charges. As he talked, he kept referring back to a 2006 Associated Press article to help make his point. Its title, "Florida's Efforts to Crack Down on Medicaid Fraud Paying Off."

The story said fighting fraud was one of Levine's "biggest priorities."

Still, Medicaid fraud remains a serious problem like Sink suggests. The Legislature's policy research office estimated that fraud could account for 5 to 20 percent of the Medicaid program, or $940 million to $3.7 billion, in 2008, the Times/Herald reported. Medicaid costs will hit about $19 billion in 2010, providing health services to about 2.8 million poor children, frail elders and severely disabled Floridians -- about 14 percent of the population.

The numbers get groans from Republicans and Democrats alike. Sen. Durell Peaden, a Crestview Republican who chairs the Senate health budget committee, grumbled about McCollum's efforts. "He needs to get his butt in gear,'' Peaden said.

McCollum, in the same story, agreed that there was room for improvement. Sink spokeswoman Kyra Jennings notes that's like an admission of his failures. (Jennings also wanted to note that during the interview, most of Sink's comments about Medicaid fraud were directed at McCollum. The "nobody" quote came near the end of the interview, almost as in summation. We don't disagree with that).

Look, we're not here to weigh in on how successful anti-Medicaid fraud efforts have been in Florida. By the sound of it, by the fact that the state may be losing $3.2 billion a year, it sounds like there is indeed room for improvement. And so we're clear, we're not saying who's to blame. Sink's campaign touts that the number of cases are down. McCollum's attorney general office touts that fraud convictions are up.

But any inference that elected officials are just letting the money walk out the door ignores reality.

Democrats and Republicans in the House and the Senate are proposing legislation each year meant to clamp down on Medicaid abuses. The House held a previously scheduled hearing about Medicaid and Medicaid fraud the very morning after Sink made her claim. The state Senate talked about Medicaid fraud the same week as well. McCollum, meanwhile, has at least twice written to federal officials in Washington suggesting a fix that he says will better protect Florida against fraud. And more than 250 people are employed at two state agencies to monitor Medicaid payouts for fraud and abuse.

At PolitiFact Florida, we always say words matter. In this case, Sink said, "Nobody has been talking about (Medicaid fraud), focused on it, or paying attention to it." While the outcomes may not be to her liking, people are paying attention. For that, we rate her claim False.
SB 752 (2010)

SB 1986 (2009) staff analysis

House Select Policy Council on Strategic & Economic Planning calendar, March 5, 2010

Attorney General Bill McCollum's letters to HHS Secretary Kathleen Sebelius

Medicaid Fraud Control Unit conviction statistics, 2004-2009

Alex Sink blames Bill McCollum for Medicaid fraud problem, St. Petersburg Times, March 5, 2010

"Crist signs off on 47 measures, expands gambling in Broward," Palm Beach Post, June 29, 2007, accessed via Nexis

"State funds fraud tipline," Tampa Tribune, Sept. 18, 2009, accessed via Nexis

Interview with Alan Levine, former AHCA secretary, March 5, 2010

Interview with Sandi Copes, attorney general spokeswoman, March 5, 2010

"Bush signs Medicaid abuse measure," Orlando Sentinel, June 24, 2004, accessed via Nexis

"Florida's Efforts to Crack Down on Medicaid Fraud Paying Off," Sarasota Herald-Tribune, Feb. 28, 2006

Interview with Kyra Jennings, Sink campaign spokeswoman, March 5, 2010
"Fraud Reduction Recommendations," Florida Tax Watch
Browse the Truth-O-Meter
More by Aaron Sharockman
Support independent fact-checking.
Become a member!
In a world of wild talk and fake news, help us stand up for the facts.