Stand up for the facts!
Our only agenda is to publish the truth so you can be an informed participant in democracy.
We need your help.
I would like to contribute
"Taxpayer-funded benefits to illegals" in California are "a skyrocketing cost under Obamacare."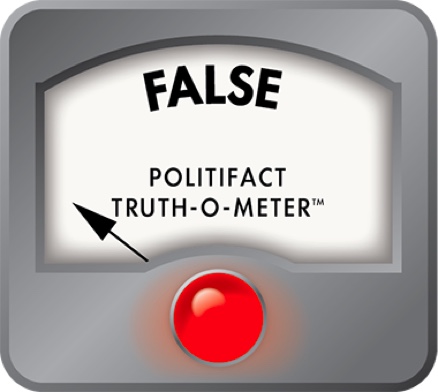 California GOP candidate blames Obama health care bill for "skyrocketing" health costs
The Republican primary to succeed Arnold Schwarzenegger (R) as governor of California has spawned a flood of ads attacking both Meg Whitman, the former CEO of eBay, and Steve Poizner, the state insurance commissioner -- the two frontrunners for the nomination.

One ad, aired by Poizner beginning in April, argues that "like Schwarzenegger," Whitman "will continue taxpayer-funded benefits to illegals. A skyrocketing cost under Obamacare."

We'll acknowledge some uncertainty about the statement's meaning because of its somewhat curious syntax. (Confusing matters further, the first sentence is read by a man, and the subsequent fragment by a woman.) However, we believe a reasonable person would interpret it to mean that a policy of continuing "taxpayer-funded benefits to illegals" would mean "a skyrocketing cost" due to the newly passed federal health care law.

Whitman's press office did not respond to several inquiries from PolitiFact. The candidate's website does not directly address the question of whether she would continue "taxpayer-funded benefits to illegals" in the health care realm, though it does say that she advocates curbing state benefits for illegal immigrants in two other areas -- barring them from attending state-funded colleges and universities and preventing them from securing drivers' licenses.

As for the question of whether the federal health care law will lead to skyrocketing costs, it would be incorrect to say that the new federal law is poised to increase California's costs directly. Written into the federal law is a clearly worded provision that prevents illegal immigrants from taking advantage of the law's benefits, such as the health care exchanges where uninsured Americans can compare plans and purchase coverage.

But the Poizner campaign argues that the new law could have an indirect impact on California's deeply strained budget.

The federal bill expands Medicaid eligibility to all Americans earning up to 133 percent of the poverty line. "This will lead to more illegal immigrants enrolling, because California provides a version of Medicaid to illegal immigrants," Poizner's campaign press secretary, Bettina Inclán, told PolitiFact.

But it's wrong to assume that illegal immigrants will qualify for full-blown Medicaid in California. In fact, the only entitlement they get from Medicaid is emergency care in hospitals, which is already mandatory under federal law and was not changed by the newly passed health care bill. These limited benefits are available to any illegal immigrant who would otherwise qualify for Medicaid were it not for their immigration status. (Illegal immigrants can also qualify for Medicaid benefits for long-term care, but it's not an entitlement -- coverage is provided only to the extent that legislators and the governor agree to fund the program, and there's no federal match.)

Right now, emergency care for illegal immigrants in California is paid by the state and local government. To the extent that more illegal immigrants will now qualify for California's version of Medicaid (known as Medi-Cal) and use emergency hospital services, the only difference will be a shift of payment responsibility from one state or local account to another. (Whether the federal government will continue to pick up part of the cost for treating illegal immigrants using Medi-Cal -- as the federal government does today -- is unclear, given the new bill's language.)

Take pregnancy care. There shouldn't be any new costs, because Medi-Cal already covers pregnant women up to 185 percent of the poverty line, which is more generous than the 133 percent in the federal law. As a result, undocumented immigrants who need emergency delivery would already have been on emergency Medicaid anyway.

The Poizner campaign has a point that coverage of emergency care for illegal immigrants -- including pregnancy costs -- is not cheap, costing upwards of $800 million a year. And that amount seems destined to rise, judging by the recent history of inflation in the health care sector and perhaps an increase in the number of illegal immigrants residing in the state.

So the state's burden for providing health care to illegal immigrants may go up, but it is not accurate for the Poizner campaign to blame that development either on the new federal health care law or on the Democratic president who pushed for it.
The new federal law specifically prevents illegal immigrants from benefitting, and most of the additional indirect costs that might be expected from expanding the Medicaid rolls are already being paid in California by different state or local government accounts. For these reasons, the phrase "a skyrocketing cost under Obamacare" is a gross exaggeration. We rate the statement False.
Steve Poizner, "Deserve" (television ad), accessed May 18, 2010

Meg Whitman for Governor, illegal immigration policy web page, accessed May 18, 2010

Sacramento Bee, "Ad Watch: Poizner launches largely misleading attack on Whitman," April 10, 2010

Sacramento Bee, "Dan Morain: Poizner pulling off the improbable as he narrows Whitman's vast lead," May 16, 2010

George Skelton, "Illegal immigrants are a factor in the budget gap math" (column in the Los Angeles Times)

Kaiser Family Foundation, side-by-side comparison of health care bills, accessed May 18, 2010

E-mail interview with Bettina Inclán, press secretary for Republican gubernatorial candidate Steve Poizner, May 17, 2010

E-mail interview with Michael Tanner, senior fellow with the Cato Institute, May 18, 2010

E-mail interview with Edwin Park, senior fellow with the Center on Budget and Policy Priorities, May 18, 2010

E-mail interview with Farra Bracht, principal fiscal and policy analyst for the California Legislative Analyst's Office, May 18, 2010
Browse the Truth-O-Meter
More by Louis Jacobson
Support independent fact-checking.
Become a member!
In a world of wild talk and fake news, help us stand up for the facts.