Get PolitiFact in your inbox.
Says "city leadership is threatening to lay off police and emergency services personnel to balance the budget."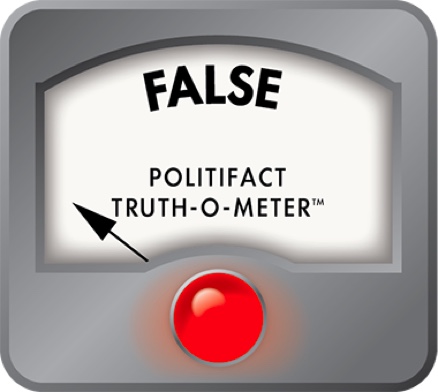 Memphis police union says Mayor Wharton threatened to lay off cops, emergency services personnel
At a  recent meeting with The Commercial Appeal editorial board, Memphis Mayor A C Wharton showed a side to his personality seldom seen in his many years of public service -- anger.

The subject -- commercials being aired by the Memphis Police Association, the union representing Memphis's police officers. The ads claim the city's "leadership" has used city tax money and offered tax breaks to companies like Mitsubishi and Electrolux, and then warns that "city leadership is threatening to lay off police and emergency services personnel to balance the budget."

Wharton said he had been seeing the ads running "24-7" and that "it really irks me."

Coming from Wharton, whose reputation for a calm demeanor goes back to his days as one of the area's most esteemed courtroom lawyers, that qualifies as a tirade. So we decided to take a closer look at the charges.

The commercial is part of a larger campaign by the MPA called "Wake Up, Memphis!" that includes a dedicated home on the MPA website and handouts. In an appearance with Fox 13 News, MPA president Mike Williams said, "It's not our intention to irk the mayor off." But did the union go too far in its criticism?

Wharton has consistently said, since winning a special election in 2009, that he would do everything possible to avoid cuts in public safety. Mayoral spokeswoman Mary Cashiola wrote in an email: "In the budgets he has presented, laying off fire and police personnel has never been submitted, planned, or agreed to at any level."

In an email response, MPA vice president Essica Littlejohn confirmed that by "city leadership," the MPA was referring to Wharton, providing links to two TV news reports featuring interviews with the mayor. She names Wharton specifically and says that he "expressed that police and fire would not be exempt from layoffs as in years past, although that option would be a last resort. It is our belief that Mayor Wharton planted the seed of police and fire layoffs to soften the blow regarding the need for a property tax increase. So to answer your question, yes, there were definitely threats made to lay off police and fire personnel."

One of the TV reports, from WPTY's ABC 24, does indeed lead with this sentence: "Mayor A C Wharton is considering police and fire department layoffs in Memphis as he prepares to present his budget ideas to city council members next week."

Another, from WMC's Action News 5, has this headline: "Memphis police, firefighters could face layoffs." The station even used this wording in the web address to try to attract the attention of search engines like Google: "police-and-firemen-now-included-in-city-layoffs."

So, case closed, right? Not exactly, at least when you look at what the mayor said rather than how the TV stations teased the pieces to entice viewers.

Wharton told ABC 24: "I made it a cardinal principle we would not take any boots off the street. But things are so challenging now, I'm not going to rule out anything. Obviously that would be my last resort."

This is what Wharton told Action News 5: "I'm not saying yes, I'm not saying no. I'm simply saying that when we go before the council, we will have looked at everything."

He also said, "For the whole time I've been in office, that's the first thing we want to protect."

The mayor's spokeswoman, Cashiola, contends that "the Mayor's statement about it being a last resort shouldn't be taken as a threat but an indicator of something he did not plan to do. Calling those layoffs a last resort means just that – everything else would be tried before public safety would even receive the slightest consideration."

The budget the mayor presented, in fact, not only did not propose layoffs for public safety personnel but in fact proposed an overall increase in spending on public safety. Memphis Fire Department director Alvin Benson even said that there will be hiring to replace employees lost through attrition.

Despite that, the commercials continued to run and remain highlighted on the MPA's website.

Our ruling

In trying to influence the Memphis budget hearings, the Memphis Police Association ran commercials claiming that a mayor who still has never proposed cuts in public safety areas was "threatening to lay off police and emergency services personnel to balance the budget."

Though the mayor said he was "not going to rule out anything" he never said there were serious plans to lay off cops or emergency services personnel. In fact, he said such moves would be a "last resort" and the budget he eventually proposed calls for increased spending on public safety.

We therefore rule the police union's statement False.
Browse the Truth-O-Meter
More by Zack McMillin
Support independent fact-checking.
Become a member!
In a world of wild talk and fake news, help us stand up for the facts.