Stand up for the facts!
Our only agenda is to publish the truth so you can be an informed participant in democracy.
We need your help.
I would like to contribute
"More Tennesseans have hunting and fishing licenses than vote."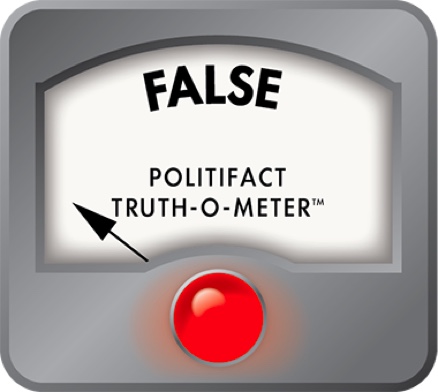 Lamar Alexander says more Tennesseeans have hunting and fishing licenses than vote
In what was a busy post-election week for Sen. Lamar Alexander -- holding hearings on the meningitis outbreaks and passing the bipartisan PREEMIE Act to prevent infant mortality -- the office of Tennessee's senior Republican issued a news release to announce a vote "to support S. 3525, the Sportsmen's bill." A lot of Tennesseans love to hunt and fish, and the release noted that Alexander supported the bill because it "increases hunting and fishing access to federal lands while reauthorizing several conservation programs."

The news release's headline put it another way: "Keep hunting and fishing without burdensome regulations, while protecting our wetlands and wildlife."

Those claims fall into the category of opinion, but the quote provided from Alexander asserted a statement of fact -- and one he's used before: "More Tennesseans have hunting and fishing licenses than vote."

We know hunting and fishing are popular, but, fresh off the 2012 election, we were aware that more than 2.4 million votes were cast in Tennessee on Nov. 6. Given that Tennessee has a population of 6.4 million, that would mean that some one-third of all Tennesseans -- just fewer than half of whom are men -- have hunting and fishing licenses.

The senator's office said it was basing the Tennesseans who vote number on the Nov. 2, 2010, midterm election, in which 1,620,542 votes were cast, because that was the most recent election for which official certified results were available. For the hunting and fishing licenses, Alexander's office pointed to U.S. Fish and Wildlife Services reports from 2004, in which it added 727,525 from the hunting license report of 2003 numbers to the 992,727 from the fishing license report of 2003 numbers to come up with 1,720,252.

When we contacted the Tennessee Wildlife Resources Agency, we discovered that hunting and fishing licenses are renewable on a yearly basis. Another key point -- most of the Tennessee licenses are what as known as Type 1: Hunting and Fishing Combo. That allows for fishing and hunting of small game, and TWRA press officer Lee Wilmot said that, for 2012, there had been 373,562 such licenses issued.

Those hunting larger game, like deer, purchase a Type 4: Annual Sportsman, and 61,284 have been issued for 2012. Throw in the 32,205 Type 2: Youth licenses, the 18,146 Type 166: Permanent Senior Citizen licenses and Type 167: Resident Annual Senior Citizen licenses and you get to  486,416 hunting and fishing licenses issued in Tennessee for 2012.

That number is well short of even the 1,620,542 votes cast in November of 2010 in Tennessee, and it's even further away from the unofficial, non-certified count of 2,454,470 votes in the recent Nov. 6 election and the 2,599,749 votes cast in the 2008 presidential election in Tennessee. More than 2.4 million voted in the 2004 presidential election. 
Sen. Alexander reached out to us directly and acknowledged that he should have qualified the quote more carefully to make it clear that he was referring to the number votes cast in the 2010 election.  

The discrepancy in numbers between actual licenses issued from 2012 and the 2003 numbers shown in that federal report appear to be related to how states are allowed to report to the federal agency. A note on the state site, for instance, says Tennessee issues the dual hunting and fishing "combo" license in part to maximize statistics used to receive federal funding.

We did find a more recent U.S. Fish and Wildlife report, from 2012, that looked closely at numbers of sportsmen and outdoor enthusiasts in 2011. It did not list licenses, but instead relied on the U.S. Bureau of Census to help make scientific estimates. In its "Table 4: Anglers and Hunters by Sportsperson's State of Residence for 2011," the report's number for Tennessee is 923,000.

Again, well short of votes cast by Tennesseans in the 2010 midterm elections, and nowhere close to the number of votes cast in any of the three most recent presidential elections.

Our ruling

We do not disagree with Sen. Alexander's point that hunting and fishing remain popular in Tennessee, but his statement that more Tennesseans have hunting and fishing licenses than vote is not supported by the most recent and most reliable numbers. There are more voters in Tennessee than sportsmen, so we rule this statement False.
U.S. Census Bureau, State and County QuickFacts.

Tennessee Division of Elections reports for 2004 presidential election, 2008 presidential election, 2010 midterm election and 2012 presidential election.

U.S. Fish and Wildlife Service, 2004 National Hunting License Report.

U.S. Fish and Wildlife Service, 2004 National Fishing License Report.

U.S. Fish and Wildlife Service, 2011 National Survey of Fishing, Hunting, and Wildlife-Associated Recreation State Overview.

Tennessee Wildlife Resources Agency, website.

Hunting and fishing brochure from Tennessee Wildlife Resources Agency.

Interview and emails with Lee Wilmot, press officer with TWRA.

Interview and emails with Jim Jeffries, spokesman for U.S. Sen. Lamar Alexander.
Browse the Truth-O-Meter
More by Zack McMillin
Support independent fact-checking.
Become a member!
In a world of wild talk and fake news, help us stand up for the facts.