Stand up for the facts!
Our only agenda is to publish the truth so you can be an informed participant in democracy.
We need your help.
I would like to contribute
Says Mitt Romney has said "we don't need 'more firemen, more policemen, more teachers.' "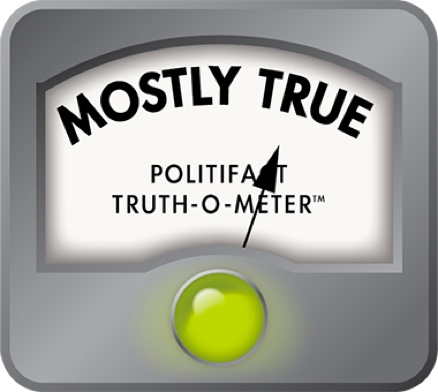 Tennessee Democrats accuse Romney of saying more cops, more firemen, more teachers are not needed
The debate over economic policy is beginning to dominate the presidential campaign, and when presumed Republican nominee Mitt Romney visited suburban Nashville for a June 12 fundraiser, the Tennessee Democratic Party pounced on a statement it called "shocking."

The TNDP sent a flurry of similarly worded press releases and one read: "Rep. Mike Turner, a career firefighter, and Principal Roxie Ross, a lifelong educator, held a press conference call at 2 p.m. responding to Mitt Romney's claim that we don't need 'more firemen, more policemen, more teachers' ahead of a Romney fundraiser in Williamson County."

Of course, Republicans often criticize "big government" and sometimes portray government workers as overpaid, but it's rare to see any politician single out a specific set of workers -- particularly firefighters and police officers. Noting that the TNDP isolated a phrase in quotes, we wondered if Romney's words might have been taken out of context.

TNDP communications director Brandon Puttbrese responded to our inquiry with links to news articles about Romney's comments, made just after Wisconsin Republican Gov. Scott Walker won the recall election.

Here is the full Romney quote from which the TNDP lifted the remarks. Romney is referring to President Obama's call for more spending to boost the public sector: "He wants another stimulus, he wants to hire more government workers. He says we need more firemen, more policemen, more teachers. Did he not get the message of Wisconsin? The American people did. It's time for us to cut back on government and help the American people."

We note that Romney did not say there should be "fewer" policemen, firemen and teachers, but the full context of the quote makes clear he disagreed with Obama's stated policy goal of having Congress appropriate more stimulus money to add more of them. The more accurate characterization of Romney's remarks would have been that "Romney disagrees with President Obama's goal of adding 'more firemen, more policemen, more teachers,' " though we recognize that doesn't have the same zing as the TNDP's wording.

Romney's quote came at the same event in Iowa in which he criticized Obama for saying that "the private sector is doing fine."

Obama's private sector comment was part of a longer discussion in which he argued the massive public sector job losses have been a drag on an economy that has otherwise steadily added private sector jobs. Romney has pushed back, suggesting that it is an overweight public sector that is shackling the private sector.

One point worth noting here is that Walker has responded to the Obama-Romney tete a tete by defending his own record when it comes to firemen, policemen and teachers. He said recently: "I know in my state our reforms allowed us to protect firefighters, police officers and teachers. That's not what I think of when I think of big government."

Our check of other Romney comments found that he has typically been critical of government workers in general without specifying workers such as cops and firefighters: "That stimulus he [President Obama] put in place — it didn't help private sector jobs, it helped preserve government jobs. And the one place we should have shut back — or cut back — was on government jobs."

Our ruling

The Tennessee Democratic Party says Mitt Romney has said "we don't need 'more firemen, more policemen, more teachers.' "

That's a slight exaggeration of Romney's remarks -- he was responding to Obama's comments on them, not outlining his own specific policy against them. Still, that's pretty close to what Romney said. We rate the claim Mostly True.
CNN Political Ticker blog, "Romney on Obama: 'Is he really that out of touch?'", June 8, 2012.

Julian Pecquet, "Gov. Walker splits with Romney, says firemen, teachers aren't 'big government'" for The Hill, June 10, 2012.

Tennessee Democratic Party, "Tennesseans respond to Romney's disdain for public servants," June 13, 2012.
Browse the Truth-O-Meter
More by Zack McMillin
Support independent fact-checking.
Become a member!
In a world of wild talk and fake news, help us stand up for the facts.