Stand up for the facts!
Our only agenda is to publish the truth so you can be an informed participant in democracy.
We need your help.
I would like to contribute
Says Jeanne Shaheen "voted to pave the way for a new national energy tax."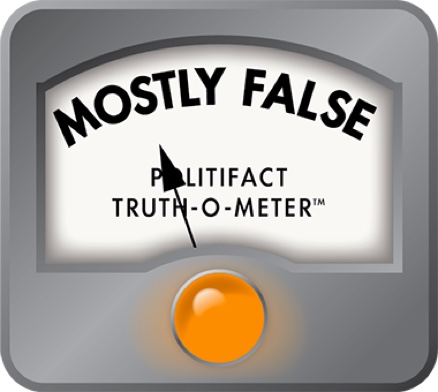 In debate, Scott Brown says Jeanne Shaheen 'voted to pave the way' for a carbon tax
In an Oct. 21, 2014, debate in Concord, N.H., Sen. Jeanne Shaheen, D-N.H., and her Republican challenger, former Massachusetts Sen. Scott Brown, tangled over energy policy.
At one point, Brown said Shaheen "voted to pave the way for a new national energy tax."
We thought we'd take a closer look.
This claim echoed, but did not precisely match, one made in a June press release by Brown's campaign manager, Colin Reed -- that "one year ago, Sen. Shaheen voted for a measure that would have amounted to a new national energy tax."
This referred to the debate surrounding a "carbon tax" -- another term for taxes on oil, gas and coal usage. The logic behind the tax is that by making natural resources costlier for individuals and businesses to use, a carbon tax would encourage the use of alternative energy sources that have a smaller environmental impact.
Most economists agree that a carbon tax would be effective, but the issue hasn't gained much political traction.
Brown campaign staffer Elizabeth Guyton pointed us to Shaheen's vote on an amendment to a 2013 budget resolution put forth by Sen. Sheldon Whitehouse, D-R.I., who has expressed support for implementing a carbon tax.
The amendment stipulated that revenue generated by any future carbon tax must be given back to the public in some form.
Shaheen voted in favor of the amendment. However, nothing in that amendment would have actually enacted a carbon tax. Rather, the amendment offered a rough framework for how money generated from such a tax, if one were ever enacted, would be put to use.
"I think that ultimately a fee on carbon pollution is inevitable, and the purpose of that amendment was to begin a discussion on that and begin the discussion about when that happens, what the best way to use the proceeds of the fee are," Whitehouse told reporters in 2013. "So from that point of view, I didn't view it as binding anybody on a carbon fee, but I did view it as an assessment of the best way of using carbon fee proceeds."
Although Shaheen was one of 41 "yea" votes (all of them coming from Democrats or Democratic-caucusing Independents), the vote wasn't directly in support of a carbon tax.
It would have been accurate to say Shaheen voted to "pave the way" for a carbon tax if she had cast a vote to -- for instance -- begin Senate debate on an actual carbon tax. But no carbon tax was waiting for a vote. The amendment she voted for wouldn't have brought a carbon tax any closer to fruition. (And don't forget that the measure didn't even pass, so it's not as if it paved the way for a tax that's now in place.)
A second piece of evidence offered by Brown's campaign concerns an amendment proposed by Sen. Roy Blunt, R-Mo. Blunt has emerged as a persistent carbon tax opponent in the Senate.
In 2013, Blunt proposed an amendment that would have increased the threshold for passing a carbon tax framework within a budget resolution to 60 votes.
Shaheen voted against this amendment, even as some of her Democratic colleagues from energy producing states voted for it. Still, it's an exaggeration to say that Shaheen "paved the way" for a carbon tax when no proposal was going anywhere in the Senate.
Shripal Shah, a spokesman from Shaheen's Senate office, told us in June that Shaheen has never supported a carbon tax. Shah said Shaheen supports "market-driven solutions" to address pollution, such as the Regional Greenhouse Gas Initiative.
This statement seems to fall in line with the position Shaheen took when she first campaigned for the Senate in 2008. During a roundtable discussion at Seacoast Energy Alternatives in Somersworth, New Hampshire, Shaheen said she would prefer a cap-and-trade program over a carbon tax because it's "easier to sell to the population" and "puts the onus" on the polluters.
When it comes to the legislative record, Shaheen's efforts to influence energy policy since taking office have been focused largely on boosting energy efficiency.
Shaheen partnered with Sen. Rob Portman, R-Ohio, to craft an energy efficiency bill that would launch a federal training program for energy-efficient building design and operation and establish a loan program for energy improvements to homes and small businesses, among other initiatives.
The bill has twice died in the Senate. The most recent effort failed on May 12, 2014, when supporters failed to reach the 60 votes necessary to close debate on the bill and proceed to a final vote.
Our ruling
Brown said Shaheen "voted to pave the way for a new national energy tax."
That's misleading. The two votes she took did mirror those of some lawmakers who favor a carbon tax, but that's not the same thing as saying she voted to "pave the way for a new national energy tax." These weren't procedural votes to commence a debate on, or tee up a final vote on, an actual carbon-tax bill. We don't see how either vote would have brought a carbon tax any closer to fruition.
We rate the claim Mostly False.
Scott Brown, comments in New Hampshire Senate debate, Oct. 21, 2014
PolitiFact New Hampshire, "Scott Brown says Jeanne Shaheen voted for a new national energy tax," June 18, 2014
Roll call vote on Senate Amendment 646 to S. Con. Res. 8, March 22, 2013
White paper on energy policy by Scott Brown for U.S. Senate campaign, "Affordable Energy for New Hampshire Families," released June 2, 2014.
Press release from Scott Brown for U.S. Senate campaign, June 3, 2014.
Press release from Scott Brown for U.S. Senate campaign, June 10, 2014.
Scott Brown for U.S. Senate campaign website, "WHAT WOULD SENATOR SHAHEEN'S ENERGY TAX MEAN FOR YOU?," accessed June 10, 2014.
PolitiFact, Conservative ad says Begich supports carbon tax, Feb. 25, 2014.
Comments by Sen. Jeanne Shaheen on the floor of the Senate, May 12, 2014.
Foster's Daily Democrat, Shaheen discusses energy reform with area voters in Somersworth, Feb. 2, 2008.
The Hill, GOP hits Alaska's Sen. Begich on 'radical' carbon tax, Aug. 28, 2013.
Email interview with Elizabeth Guyton, spokeswoman for Scott Brown, Oct. 23, 2014
Email interview with Shripal Shah. spokesman for Jeanne Shaheen, Oct. 23, 2014
Browse the Truth-O-Meter
More by Louis Jacobson
Support independent fact-checking.
Become a member!
In a world of wild talk and fake news, help us stand up for the facts.