Stand up for the facts!
Our only agenda is to publish the truth so you can be an informed participant in democracy.
We need your help.
I would like to contribute
"Forty percent of people in this country, illegally, are overstaying visas."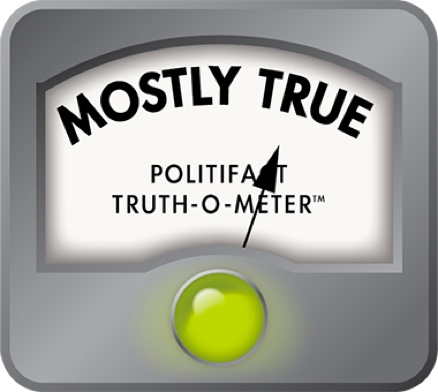 Rubio says 40% of illegal immigrants stayed in the U.S. after their visas expired
Sen. Marco Rubio said that while people sneaking into the United States is a legitimate problem, the immigration system is so broken that almost half of all illegal immigrants came into the country through legal channels.
"We have a porous border, meaning not just the border with Mexico, but 40 percent of people in this country, illegally, are overstaying visas," he said on Fox & Friends on July 22, 2015.
If that's a stat that sounds familiar, it's because Rubio has said it before -- including during his 2010 Senate campaign. Former Gov. Jeb Bush has cited the number, too.
But is it true that 40 percent of illegal immigrants are people who have overstayed their visas? It turns out that we hear the figure so often because it's the most commonly accepted estimate, although it's getting a little long in the tooth.
An old problem
We didn't hear back from Rubio's office when we tried to contact them, but in all likelihood he was referring to a calculation done by the Pew Research Center, an independent "fact tank" that doesn't take policy positions.
In a 2006 report, Pew estimated that "nearly half of all the unauthorized migrants now living in the United States entered the country legally through a port of entry such as an airport or a border crossing point where they were subject to inspection by immigration officials." While the source data gave an estimate that ranged from 33 percent to 50 percent, the report went middle-of-the-road and called it 45 percent.
That report relied on a 1997 study from the Immigration and Naturalization Service. While trying to ascertain how many immigrants arrived and departed, INS concluded that in 1996, 41 percent of illegal immigrants had entered the United States legally.
Robert Warren, a former INS demographer whose work was a part of that 1997 report, told PolitiFact that immigration trends had changed over the years. Since 2008, there are more immigrants overstaying their visas than crossing the border illegally, but there are fewer illegal immigrants in the country overall. The generally agreed upon total of illegal immigrants in the United States now is about 11 million, down from a high of 12 million in 2007.
But Warren, currently a fellow at the nonpartisan Center for Migration Studies, said the percentage of all overstays "had been consistent over the past 30 years." Most people crossing the border illegally come from about a half-dozen countries, especially Mexico, he said. Unauthorized immigrants from all other countries are almost all overstays.
There have been other estimates of overstays: In January 2003, INS released an updated report that said 33 percent of the illegal immigrant population in 2000 had entered the country legally. A 2004 report from the General Accounting Office, based on 2000 data, gave estimates on visa overstays ranging from 27 percent  to 31 percent to 57 percent.  
But no one has truly updated those estimates since then, mostly because there is no data available from which to draw new conclusions, the Migration Policy Institute's Marc Rosenblum said.
He said Homeland Security developed a methodology for estimating visa overstayers among people traveling by air and sea, but doesn't have an official way to count people entering by land. An Immigration and Customs Enforcement spokeswoman confirmed to us that they have not recently released statistics on the number of overstays.
Rosenblum said for now the old estimates are the best ones available. Homeland Security has promised Congress it would compile new data, he said, but no results have been made public. Until then, there's no research that would truly dispute Rubio's claim.
"The short answer is that no reliable estimate has been published since the Pew study," Rosenblum said.
Our ruling
Rubio said "40 percent of people in this country, illegally, are overstaying visas."
This widely cited statistic is an estimate based on research that has roots going back to the 1990s. But because federal agencies haven't provided new data, there's little for analysts to use to provide an updated figure. Experts (including the demographer who created the initial estimate) told us that while illegal immigration trends have changed over the years, 40 percent can still be considered an acceptable estimate.
We rate Rubio's statement Mostly True.
YouTube, "The President Wanted This Deal Worse Than Iran Did," July 22, 2015
U.S. Government Accountability Office, "Overstay Tracking: A Key Component of Homeland Security and a Layered Defense," May 2004
Pew Research Center, "Modes of Entry for the Unauthorized Migrant Population Fact Sheet," May 22, 2006
PolitiFact Florida, "Fla. Republican Rubio says close to half of illegal immigrants entered the U.S. legally," Jan. 18, 2010
PolitiFact, "Democratic Rep. Gutierrez says 40 percent of illegal immigrants overstay visas," July 12, 2010
PolitiFact New Jersey, "Rep. Rob Andrews claims most illegal immigrants first arrived legally with visas and then stayed past the expiration dates," Sept. 23, 2012
Wall Street Journal, "Many in U.S. Illegally Overstayed Their Visas," April 7, 2013
PBS Newshour, "Forty Percent of Non-Citizens Live in U.S. on Expired Visitor, Student Visas," April 23, 2013
U.S. Government Accountability Office, "Overstay Enforcement: Additional Actions Needed to Assess DHS's Data and Improve Planning for a Biometric Air Exit Program," July 2013
PolitiFact Texas, "John Carter claim that 40 percent of nation's illegal residents came by plane and overstayed visas draws on 2006 estimate," Aug. 31, 2013
PolitiFact Texas, "Visa overstayers comprise 38 percent to 50 percent of unauthorized U.S. residents, per 2006 calculations," April 28, 2014
PolitiFact Wisconsin, "A big reason illegal immigrants become illegal is they change jobs, U.S. Sen. Rand Paul says," April 29, 2014
U.S. Department of Homeland Security, "2013 Yearbook of Immigration Statistics," August 2014
U.S. Department of Homeland Security, "Immigration Enforcement Actions: 2013," September 2014
Pew Research Center, "As Growth Stalls, Unauthorized Immigrant Population Becomes More Settled," Sept. 3, 2014
Journal on Migration and Human Security, "Beyond DAPA and DACA: Revisiting Legislative Reform in Light of Long-Term Trends in Unauthorized Immigration to the United States," 2015
Wall Street Journal, "How the Tally of Illegal Immigrants Adds Up, and Why It Matters," March 13, 2015
Pew Research Center, "Unauthorized immigrant population stable for half a decade," July 22, 2015
Politico, "Marco Rubio flies under the radar," July 24, 2015
U.S. Department of Homeland Security, "Illegal Alien Resident Population," accessed July 27, 2015
U.S. Immigration and Naturalization Service, "Estimates of the Unauthorized Immigrant Population Residing in the United States: 1990 to 2000," accessed July 27, 2015
Interview with Robert Warren, Center for Migration Studies senior fellow, July 27, 2015
Interview with Marc Rosenblum, Migration Policy Institute's U.S. Immigration Policy Program deputy director, July 27, 2015
Interview with Mark Krikorian, Center for Immigration Studies executive director, July 27, 2015
Interview with Jennifer Elzea, U.S. Immigration and Customs Enforcement spokeswoman, July 27, 2015
Browse the Truth-O-Meter
More by Joshua Gillin
Support independent fact-checking.
Become a member!
In a world of wild talk and fake news, help us stand up for the facts.