Get PolitiFact in your inbox.
"The soda tax can make a difference by reducing consumption of unhealthy soda pop and sugary beverages."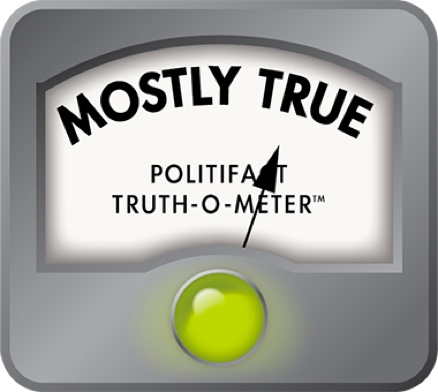 Cook County soda tax should make a dent in consumption
Is Cook County's new sweetened drink tax about public health or about money?
Cook County Board President Toni Preckwinkle, the architect of the tax, has said she rejects the premise of that question.
"In my view, this isn't a vote to repeal or keep a revenue source we already approved," Preckwinkle told the City Club of Chicago on Sept. 13. "It's about whether or not we want Cook County to be healthier, safer and more efficient or if we are willing to go backwards and let Cook County become sicker, less safe and less efficient."
Voting to repeal the tax, as may happen at the Cook County Board's Oct. 11 meeting, would be voting "to fire frontline health care providers: doctors, nurses and other medical professionals who help serve our most vulnerable patients," Preckwinkle said.
In an Aug. 22 interview on "Chicago Tonight," Preckwinkle had offered another defense.
"Our Cook County hospital system spends $200 million a year or more treating sugar consumption related diseases," she said, noting also that 87 percent of county government's budget goes into health care. "Obesity, heart disease, diabetes, tooth decay. That's a tremendous burden on our health care system. And we are facing a public health care crisis in this country related to sugar consumption."
As public fury has raged over the penny-an-ounce tax, Preckwinkle has scrupulously avoided discussing the issue on either its health or fiscal aspects alone.
Toni Preckwinkle speech to City Club of Chicago, Sept. 13, 2017
Toni Preckwinkle Discusses Cook County Soda Tax Pushback, "Chicago Tonight," WTTW, Aug. 22, 2017
Changes in prices, sales, consumer spending, and beverage consumption one year after a tax on sugar-sweetened beverages in Berkeley, California, US: A before-and-after study, PLOS Medicine, April 18, 2017 (Public Library of Science)
Taxes on common beverages or foods have never been shown to improve public health. Can the Tax Coalition website
"The soda tax means healthier kids." TV ad supporting Cook County sweetened beverage tax
Overreaching on Obesity: Governments Consider New Taxes on Soda and Candy, The Tax Foundation, Oct. 31, 2011
Ounces of Prevention — The Public Policy Case for Taxes on Sugared Beverages, New England Journal of Medicine, April 30, 2009
Can Soft Drink Taxes Reduce Population Weight?, National Institutes of Health, Jan. 28, 2010; accessed Sept. 19-27, 2017
Do soda taxes work? Experts look to Mexico for answers, CNN, Nov. 1, 2016
10 percent tax on soda introduced nationwide in Mexico in 2014; accessed Sept. 12-26, 2017
Projected Impact of Mexico's Sugar-Sweetened Beverage Tax Policy on Diabetes and Cardiovascular Disease: A Modeling Study, PLOS Medicine, Nov. 1, 2016; accessed Sept. 26, 2017
Impact of the Berkeley Excise Tax on Sugar-Sweetened Beverage Consumption, American Journal of Public Health, Sept. 14, 2016; accessed Sept. 15-27, 2017
Why the soda pop tax is essential: Preckwinkle, Crain's Chicago Business, Aug. 16, 2017; accessed Sept. 15, 2017
Poll slams pop tax, Crain's Chicago Business, Aug. 7, 2017; accessed Sept. 19, 2017
Editorial: Cook County's 'health' lie, in black and white, Chicago Tribune, Sept. 22, 2017
Local Sugary Drink Taxes Voted on 2014–2017, Center for Science in the Public Interest, June 2017; accessed Sept. 26, 2017
Bloomberg ready to spend 'whatever it takes' to help pro-pop tax pols, Chicago Sun-Times, Sept. 11, 2017; accessed Sept. 12-19, 2017
$2.5 million Bloomberg grant funds UIC study on Cook County soda tax, Chicago Tribune, Sept. 25, 2017; accessed Sept. 25-26, 2017
Grocery stores on Cook County border see soda pop sales boom, Chicago Tribune, Aug. 29, 2017; accessed Sept. 26, 2017
Does the soda industry manipulate research on sugary drinks' health effects?, Los Angeles Times, Oct. 31, 2016; accessed Sept. 26, 2017
Cost Effectiveness of a Sugar-Sweetened Beverage Excise Tax in the U.S., American Journal of Preventive Medicine, July 2015; accessed Sept. 27, 2017
Telephone interview, Jim O'Hara, Center for Science in the Public Interest, Sept. 27, 2017
Browse the Truth-O-Meter
More by Matt Dietrich
Support independent fact-checking.
Become a member!
In a world of wild talk and fake news, help us stand up for the facts.