Stand up for the facts!
Our only agenda is to publish the truth so you can be an informed participant in democracy.
We need your help.
I would like to contribute
"I released way more (tax) information than Bruce Rauner has."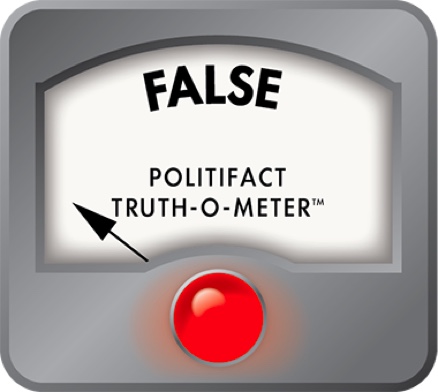 No, JB Pritzker did not release more tax information than Bruce Rauner
We recently rated "True" a statement from Democratic gubernatorial candidate Daniel Biss that attacked the tax transparency of rivals JB Pritzker and Chris Kennedy. Biss said the other candidates had released no more information about their personal finances than did Republican Gov. Bruce Rauner--and that wasn't much at all.

The issue quickly flared up again as Rauner said the income Pritzker reported on his tax returns was too puny for a man whose net worth has been estimated at more than $3 billion. The governor's campaign ran an ad questioning whether Pritzker was an "incompetent investor" or "stashing his cash overseas" and "refusing to pay his fair share" of taxes. Rauner offered no proof for either contention, though it is worth noting that he was attacked with similar hazy claims during his 2014 election campaign that suggested he dodged taxes by routing  investments through a Cayman Islands tax haven.
As reported in the Chicago Sun-Times, Pritzker fired back:
"It's laughable that Bruce Rauner is complaining about my taxes," Pritzker said after a Democratic gubernatorial candidates' forum at the historic Second Presbyterian Church on the South Side. "I released way more information than Bruce Rauner has, and it's important to recognize that unlike Bruce Rauner, who, yeah, he paid taxes, but you know how he made his money? By cutting jobs. By buying companies and firing people."
Setting aside the campaign rhetoric of Pritzker's response, we were struck by his statement that he had released "way more information" about his taxes than Rauner. That's not what we found last week, so we took another look.
Rhetoric vs. reality
Rauner, a wealthy private equity investor, has made a practice of releasing 1040 tax forms that give just a hazy outline of his annual earnings and taxes paid. He released three years of tax returns -- for 2010, 2011 and 2012 -- when he first filed to run for governor in 2013 and has continued to release his 1040s every year since then.
Illinois law requires no tax disclosure from candidates, but until Rauner it had been common for candidates for the state's top office to voluntarily disclose the entire contents of their tax returns in a gesture of transparency. For wealthier candidates like Rauner, Pritzker and Kennedy, the two-page 1040 is just a tiny piece of their returns.
The more telling information is contained in what are likely dozens or hundreds of pages of schedules, forms and supporting documents attached to 1040s that detail how investment and capital gains income was derived, business losses or gains, and deductions for charitable donations.
"I don't know that 1040s are really all that useful without the rest of the supporting materials," Joseph Thorndike, director of the Tax History Project, told us for last week's fact-check. "I suppose that they're better than nothing, except that I think you encourage further disclosures of just the 1040s."
Rauner has never released those supporting materials, nor did Pritzker or Kennedy when they disclosed the contents of recent 1040s in late November. All three candidates pitch themselves as accomplished businessmen with shrewd financial acumen, so it is significant that none are willing to release the documentation that could help voters better assess the accuracy of such claims.
By contrast, Biss, a state senator whose annual income is mostly derived from his legislative salary, did make a complete tax disclosure. That's why he sarcastically taunted Pritzker and Kennedy in a recent tweet about "pretty much living up to the @BruceRauner standard" when it came to tax transparency.
Just as Rauner did as a first-time candidate in 2013, Pritzker released three years' worth of 1040 forms when he filed his nominating petitions. They showed adjusted gross income of $14,950,446 in 2016, $9,974,627 in 2015, and $3,137,655 in 2014. His effective tax rates were 27.7 percent (2016), 24.3 percent (2015) and 37.3 percent (2014).
Accompanying the state and federal 1040 forms was a brief press release listing the income and tax rates paid, the amounts in federal and state taxes paid by trusts from which Pritzker benefits ($128.97 million and $24.95 million, respectively) and charitable giving by Pritzker himself and by his foundation ($15.3 million and $53.8 million, respectively).
Rauner also has regularly issued statements on charitable giving with his returns.
When we asked what constituted "way more" on Pritzker's returns, the Pritzker campaign pointed to a statement he also released about taxes paid by trusts of which he is a beneficiary.
Pritzker is descended from a family of wealthy entrepreneurs who launched the Hyatt Hotel chain, and his fortune is derived in part from inheritances passed down through trusts. Pritzker did not release the trust tax forms themselves, however, so there is no way to independently verify the accuracy of that disclosure.  
That said, holding out the trust numbers as the evidence for more fulsome disclosure than Rauner is a curious tactic. As Rauner often points out, his fortune was self-made, he inherited no money and receives no income from trusts. In short, Rauner has made no trust disclosures because he says he has no trusts.
Our ruling
Pritzker said he "released way more information than Bruce Rauner has" on income taxes.
But Pritzker's three years' worth of 1040 state and federal cover sheets are identical to the sort of disclosure Rauner released as a candidate four years ago and what he has issued each year since.
Pritzker did release information about taxes paid by trusts that benefit him, but construing that as exceeding Rauner's disclosure is something of a straw-man argument. Rauner says he has no trusts to report income from.
We rate Pritzker's statement False.
Browse the Truth-O-Meter
More by Matt Dietrich
Support independent fact-checking.
Become a member!
In a world of wild talk and fake news, help us stand up for the facts.