Get PolitiFact in your inbox.
"You (Evan Jenkins) said your philosophy was 'progressive mainstream' back in 2003."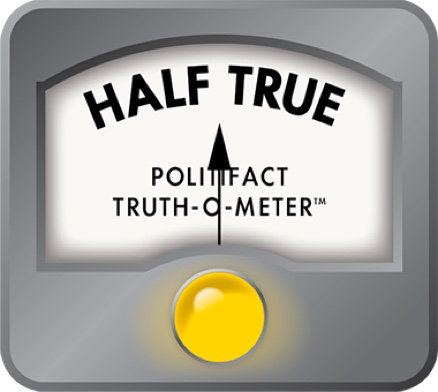 Did Evan Jenkins once say his philosophy was 'progressive mainstream'?
The accusations flew fast and furious in a Fox News-sponsored debate between three Republican Senate contenders in West Virginia.
We're checking several claims from the May 1 debate, which featured former coal CEO Don Blankenship, U.S. Rep. Evan Jenkins, and state Attorney General Patrick Morrisey. Each is running for the nomination to face Democratic Sen. Joe Manchin in the general election.
Here, we'll fact-check one of several assertions Morrisey made about Jenkins' past Democratic affiliation.
As we've previously noted, Jenkins was initially registered as a Democrat, then switched to Republican, then back to Democratic when he sought a seat in the West Virginia House of Delegates in 1993. He remained a Democrat until July 2013, when he became a Republican to successfully challenge U.S. Rep. Nick Rahall, D-W.Va.
In the debate, Morrisey addressed Jenkins and said, "You said your philosophy was 'progressive mainstream' back in 2003." (It's at about the 5:10 mark here.)
We found that Jenkins did use those words, although Morrisey glossed over some context about the comment.
Morrisey's camp pointed us to an Aug. 13, 2003, article in the Herald-Dispatch newspaper of Huntington, W. Va. The article addressed West Virginia's 2004 gubernatorial election, in which incumbent Democratic Gov. Bob Wise declined to seek another term. Manchin easily won the Democratic primary and the governorship that fall.
With the headline, "Some say governor is right not to run," the story quotes Jenkins about the still-developing candidate field for the governorship.
At the time, Jenkins was a Democratic state senator. Here's the relevant part:
"This is an opportunity for Democrats, who I hope will put forth a nominee who can chart a course that gets away from the politics of the past and talk about addressing some of our tough economic development challenges," Jenkins said. "I hope the end result is a candidate who will talk about progressive mainstream issues and not talk about coalition building of special interest groups. I think voters in the mainstream are tired of politics of the past and ready for some new, strong leadership."
So Jenkins definitely said the words "progressive mainstream." But Morrisey's characterization of the comments are somewhat off.
Jenkins didn't exactly say the term described his own "own philosophy," as Morrisey charged during the debate. Rather, Jenkins was using the phrase to describe the philosophy a hypothetical gubernatorial candidate might pursue.
It's also worth noting that, unlike today, the term "progressive" was not used as widely as a near-synonym for "liberal" back in 2003. The specific policies that Jenkins mentioned in the 2003 exchange were not ones considered central to the "progressive" agenda today, such as abortion rights and gun control, but rather economic development, which is not an issue with support that's exclusive to either the left or the right.
Indeed, the overall gist of Jenkins' remarks focuses on ditching the "politics of the past" and not kowtowing to "special interest groups."
Our ruling
Morrisey said to Jenkins, "You said your philosophy was 'progressive mainstream' back in 2003."
Jenkins did use those words in an aspirational tone for a 2003 newspaper article. But Jenkins was talking about issues a hypothetical Democratic gubernatorial candidate should run on, not his own political philosophy.
We rate the statement Half True.
Fox News, West Virginia Senate debate part 3, May 1, 2018
NPR, "Democrats Debate: What Is A Progressive And Who Wants To Be One?" Feb. 5, 2016
PolitiFact, "Do Joe Manchin and Evan Jenkins support Clinton, cap-and-trade, Planned Parenthood and tax hikes?" Nov. 6, 2017
Email interview with Nachama Soloveichik, spokeswoman for Patrick Morrisey, May 2, 2018
Interview with Andy Seré, spokesman for Evan Jenkins, May 2, 2018
Browse the Truth-O-Meter
More by Louis Jacobson
Support independent fact-checking.
Become a member!
In a world of wild talk and fake news, help us stand up for the facts.